Josh has a conversation with Elena immediately following his HOH win that makes Josh want her out. Even though he has a major crush on Elena, he sees that she can spin things to make herself look innocent. She is telling him why she voted to send him home over Ramses. He lets her know that it really hurt him that she and Mark voted him out. She explains that she and Mark were left out of game talk about votes, and that they were in fact lied to about where the house was voting. Josh noticed that Mark, Elena, Cody and Jessica were unhappy that he won HOH. Alex pointed it out to him, which really pissed off Elena that Alex tossed her name out.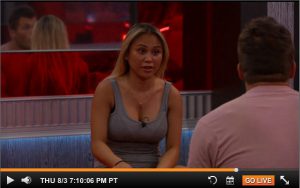 Meanwhile, Alex is busy going off on Mark for agreeing to put her on the block in exchange for Jessica not using her hex or taking up for her regarding Jessica lying about Raven hiding her cat ears. They argue for a good 30+ minutes after the live show. Alex makes Mark cry. She's a bad ass, and he's a wuss. Alex calls him out for being a flip flopper regarding Cody and Jessica, and she thinks he wanted one of them to win the HOH. She told Josh in front of Mark that Mark and Elena aren't happy that he won HOH. (She didn't realize Mark was in the room. Whoopsi!)
Everyone wants Cody and Jessica on the block, but Josh is set on Elena. Paul explains to him that they need to get either Cody or Jessica out this week, and then they can go after Elena next week. Paul is persuasive, but Josh is working on other members of the team to see if he can sway them to vote Elena out this week. Christmas, Alex and Jason are on board with whatever Josh wants with his HOH, but they still think Jessica is the better option. Christmas is all about telling Josh to not let Paul control his HOH and says she will respect his wishes for who he wants to target.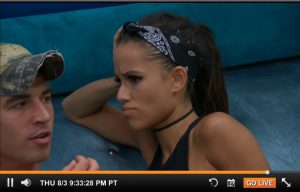 For the Temptation Competition, everyone except Christmas is participating to maximize the odds that neither Cody nor Jessica win. Cody and Jessica plan on Cody to gun for the win and for her to throw it so that they won't end up on the block together in hopes that he is chosen to play veto. During the competition, which sounds very similar to the Haunted House comp from BBOTT, the players had to unscramble a word and find items with zombies trying to scare them. It's going to be fun to watch on Sunday's episode. Cody and Jessica successfully execute their plan, so Cody is safe for the week and Jessica is on the block as the 3rd nominee.
Josh decides to tell Mark and Elena that they are going up as pawns so that the house can take Jessica out this week. Mark is calm, cool and collected about being a pawn. Elena is not. She argues against being a pawn, saying that Alex and Paul are better competitors. Paul did volunteer to be a pawn for Josh because Josh was a pawn for Paul, but Josh doesn't want to risk putting Paul on the block. Josh calls Paul up to the HOH room, where Elena deflects trying to get him on the block saying she didn't say to put him up. Josh's reaction to her shows Paul that Elena was indeed trying to get him or Alex to take her place. Paul and Josh discuss it, and Paul sees Elena is being sketchy but continues to push for Jessica to go out this week.
For the POV, the players chosen were: Josh, Jessica, Mark, Elena, Cody and Alex. Then, Christmas pulls out her ring of replacement and switches in herself for Cody. This leads to Cody making #VictimNoises, crying on Jessica's shoulder afterwards. He then grossly pulls out a piece of clothing and blows his nose. Elena is super appreciative of Christmas using her temptation while she's on the block to keep Cody from winning. Cody is furious, and keeps making the twitching face that indicates he's about to lose his shit.
Jessica confronts Christmas, saying that she didn't have to use her temptation to make sure that Jessica goes home this week. Christmas tells her that she needs to learn to separate game from personal, and she leaves the room as Jessica is still going off on her. She doesn't want to give her TV time. She reports back to the HOH room about Jessica confronting her as everyone that's playing (minus Jessica) makes plans to ensure that Jessica doesn't win POV. She is back on the take Jessica out this week train because she knows that Jessica will come after her.
The POV was OTEV as Paul speculated. Mark wins the POV. Josh speaks to him afterwards and tells him that he is in no jeopardy of going home this week if he stays on the block. He doesn't want to have to name a replacement nominee, and not using it will go a long way towards showing the house that he is separated from Cody and a team player. Mark tells him that he went up as a pawn, earned the win and wants to use the veto to pull himself off the block. Josh asks Paul and Matt to talk to Mark, explaining that not using the veto will help him reintegrate to the house.Most likely, Mark is going to pull himself off the block. Then, Josh will either put up Matt or Raven.
While Josh continues to state that his target is Elena, some of the people that he is working with are not necessarily on board with this as they know they are targets of Jessica and Cody. Christmas has helped Josh come to the conclusion that it's best to get Jessica out this week, but she also is throwing Paul under the bus, saying that Paul is passing info along to Elena.
I will update this blog as the week progresses if anything changes or major drama breaks out in the house, so check back to see where it looks like the votes will go come Thursday. Right now, it looks like Jessica is on her way out.
GET THE FLASHBACK TIMES HERE
Before you go… please comment below and let us know what you think!  Who do you think will win? Are you excited for this season? Let me know!
AND DON'T FORGET… we are doing YouNow shows all season when the feeds go down so make sure you BECOME A FAN there!  We will of course be doing recap shows and interviews too!  Whenever something goes down on the feeds we will get oepisodes, we will also be live tweeting during them!   Still want more?  Then become a Patreon for EXCLUSIVE content, giveaways, access to reality stars and become a member of the private Patreon group!  But what we're really excited about is our BIG BROTHER SPOILERS PAGE!  It's full of "Cheat Sheets" for you to use to stay on top of all the latest alliances and info!
So in order to help support us in our coverage of Big Brother this season please consider: Getting the live feeds from us here or becoming a Patreon, making a PayPal donation.  Of course we get it, money can be tight… so if you'd like to help us for free then be sure to subscribe to our shows in YouTube, iTunes, YouNow, and thumbs up and give us a nice review (we want to win a podcast award this year). Following us on your favorite social media site and sharing our content there is a great way to support us, too! We can't thank you enough for enjoying our shows these last 8 years, hopefully with your support we can continue to do them for the rest of the year.  You could also see what specific help we need by checking out our HELP US page HERE!  We can't thank you enough for all your support!  We love you all!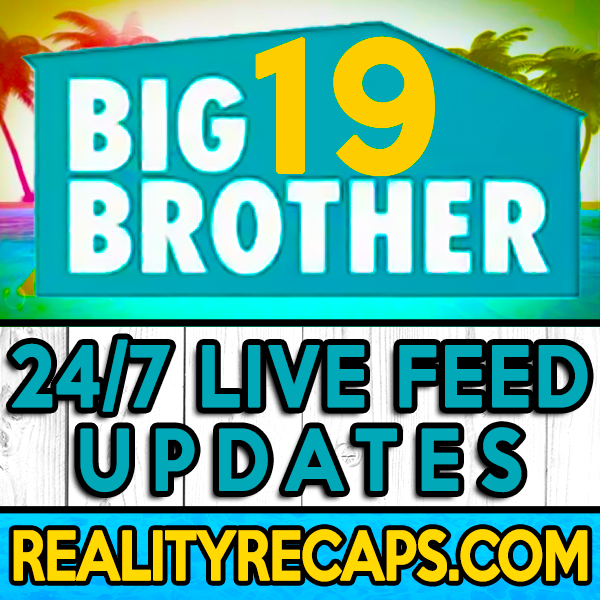 We also have a BRAND NEW TWITTER ACCOUNT which we will be using solely for our Live Feed updates.  It's a great way for you to find out what is going down as it happens 24/7 on the live feeds!  We wanted to keep it separate from our MAIN TWITTER ACCOUNT which covers all our shows because we love you and don't want to fill up your timelines!  Plus we will be posting news, gossip and spoilers there about BB19 exclusively too and we don't like to spoil on our main twitter account.  Now while twitter is a great way to get your 140 character live feed updates sometimes you just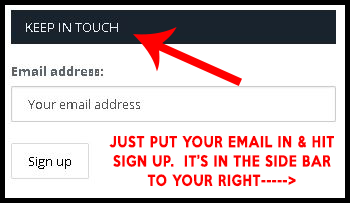 need more details, which is why we suggest you also join our newsletter!  This way you can get info like the exact cameras and flashback times for the updates we are giving you!  Plus, you can also get special prizes and all the latest info by subscribing to our monthly newsletter (WE WON'T SPAM YOU).  Thank you for all the support!