Julie says that there is one last nomination and one last houseguest getting played.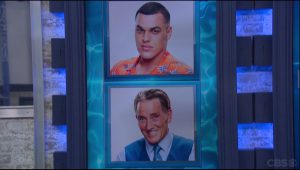 As HOH, Paul nominates Kevin and Josh. Paul says that unfortunately there was a slim pool for nominations and that importance of this week lies in the veto. After nominations, Kevin seeks assurance from Paul that Josh is leaving this week, which he confirms. In DR, Kevin jokes that if he had won HOH he'd have nominated Josh twice. Kevin says that he trusts Paul since Day 1 in the house. Oh, Kevin—these are the famous last words of every evicted houseguest this season.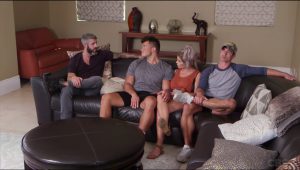 In the jury house, Mark says, "It's one big happy family. Cody likes his alone time, me and Elena do our own thing (bang constantly), then they all come together. It's fun." Cody doesn't like the jury house and is ready to bust out of there. Elena guesses that Matt will be the next person arriving. Matt walks in, and Cody says to the camera that he thinks Matt is a giant pussy. They watch what led to his eviction, and he explains that Kevin was supposed to be backdoored. Mark asks why he would believe that when Kevin isn't a competition threat; Matt gives him a blank look. Mark asks who is running the house. Matt tells him socially, Paul and competitively, Jason and Alex. Mark asks if Cody wants to contribute. He gets up and walks out of the room with Matt asking if he's just not going to participate in the show. No response. Fucker! Cody has no respect for the game, and I really hope that people recognize Jessica's Instagram campaign to get Cody to win America's Favorite Player is undeserved. America's Favorite Player is determined by casual Big Brother viewers, not die-hard live feeders and those that walk the BB Twitter streets all season long. I hope this edit of Cody shows casual viewers what a complete douchebag Cody is. I digress.

One week later, Matt is hanging out with Mark and Elena, and Matt predicts that the next person to walk into jury is Jason. As they watch everyone throw Ready Set Go (#ReadySetThrow) to Christmas, Jason explains that he believes that Paul was the ring leader. As Elena listens to Christmas's very direct nomination speech, she asks Jason why he believed that Kevin was being backdoored. They see Paul win veto, pull Alex off the block, Christmas nominate Kevin and then the tie vote with Christmas sending Jason out. He thought the votes would be stacked 4 to 0 to send Kevin out. Jason sarcastically says, "Oh, yeah. Play dumb, Alex." Jason says that there's nothing that goes on in the house that Paul and Alex don't know about. Cody says he likes Jason's exit.
Raven arrives next, and she shows everyone what happened with her eviction. As Jason watches Alex win HOH and say, "That's for you, Jason," Raven sets the record straight for Jason about his blindside. She tells him that she, Josh, Paul and Christmas knew about it, but Alex had no idea. Raven tells Jason how hurt Alex was with the way he left the house, and he feels terrible. As Alex nominates Kevin and Raven, Jason says, "Put Paul up." Raven says she wants Paul to go to the end of the game because she's been working with him the entire time. Elena tells Raven that Paul's been working with everyone the entire time. Mark says he and Elena had that with Paul, too. Raven says she knows, but they were his TRUE alliance. They ask her why she and Matt are sitting there if that's true. Raven tells everyone that she and Paul were the puppet masters and she was pulling strings because she knew what was going on. Elena laughs at Raven and thinks it's hilarious.
Next, the jury is guessing who their new roommate is. Jason says he hopes it's not Alex. Of course, Alex arrives next in her Revengers costume, telling them that they missed BB Comics week. Alex says that they wanted Josh to win HOH to take the shot at Alex because Paul wants their jury votes. Mark responds that he's going to get 2nd place. They watch Paul win veto and keep nominations the same, then the split vote with Josh sending Alex out. Jason tells Alex she can't vote for Paul, and she tells him it's the game. Raven agrees with her. Jason tells Alex that Raven and Matt think they're puppet masters. Alex says that it sounds like they've been having fun without her. Jason says that they would be having fun if it weren't for Matt and Raven, which brings out bi-polar Raven. She yells at Jason, "What the fuck did Matt and I do to you in the game?" Mark piles on that he's never heard someone say they were a puppet master and win nothing. Raven explodes on Mark, saying "What'd you do besides throw condiments on Josh and fight with everybody?" Mark says that all Matt and Raven did was play house in the BB house. Raven says, "Why are you such a dick? That's probably your middle name." Elena dead-pans, "It's Gordon." (LMAO!) Mark says that Raven calling herself a puppet master bugs him as a competitor. Raven says she was helping Paul pull strings. Mark responds that everybody was. Cody says, "I didn't." How bitter is this jury going to be?
Back in the BB House, it's time for Back to the Veto, a steampunk themed time machine that requires the final 4 to correctly name the days an event took place over a series of rounds. One of their wheels adds 10 days with every turn and the other adds 1 per turn. Once they have the correct number of days for the corresponding event, they hit their buttons. If they are the last to buzz in with the correct answer, their time machines lose power. If they lose power 3 times, they are out of the game. Paul, Christmas and Josh just need to make sure that Kevin loses this veto and "Team Misfits" makes it to Final 3. Rounds:
What day did Jason receive his Extreme-otard? Answer: 53. Last to buzz in: Christmas
What day did Cameron appear on the memory wall for Inked and Evicted? Answer: 36. Last to buzz in: Kevin
What day was the Halting Hex used? Answer: 44. Last to buzz in: Kevin
What day did Raven win a Never Not pass? Answer: 10. Last to buzz in: Kevin
What day did Mark win his 1st veto competition? Answer: 46. Last to buzz in: Christmas
What day did you watch The Revengers trailer? Answer: 79. Last to buzz in: Christmas
What day did you get zinged by Zingbot? Answer: 60. Last to buzz in: Josh
What day did Jillian appear in BB Comics as Timeshare Tyrant? Answer: 81. Last to buzz in: Josh
What day was first unanimous eviction? Answer: 30. Last to buzz in: Josh
Paul wins the last veto of the summer. After the competition, Paul talks to Kevin and leads him to believe that Christmas is voting out Josh. Then they will go to final 2 together because no one is winning next to Christmas. Kevin asks for Paul's word, and Paul shakes his hand.
Live Veto Meeting and Eviction:
Josh says that he can't think of 3 other people that he'd rather be there with. He's stayed true to his morals, his word, to who he is and his loyalty. He's played his heart out. He hopes that Paul will use it on him, but he will respect his decision. Kevin tells Paul that he knows it's a burden and he has a tough decision to make. He says it's been hard all summer because he's had a lot of hard decisions to make. He says he will respect whatever decision he makes and understands the stress and anxiety that been on you and all of you guys to get this far. He'll respect whatever he decides and he's had a great time with all of them. Paul says they've all had to make extremely difficult decisions this season, and this one is the cherry on top. He thanks everyone for everything that they've done and congratulates them all again for making it this far. He chooses not to use the POV. Christmas must now cast vote to evict either Josh or Kevin. Christmas says that she must make this decision between her meatball and her house husband. She says that they've had different strategies, but she believes that the top 3 must have shared in the burden of sending someone home. She evicts Kevin.
Kevin gives a very classy exit, hugging each of the houseguests, congratulating them on being Top 3, wishing them luck and telling them to have a good time. Julie tells Kevin that he's the sharpest dresser that they've ever had. She says that he made it so far only to be evicted on the final eviction episode of the summer. She asks if he is surprised to be sitting there right now. Kevin says, "No. I've had a good social game but you have to win a few comps, and I was never able to win any so you know, it doesn't bother me." She asks who Kevin was most loyal to and no surprise, he answers Paul. He said that Paul had to do what he needed to enhance his game.For the goodbye messages, Josh again rats out Paul, Christmas and himself for having a Final 3 alliance and tells Kevin that he was their last target. After the messages, Julie asks what Kevin thinks about what he just heard. He says that Josh, Christmas and Paul are much closer in age and were always together. He says it's fine. He figured something was going on, and it's how the game is played.
Team Misfits toasts with champagne to celebrate making it to Final 3. Come back for our recap of the special Friday night episode when the battle for final HOH begins and the final 3 reminisce about the season.
GET THE FLASHBACK TIMES HERE
Before you go… please comment below and let us know what you think!  Who do you think will win? Are you excited for this season? Let me know!
AND DON'T FORGET… we are doing YouNow shows all season when the feeds go down so make sure you BECOME A FAN there!  We will of course be doing recap shows and interviews too!  Whenever something goes down on the feeds we will get oepisodes, we will also be live tweeting during them!   Still want more?  Then become a Patreon for EXCLUSIVE content, giveaways, access to reality stars and become a member of the private Patreon group!  But what we're really excited about is our BIG BROTHER SPOILERS PAGE!  It's full of "Cheat Sheets" for you to use to stay on top of all the latest alliances and info!
So in order to help support us in our coverage of Big Brother this season please consider: Getting the live feeds from us here or becoming a Patreon, making a PayPal donation.  Of course we get it, money can be tight… so if you'd like to help us for free then be sure to subscribe to our shows in YouTube, iTunes, YouNow, and thumbs up and give us a nice review (we want to win a podcast award this year). Following us on your favorite social media site and sharing our content there is a great way to support us, too! We can't thank you enough for enjoying our shows these last 8 years, hopefully with your support we can continue to do them for the rest of the year.  You could also see what specific help we need by checking out our HELP US page HERE!  We can't thank you enough for all your support!  We love you all!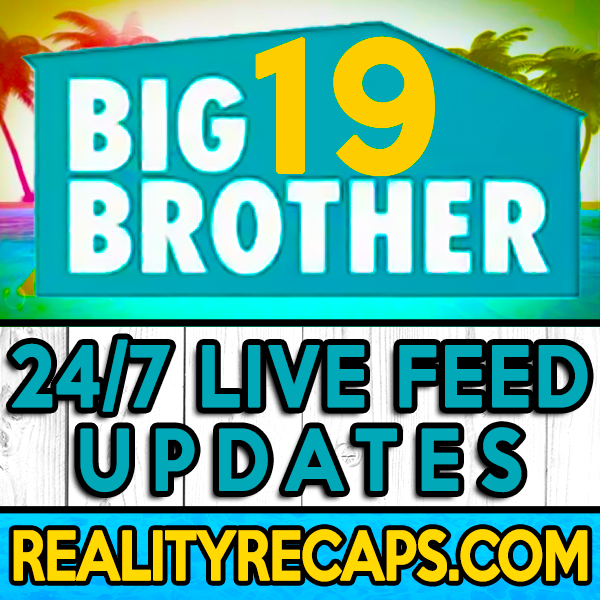 We also have a BRAND NEW TWITTER ACCOUNT which we will be using solely for our Live Feed updates.  It's a great way for you to find out what is going down as it happens 24/7 on the live feeds!  We wanted to keep it separate from our MAIN TWITTER ACCOUNT which covers all our shows because we love you and don't want to fill up your timelines!  Plus we will be posting news, gossip and spoilers there about BB19 exclusively too and we don't like to spoil on our main twitter account.  Now while twitter is a great way to get your 140 character live feed updates sometimes you just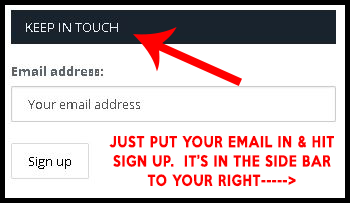 need more details, which is why we suggest you also join our newsletter!  This way you can get info like the exact cameras and flashback times for the updates we are giving you!  Plus, you can also get special prizes and all the latest info by subscribing to our monthly newsletter (WE WON'T SPAM YOU).  Thank you for all the support!