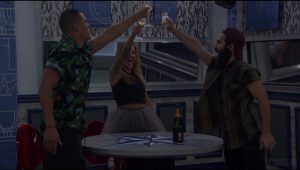 Josh, Paul and Christmas toast making it to Final 3. Josh is crying tears of joy and they are all proud of themselves for making it to final 3. Josh is running through the house screaming. In DR, each of them expresses their excitement at the prospect of winning the game. Paul says that even though he was 1 vote shy of winning the game last year. He says he put a plan in place every week to see it unfold, and he didn't put in all that work to not see it come to fruition. Christmas says that she's still in a boot, but she hopes to win the game. Christmas says she has no idea who she would take to Final 2 and she's not ready to have to make that decision until she's forced to. Josh says that to pull his game full circle, he may have to take a shot at Paul if he has the opportunity.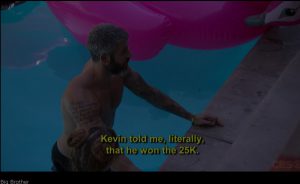 The final 3 are served surf and turf and drink champagne while they review the highs and lows of the season. Paul says that he wouldn't be there if someone hadn't taken the first temptation of the summer, $25K. Finally, we get to see pieces of the fight that had the feeds cut for several hours. Kevin tells Matt that he won the $25K. Matt says that Kevin hasn't spoken to him in 70 days, so when Kevin tells him to keep it to himself, he has no reason to, especially because he is the one going to jury that week. Matt tells Raven that Kevin told him he won. Kevin becomes paranoid and starts an argument with Matt, saying that he's making stuff up about him. Matt says, "Oh, you're threatening people again." Earlier that same day, Kevin picked up a glass and was going to smash it on Josh's head. The feeds were cut then, too. Damn, I wish they hadn't cut the feeds for the 2nd fight, which involves most of the houseguests.
Matt is pissed and Kevin becomes defensive, saying he told Matt not to say stuff about him. Raven confronts Kevin, asking, "Did you or did you not tell Matt you won $25K?" Kevin denies saying that in front of everyone and says that Matt is making that up to stay in the house. Raven says that she trusts Matt. Kevin tells her to go back to cuddling and asks what she's done this summer. Raven says that she has tried in every competition while Kevin has been throwing them and acting shady. Kevin says that everyone lied to Matt this week, and Jason lied to him yesterday. Alex jumps in, asking why Kevin is bringing Jason into this. Alex tells Kevin to go away and says he thinks he knows how to play the game, but he doesn't. Kevin starts getting in Alex's face and asks, "You do?" She says, "Yeah." He tells her if she makes it to the end, she will come in 2nd. Kevin asks what makes her a good game player. Then, he says, "You said I won $25K, so I'm doing better than you." Raven tells Kevin to get out of Alex's face. He yells that a shoe would win next to Alex. The whole house is pissed at Kevin and they tell him, "Go away. Bye." It's no wonder that Alex stopped speaking to Kevin and how her attitude towards him; Kevin acted like an asshole. Not saying he is an asshole, but this certainly shows a different side to him than the funny stories he told and the classy way he exited the game.

Next, the final 3 move on to the topic of showmances. Christmas says there were a lot of them. "Too many," says Paul. First, they talk about Jody and Josh doesn't believe that they're real. We see Jess and Cody on the hammock on day 12 with Jess telling him that her mom knows more about him than she does. (Um, one thing Jess knows that her mom doesn't is Cody's dick size since Jessica found that out when they had sex on day 6. Classy.) She asks Cody if he has a kid, and Cody doesn't want to answer. In DR, Cody says he is missing his summer with her and says that he won't talk about her because he doesn't want his daughter used as ammo against him. Later, Cody tells Jess that he underestimated her gameplay and wonders what people at home think. He tells Jess that he has a 5-year-old daughter named Paisley. Jess is flattered Cody told her. She never dated anyone with kids so she didn't know how to feel, but seeing his face light up talking about her is endearing.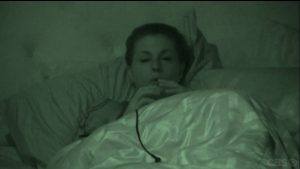 Josh says that there were a lot of showmances and duos, but there's only 1 group of real friendship and teammates (Misfits). They say, "We prevailed. It's boys." Paul says Christmas is Christmas Joy and she's the coolest girl ever with about as many tattoos as him and equally as crazy. Josh says that Paul and Christmas sleep together like a married couple. He says that since they were "Tan Dam" skydivers, they've been inseparable. He says that they took off the skydiving suits a long time ago and don't have to be attached anymore. Josh says that Paul and Christmas need to cut it out—stop the cuddles, the eating together. He doesn't know if he's the 3rd wheel or if he's jealous, but he wants it to end. Christmas says, "Paul is one of the most interesting people she's ever met. He's brilliant, funny, very weird, gives her smiles and makes her giggle. I can't imagine being in the BB house without him." Obvi, Christmas has a huge crush on Paul. In case you've missed BB Twitter-verse, Paul looks like Christmas's ex-fiancé. Next, we see receipts of Christmas watching Paul on TV in HOH. She says that the game is hard and that feelings start to go wild. She says, "My mind, my heart—I'm in this purgatory of emotions, and sometimes, my heart stops…Paul makes me smile; there's a little nugget of information." She's not normally in a position where her heart gets away from her. She says she's going to come out of there and discover whether her heart is broken or healed. She says she's upside down right now. You're upside down?? How is Paul's "little burrito" (his girlfriend) going to feel about seeing this?
The longest running showmance was Maven. They say Matt was cool but you couldn't see much of him because of Raven. Christmas calls her "Raging Raven." They only threw cereal and milk on each other. We see their most ridiculous fight. Raven starts throwing stuff at Matt and is clearly psychotic. Other houseguests are noticeably uncomfortable while others grab snacks as the fight escalates. Raven dumps cinnamon in Matt's face. She's pissed, without cause. He throws milk at her. Paul says, "And Satan comes out." They continue to throw cereal, cinnamon and milk on each other. Matt throws water at Raven and she dumps an entire bottle of cinnamon on him, leaving clouds of cinnamon in the air and a huge mess on the floor trailing from the kitchen to the bathroom. Houseguests' jaws drop upon seeing Raven's psychosis on full display.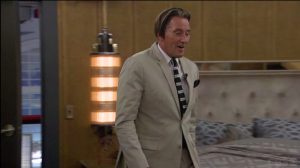 Paul says they must pay respect to Kevin as the only 56-year-old. Was he really a gangster? He had lots of stories and always dressed sharp. We see Kevin wearing all the suits he brought with him. Kevin is shown telling a mafia story to Paul. Paul says that Kevin is vague about his past, where he comes from and what he does. Paul says that living with Kevin is like living with a mobster. He is shown talking about money and guns. He gives people alliances, like Matt as The Professor and Alex as Terminator X. We see him talking about gun fights in bars.
Kevin tells stories and probably talks too much, which might make him a rat, but he's not the only one. As Josh, Christmas and Paul are watching the TV in the HOH room, they see a real rat running in the kitchen. Paul goes to find the rat, and even though Josh is freaked out, he joins Paul on a mission to create a rat trap using cheese, pots and kitchen utensils. Christmas is laughing at them and calling them fools.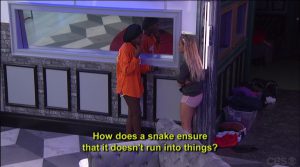 According to Dominique, a rat wasn't the only animal in the BB house. We flash back to the epic show down between Dominique, Paul and the rest of the house on Paul's side. Dominique tells Alex that Paul is a tempter, and she tells her she wants a house meeting with everybody. Paul "slithers" down to get Dominique and eventually, most of the houseguests end up in the HOH room for the Paul verses Dominique fight. She says that Paul is making them believe he has all the answers because he's a vet. She tells Paul that he's going home sooner rather than later, to which Paul responds, "That's pretty smug coming from someone that's sitting on the block right now."
Christmas says that being stuck in a house with strangers, some of them end up being like family, like you 2 Bozo's for me. Paul says, "That's friendship." Josh says, "La Familia." Josh says that they all became like Kevin's kids in here.
In this never-before seen clip, Kevin shares with Jason that his house was taken from him in 2008. His father was in prison, and due to legal fees. He says that the house was seized in front of him with neighbors bidding on his house. He says his kids were taken out of the neighborhood they had grown up in their whole lives. He says his daughter spent the first 2 months of her freshman year of high school crying in the bathroom. Kevin tells Jason that his wife and kids are his reason for being there but he won't tell anyone because he doesn't want them to feel sorry for him. My question is if Kevin's house was seized because his dad owned it, and it HAD to be sold to pay restitution. Kevin says he'd pay off student loans, take his family on a vacation and buy Olivia a car. He says with 6 daughters and 1 son, he doesn't think it's enough money for all of that.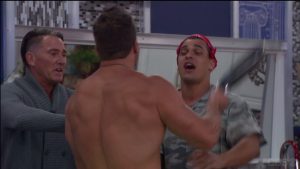 Christmas says that like family, sometimes they fight and some of us fight with pots and pans. We revisit the fight between Mark and Josh. Everyone is in the kitchen talking shit about Cody and Jessica (more so Cody than Jess). Mark pipes up telling Josh to shut the fuck up. Josh tells Mark to shut the fuck up, then he tells him to go hide behind Cody. Josh tells Mark that if he wants to gun for him, do it and he'll shit on him. Josh says Mark should've stuck up for Dominique; now Mark is trying to stand up for someone who gets in people's faces. Josh yells at Mark that he's a joke and a big fucking bully. He goes on to say to Mark, "Your personality sucks; you're bland as fuck." Mark starts laughing, leading Josh to ask Mark, "What's funny?" Mark replies, "So much." Josh picks up 2 pans and beats them together while singing the circus song. Mark gets up and rushes Josh, grabbing the pans out of his hands. Production come over the loudspeaker: "Opposite sides of the house." Kevin grabbed the pans out of Mark's hands; Alex grabs them from Kevin and shews Mark out of the kitchen with the pans.
We see a replay of the temptations from the Den of Temptation being used. First, Paul's pendant comes to life as Cody tries to backdoor him. Next, we see Christmas replace Cody in the veto competition. Finally, we see Jessica use the halting hex, which ultimately led to her eviction the following week.
Christmas says that lots of shocked faces and tears were revealed in the DR. We see sleepy houseguests and funny outtakes from the DR throughout the season. Jessica repeatedly says, "I hate Paul." Next, we see most of the houseguests cry in DR, except for Cody. He says, "We have the weakest guys ever on Season 19." Careful Cody, you're making victim noises while you're whining.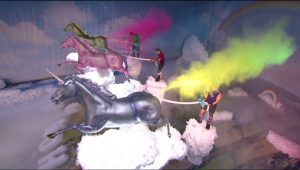 Paul says, "One of them is walking out with $500K, one with $50K and one with jack squat." During Part 1 of the HOH, "Tails of the Unicorn," houseguests must hold onto unicorns' tales while standing on tilting cloud platforms. The unicorns fart rainbow glitter bombs at the houseguests. (LMAO!)
LIVE FEED SPOILERS: Stop here if you don't want live feed spoilers!
=======================================================================================
LAST CHANCE–SPOILERS AHEAD
=======================================================================================
Part 1 Winner: Paul
Part 2 Winner: Josh
Josh and Paul have promised to take each other to Final 2. Josh said he thinks he can beat Paul. Paul believes he can beat Josh, and has been practicing his jury speech on live feeds. At first, he sounded condescending, but now he is owning becoming a third person with each of the pairs. Paul has 9 comp wins compared with Josh's 3. (That's not including the scale comp which determines the final HOH.) Christmas said on feeds that she plans to take a knee and become the last member of jury. According to sources, Matt and Raven plan on voting for Paul, but everyone else is bitter AF at Paul for playing them. Plus, they probably hate Matt and Raven so much that they don't want to vote with them. Will Josh win BB19 due to a bitter jury?
GET THE FLASHBACK TIMES HERE
Before you go… please comment below and let us know what you think!  Who do you think will win? Are you excited for this season? Let me know!
AND DON'T FORGET… we are doing YouNow shows all season when the feeds go down so make sure you BECOME A FAN there!  We will of course be doing recap shows and interviews too!  Whenever something goes down on the feeds we will get oepisodes, we will also be live tweeting during them!   Still want more?  Then become a Patreon for EXCLUSIVE content, giveaways, access to reality stars and become a member of the private Patreon group!  But what we're really excited about is our BIG BROTHER SPOILERS PAGE!  It's full of "Cheat Sheets" for you to use to stay on top of all the latest alliances and info!
So in order to help support us in our coverage of Big Brother this season please consider: Getting the live feeds from us here or becoming a Patreon, making a PayPal donation.  Of course we get it, money can be tight… so if you'd like to help us for free then be sure to subscribe to our shows in YouTube, iTunes, YouNow, and thumbs up and give us a nice review (we want to win a podcast award this year). Following us on your favorite social media site and sharing our content there is a great way to support us, too! We can't thank you enough for enjoying our shows these last 8 years, hopefully with your support we can continue to do them for the rest of the year.  You could also see what specific help we need by checking out our HELP US page HERE!  We can't thank you enough for all your support!  We love you all!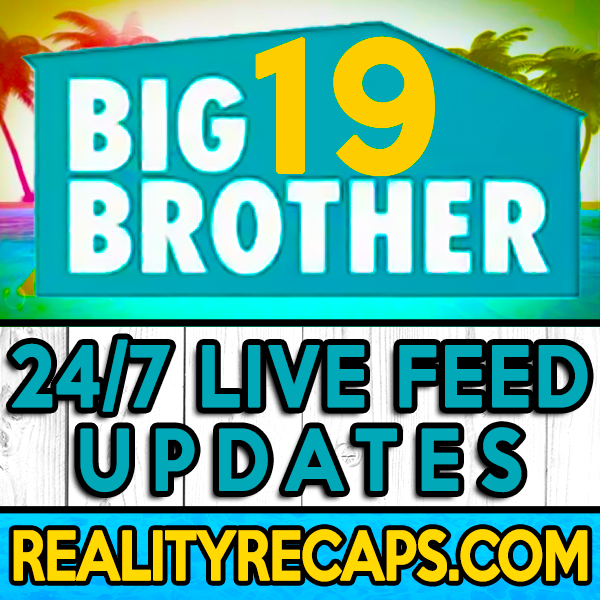 We also have a BRAND NEW TWITTER ACCOUNT which we will be using solely for our Live Feed updates.  It's a great way for you to find out what is going down as it happens 24/7 on the live feeds!  We wanted to keep it separate from our MAIN TWITTER ACCOUNT which covers all our shows because we love you and don't want to fill up your timelines!  Plus we will be posting news, gossip and spoilers there about BB19 exclusively too and we don't like to spoil on our main twitter account.  Now while twitter is a great way to get your 140 character live feed updates sometimes you just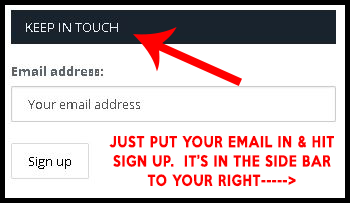 need more details, which is why we suggest you also join our newsletter!  This way you can get info like the exact cameras and flashback times for the updates we are giving you!  Plus, you can also get special prizes and all the latest info by subscribing to our monthly newsletter (WE WON'T SPAM YOU).  Thank you for all the support!