As we saw from the confused faces after Cody and Jessica's nominations when no slithering sounded, everyone thinks that Jessica bluffed about her temptation. Afterwards, they both have crappy attitudes with their fellow houseguests when they try to hug them. Paul calls Jessica and Cody up to the HOH room to discuss their nominations. Paul tries to calmly talk to them, but Cody is super pissed off. Jessica starts trying to explain that this twist has never been used in BB before. Paul politely tells her to keep her voice down so no one will hear them. Cody explodes as we've seen him do throughout the season, but this is beyond aggressive. He tells Paul that he can't tell Jessica to lower her voice. He says the rest of the houseguests are his dogs. Cody gets in Paul's face with a bunch of 'fuck you's' and Paul tells him to get the fuck out of his room. Cody then steps back up to Paul trying to provoke a fight, saying "What're you gonna do about it, Paul?" Paul replies, "Nothing, because I'm an adult." Paul comes out of the HOH room to yell over the balcony at Cody that he's acting like a child and references him lying about his age.
Afterwards, Jessica is furious at Cody because he has ruined any of the social game that she had rebuilt in his absence. She tells him that while she appreciates that he was trying to take up for her, Paul telling her to lower her voice is not a big deal and Cody attempting to escalate things was unnecessary. She asks if she's going to have to deal with him getting into fights over nothing in the outside world, too. He tells her that's how he is, and he realizes that he has ruined her game.
Josh is yelling at Cody for the way he stomps around the house like he owns it, that he sucks and doesn't have a personality. Mark pipes up, telling him to shut the fuck up. Josh tells Mark to shut up and go stand behind Cody. He brings up Dominique, how she didn't get in anyone's face, but that Mark didn't back her up the way he does Cody. Josh tells Mark that he sucks, is a bully and he's bland as fuck. Mark laughs at him. When Josh asks, "What's funny?" Mark says, "So much." Josh then starts banging pans together singing the circus song. Mark gets up from the table, still in his Bowlerina tutu, and charges Josh. He rips the pans out of his hands and starts to hit him in the head, but Kevin stops him. BB producers are heard coming over the loud speaker telling them to go to opposite sides of the house. In DR, Mark says that he was bullied as a kid, yet he's the one that threw pickle juice with hot sauce in Josh's eyes and tried to hit him in the head with pans. He's not sorry for how he's treated Josh. Mark is a douchebag.
Paul talks to Jessica who explains that this will be a null week if she uses her hex. Finally, some truth behind the details. (The rules of the temptations are that recipients are not allowed to lie about the details to houseguests. Since Jessica told a bold-faced lie to Julie Chen on last week's live show, should the Hex be taken away from Jessica for breaking the rules?) Paul tells Jessica that Cody will always be a target, and she's only on the block now because of being connected to Cody. She will no longer be a target if she doesn't use the hex and lets him go out this week. #ShowmanceKiller is back. Paul tells Christmas and Elena that they need to convince Jessica that she needs to not use her hex this week so that they can send Cody home.
Christmas has a heart to heart with Jessica, telling her that if Cody hadn't come back that Jess would be flying under the radar right now. Cody comes stomping into the room, grabs all of his stuff and moves into the have not room. Christmas tells her very frankly that Cody makes houseguests uncomfortable. No one trusts him or will work with him. If she uses the hex, it's very likely that she will be sent out even before him. (This is supposed to be the last eviction before jury starts, so this makes a big difference in stipend money for the houseguests, and Cody has said he doesn't care about the game on multiple occasions.)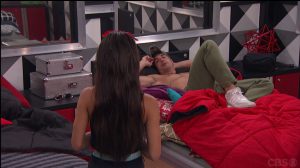 Cody tells Jessica that he ruined her game, and he's sorry. She tells him sorry doesn't cover it. He says that he can't balance her out and isn't capable of giving her what she wants. She says she doesn't want anything from him. Cody admits how he acted toward Paul in the HOH room is how he sometimes acts in the real world. She tells him that she represents her family and her job, and she can't have a boyfriend that acts like that. Run, girl, run. He's a sociopath!
Elena tells Jessica that Cody is bad for her game in the same way that Mark is bad for Elena's game after the way that he went after Josh. She tells her being away from the guys is the best thing for both of their games. A little while later, we see Jess and Cody kiss and make up even though Cody knows he's terrible for Jess's game. Girl, I just told you; he's a sociopath. How can you not tell that by looking into those dead eyes? You have nothing in common except that you like to bang each other.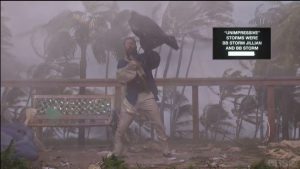 For the Under the Weather POV competition, the houseguests are kept up all night receiving BB Storm Watch announcements to memorize. The players are Paul, Cody, Jess, Jason, Raven and Kevin.  Jessica and Cody slept through most of the announcements. They individually read a teleprompter filling in the blanks with the information from the announcements the night before. Each announcement features details of storms named after Cameron, Jillian, Dominique and Ramses. Standing in the middle of a rainstorm with high winds blowing debris, 'sharks' and pool floats at them, each player earns points for each question they got correct. Paul wins the veto.
Paul has a conversation with Jessica about what she wants in return for not using the hex. She wants 2 weeks of safety and for Alex to be nominated as the target next week. Paul tells her that he will work on getting everyone on the same page. In DR, Jessica says that if everyone will do that, then I might send Cody home on Thursday night. I have feeds so I know how much you like to bang Cody, Jessica. My money is on you using the hex and ruining your game. And Cody is selfish enough to let you do it. You deserve each other!
There was too much drama to get to the POV Meeting in this episode. I'm guessing we'll see it during Thursday's episode along with MORE major drama that unfolded on Monday. If you don't have feeds, you are missing #TeamFunFeeds!
GET THE FLASHBACK TIMES HERE
Before you go… please comment below and let us know what you think!  Who do you think will win? Are you excited for this season? Let me know!
AND DON'T FORGET… we are doing YouNow shows all season when the feeds go down so make sure you BECOME A FAN there!  We will of course be doing recap shows and interviews too!  Whenever something goes down on the feeds we will get oepisodes, we will also be live tweeting during them!   Still want more?  Then become a Patreon for EXCLUSIVE content, giveaways, access to reality stars and become a member of the private Patreon group!  But what we're really excited about is our BIG BROTHER SPOILERS PAGE!  It's full of "Cheat Sheets" for you to use to stay on top of all the latest alliances and info!
So in order to help support us in our coverage of Big Brother this season please consider: Getting the live feeds from us here or becoming a Patreon, making a PayPal donation.  Of course we get it, money can be tight… so if you'd like to help us for free then be sure to subscribe to our shows in YouTube, iTunes, YouNow, and thumbs up and give us a nice review (we want to win a podcast award this year). Following us on your favorite social media site and sharing our content there is a great way to support us, too! We can't thank you enough for enjoying our shows these last 8 years, hopefully with your support we can continue to do them for the rest of the year.  You could also see what specific help we need by checking out our HELP US page HERE!  We can't thank you enough for all your support!  We love you all!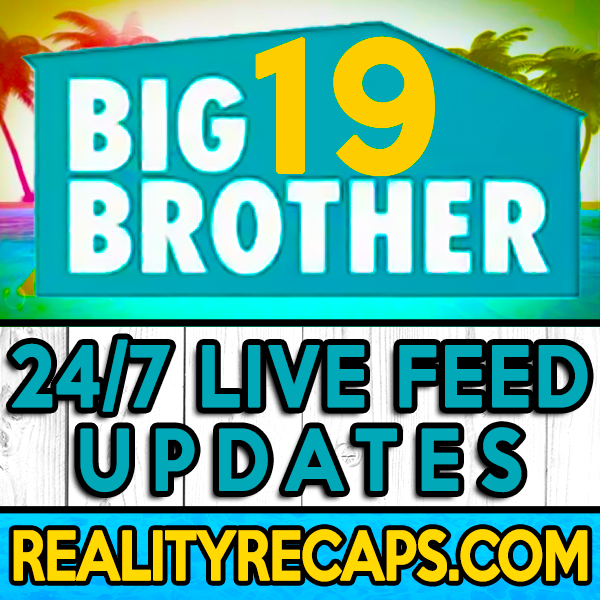 We also have a BRAND NEW TWITTER ACCOUNT which we will be using solely for our Live Feed updates.  It's a great way for you to find out what is going down as it happens 24/7 on the live feeds!  We wanted to keep it separate from our MAIN TWITTER ACCOUNT which covers all our shows because we love you and don't want to fill up your timelines!  Plus we will be posting news, gossip and spoilers there about BB19 exclusively too and we don't like to spoil on our main twitter account.  Now while twitter is a great way to get your 140 character live feed updates sometimes you just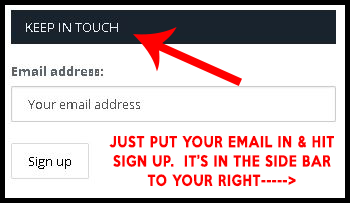 need more details, which is why we suggest you also join our newsletter!  This way you can get info like the exact cameras and flashback times for the updates we are giving you!  Plus, you can also get special prizes and all the latest info by subscribing to our monthly newsletter (WE WON'T SPAM YOU).  Thank you for all the support!