Holy Crap! So much happened this week I don't even know where to begin. Lets start off easy. The rose ceremony that Clare so rudely made into a cliffhanger last week thus throwing off the dynamic of the show for the rest of the season. She is melting down in front of Chris who is doing all he can to not laugh at her, eventually she makes it back to the ceremony, but Ashley I gives her rose out next, to Jared of course. Clare then takes the hot seat again and gives her rose to JJ. Does she have any intention of exploring a relationship with him, nah, she just wants a few more days in Mexico. Then it's Juelia's turn. Does she heed Mikey and Jonathan's warnings about Joe? Absolutely not. Joe stays so he can meet Samantha.  Mikey and Jonathan along with Michael who literally just walked on the beach head back home.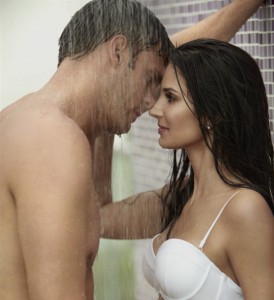 OK now to the new week. To sum it up precisely Joe is a douchebag. The biggest and douchiest of douchebags there ever was. Samantha walks into paradise and immediately zeros in on Joe and takes him aside. Of course she has a date card and she asks him and he says yes. They walk up to the group holding hands to leave for the date  Juelia is freaking out. Of course she feels disrespected. Just yesterday he was acting like she was the one and now he's coupled with Samantha. What happened to be shy and nervous Joe? Their date is a hot bodies photo shoot with People magazine and the two waste no time making sure their bathing suit areas are touching and things get hot in the shower making even the photographers uncomfortable. They show back at the beach and Samantha has a huge bouquet of flowers and telling everyone how hot their date was.
Juelia is finally seeing Joe for the scumbag he is and he really doesn't give a damn. If its possible to give negative amounts a damn that would be Joe. Jared finally convinces Joe to talk to Juelia but that conversation goes no where because you can't talk to an idiot. He leaves her to go back to Sam. The two of them are heating things up all over the beach and the pools and it looks at some point that she gives him a very happy ending in the hot tub. Her and Austin from BB17 would get along JUST fine.
Finally we move on to something more happy. Jade and Tanner are falling in love more and more and Carly is lusting for Kirk. Finally Carly gets a date card and of course she chooses Kirk. The two spend a romantic evening having dinner and really talking. It's the night of her brothers wedding in Ireland that she is missing so she's a bit bummed about that. They kiss as fireworks go off in the background. The two can stomach going back to the beach so Kirk and Carly opt for a hotel room and spend the evening together. At least these two do it behind closed doors away from the cameras!
Ashley S is back at the hotel room pouring her heart out to Jorge the bartender. about how much she thinks Dan is marriage material but Dan is having second thoughts and wants to keep his options open. He saw some things he didn't really like in Ashley's personality. I'll give her credit, she managed normal for a lot longer than I thought she would. Unlike Joe though, Dan sits Ashley down and tells her these things instead of just making out with girls in front of her. Now Ashley and Juelia are heartbroken in paradise.
After the airline losing her luggage and getting lost in town Megan finally arrives on the beach. You remember Megan right? Gorgeous blonde from Chris' season who broke into Chris's house and banged her head on all his walls! Dan and JJ are both interested but JJ's ability to make Megan laugh make him the winner of he date card. They go on a date with boat rides and jet skis and the two seem to really hit it off
Back to the Joe/Juelia drama and it gets good now. It comes to the guys attention that Joe and Samantha talked before coming on the shows. This has Kaitlyn/Nick written all over it. Dan has taken on the role of Juelia protector and wants him to come clean. He will only admit to wanting to meet Samantha and that is it. Juelia tries to talk to Joe again and he is his douchebag self until she threatens to tell Samantha and then he gets apologetic. Juelia doesn't care though and goes to find Sam. She tries to tell her what's happening and Sam shuts her down saying she refuses to talk about it unless Joe is there. I get that Joe is an ass but Samantha who was Juelia's best friend on their season of the Bachelorette, who vacationed with Juelia and her daughter, is taking Joe's side over Juelia's is baffling to me. I say Juelia you tried, let her get her heart-broken, she is NOT worth your time. Production even over hears Samantha telling Joe what to say in his side interviews so they don't reveal that they knew each other. You guys are busted and why you weren't sent back to the States on the next plane is beyond me. I get you want drama ABC but real people's feeling are at stake here and that should not be tolerated.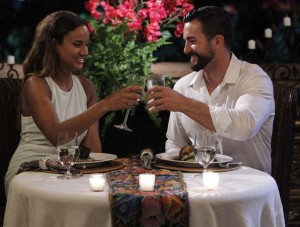 Trouble brews in paradise though as another of Chris' cast offs Amber hits the beach. She is there for Dan Cox and wastes no time asking him on her date the two of them walk about town, the locals chant for them to kiss and they do. They seem to make a connection really fast. He is honest with her about his relationship with Ashley. Amber who took things on the slower side with Chris is not making that mistake again and the two of them are kissing and making out first date. Dan never expected to be doing that but couldn't deny his feelings for her. Ashley is back home crying as Juelia consoles her. She points out to Ashley that at least they aren't making out on the beach in front of her like Joe and Sam are.
Guys are giving out the roses this week and Ashley I has yet to cry this episode. I am so proud of her. Roses will have to wait til next week which i hate. ABC needs to stop this cliffhanger crap. I'm sure we can all imagine what is going to happen though. What did you think of the Joe/Juelia/Samantha love triangle. Is the little integrity this show have disappearing with all the previous relationships going on? Comment below and let me know.