The Joe, Samantha and Juelia drama continues this week. It's tiring and hard to keep up with but for you guys I will try! Joe at this point has come clean to talking to Sam and using Juelia to get his rose while Samantha is pretending to know nothing about such things.  JJ has gone from zero to hero in just one episode and even after his date with Megan went well offered his rose to Juelia. She turned it down because she wanted him to have his shot at love in paradise. Juelia decided to confront the two again. She's trying to talk to Joe but Samantha won't let him talk making herself look even worse. Clare pounces on her and tells her to let Joe talk.
For the first time I am all about Clare. Go get her….let the claws come out girl, this girl needs a reality check. Ashley and Jared talk before the rose ceremony, It's been 2 whole days since the last ceremony. 2 days since Ashley has cried, and 2 days since Jared has kissed her. Well Jared remedies that and makes out with her. Tenley is campaigning for Juelia to get a rose. I get that Juelia is a sweet girl and was done pretty dirty by Bachelor in Paradise but why should any of these guys have to give up their possibilities at love just so Juelia can stay? Megan is just there to party, even though I'm sure she doesn't really know where she is. Juelia talks to Chris, she has resigned herself to the fact she is leaving but she feels bad that she sent Mikey home, and wants them to bring Mikey back. Everything is possible in paradise right?
We are finally put out of our misery and it's time for the rose ceremony. No surprises in the fact that Josh have his to Tenley, Jared have is rose to Ashley I. Kirk's went to Carly and Tanner's went to Jade. Then its time for JJ. Will Megan get his rose? Will he give it to Juelia despite her refusal? NOPE  Ashley S gets his rose and Bachelor Nation collectively picks their jaws off the ground and puts their eyeballs back in their sockets. Then…now brace yourself….this is a doozy…JJ tells everyone he had a girl back home and they had broken up but she still has his heart and he exits paradise leaving everyone shocked. Joe of course gave his rose to Samantha and Dan chose to give his rose to Amber after needing to talk to Carly for a minute. So Clare, Megan Juelia all go to leave paradise. Clare says this is her retirement from Paradise and I say Dammit No Clare you can not go. As Juelia exits guess who is there to meet her? Mikey T! Chris Harrison is truly cupid and brought Mikey back for Juelia and they get to go back to paradise to find love with each other.
Right after the ceremony everyone just wants to go to bed after the nights drama when they see a date card sitting on the table. Tanner, Your flight leaves soon…choose your date it says. Of course he chooses Jade and the two go right to the airport and fly to Tequila, Mexico via Guadalajara. They visit a Tequila distillery where Tanner gets to chop down Agave plants to make Tequila. The two have are told that there is a "Fantasy Suite" waiting for them. They jump at the chance to use it. Tanner has things he really wants to talk to Jade about so this is his perfect opportunity. Once in the room Tanner wants to make it official and she agrees. They are now boyfriend and girlfriend. All that left is for them to change their Facebook status to In A Relationship The two fly home the next day.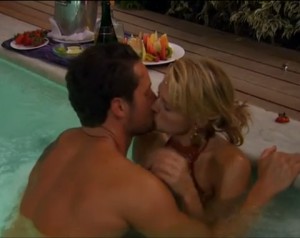 They arrive to find that Nick P from Ashley's season has landed on the beach. Guess what folks, he's been talking to Samantha too, even more than she spoke with Joe. Nick is not afraid to steal a guys girl so this should be fun! He asks to talk to Samantha alone, and everyone wants her to say Yes just to watch Joe go totally nuts. They go back to the group and she reveals that she declines his invite. Nick reveals to Mikey that they talked and even met before hand and he tells her how she had been talking to Joe too. Mikey steers him to Ashley S and she was happy to accept. The date called for them to go to a private island but with Hurricane Carlos on the horizon the ports were closed. The guy is explaining it to them in English, albeit heavily accent English and they don't understand and are baffled when he walks away. The two get to enjoy a day at a spa hotel instead. I'd rather the spa so  I wouldn't be upset. They two get massages and spend the day getting totally hammered at the pool. Hammered Ashley is AMAZING, even better than crazy Ashley. The two seem to hit it off in their drunken stupors, but will they still be in love when the tequila wears off?
Back at the beach Joe and Samantha are enjoying his birthday on the beach and it's their first drama free day here. Joe feels she's being different today and he's worried that she's out of his league so he's falling her around like a love-sick puppy. She says she confused because he seems like a good guy but she's heard such bad things about him. She says everything is OK but he doesn't believe her. He leaves her to shower feeling very uneasy about things. Later that night he planned a birthday party for himself. She breaks it to him that she can't handle all the drama that he's associated with. Are you kidding me? This girl is totally delusional. Joe is not saint but honey, you had a giant part in all the drama. Take responsibility for your actions. Joe doesn't make you look bad, you make you look bad! Joe says he'll show the texts that prove she was in on the plan. Samantha is trying to mend her fences, I hope they close the gate in her face.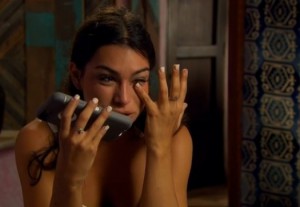 Jared is realizing that things just aren't there with Ashley, she's great but he isn't over Kaitlyn yet.  He has planned an at home date for her to let her down gently. He tells her that he wants her to experience paradise….with other guys. She says that won't happen. He doesn't want to lead her on, because he likes her and thinks she sweet. He doesn't want her lose out on love because of him. She realizes he's not over Kaitlyn and the water works start again! Ashley's heart is broken yet again and I really feel for the girl. She asks Jared to leave her alone, but he's reluctant to leave her so upset. He goes and she breaks down on the beach. Then she calls Kaitlyn and asks her what she did to Jared.
It's a new day in paradise and Ashley thinks Joe will commiserate with her in misery but he's not really that miserable. He does ask about her rose and who it will go to. He's so sensitive! Juelia and Ashley S go to her, and try to calm her down, but she's convinced that Jared has ruined her. Carly found a date card and it's for Mikey. He is on his way to Guadalajara with Juelia. The two think they are going on a romantic date but they end up at a wrestling match. Come on production! Give Mikey a fighting chance. Once it's over the two get to have some fun in the ring themselves. Mikey is given a card, they have the choice to either stay together or stay apart. He promises to be a gentlemen and Juelia accept the opportunity to get to know him better and spend the night with him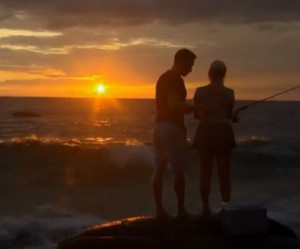 Joe, Josh and Kirk are talking about Samantha and her role in the deception and Jared and Tanner are talking about them. All agree that Samantha seems to be the mastermind of the whole operation. Samantha is still playing innocent and saying she doesn't understand the drama. Joe has two options for her. You be with me and we start dating and all is good or not and he reveals everything. She wants to take a step back and Joe is not happy nor is he done with her. But on a happy note, Kirk has created a date for Carly, and he takes her for an early evening fishing trip. They bonded over fishing the first night. These two are so freaking adorable they laugh and giggle and enjoy the sunset. They will make beautiful babies so they better make this work!
The next day Ashley is talking to Jorge the bartender about Jared and Josh is counselling Joe about Samantha. Joe's not giving up on her yet. He goes to Ashley I for advice on how to approach Joe. She tells him to take a cheesy but cute way to approach. Reintroduce yourself.  Hi, I'm Joe….I think you're pretty. Pretend you never met her. He tried so hard, but she refused to say more than Hi to him. Now he feels embarrassed so that isn't a good thing for a psychotic man. Justin from Kaitlyn's season appears out of no where and of course he's here to meet Samantha. Before he can ask anyone on a date Joe takes him away to give him the rundown on the relationships. He says don't take Samantha out, but he wants him to talk him up. Justin don't care about bro code and asks Samantha on a date and this time she accepts. So is pissed and now all the guys are on Joe Patrol and hope he doesn't either flip out or kill himself. She takes Joe aside and tells him she wants a clean slate, but what does that mean? She says she still likes him but she's going out with other guys. Karma is a bitch Joe, and her name is Samantha.
We continue this drama next week and we add new guys into the mess so stay tuned. See what couples weather hurricane Carlos!  Who do you think is in the wrong here, Joe or Samantha? Comment below and let me know!