We made it y'all. It's the finale of Bachelor in Paradise. We witnessed romantic coupling, devastating break ups, lies, and lots of hot half-naked bodies but now it's time to commit or break up. We pick up this week with Jared accepting his fantasy suite date with Ashley I much to Jaclyn's irritation. The two go off on their date which was really just sitting on bench talking and a fantasy suite card. Jared says yes, and they end up at a gorgeous hotel suite, they sit on the bed and that is all they give us. We never find out what happens when the return the next day, Ashley is all smiles and Jared is stone faced. We get no confirmation on the status of Ashley's virginity. Something tells me it's still in tact.
The vibe at the beach is weird the next day. Everyone knows the end is near. Jorge is trying to sell Mikey to Juelia. She really likes him but Mikey isn't so sure. He loves her. She is awesome and unbelievable but like a friend. He knows he has to end it with her now. The poor guy has to break up with the widowed mother, this won't come off well. He does the best he can though. He came back for her, tried to make it work, he loves her as a friend but the spark just isn't there and you can't force it. He feels awful and you can tell that it's killing him to do it. Juelia, of course, is hurt and decides to leave now instead of waiting for the rose ceremony.
Jaclyn still hasn't found a date since Ashley scooped up Jared. She talks to Justin and decided to ask him and he says yes. To shake things up we get our last arrival in paradise. Cassandra, who was one of Juan Pablo's special ones because she was a single mom comes walking in.  The girls give her the lay of the land and she decides to ask fellow single parent Justin out on the date. He feels more of a connection with her than Jaclyn so he accepts. Then he has to go and tell Jaclyn and she is not happy. There really is no one she wants to go out with or that's even available. Nick decides he is going to ask her for her date card. This is a little tricky though. On Bachelor Pad 3 he eliminated her, then sat in the finals with her best friend and screwed her out fo $250 000. She will give him the card but she wants some pay back. She makes him roll around in the sand doing sexy play boy model poses. She finally gives him the card and he scurries to Samantha to ask her out and she says yes.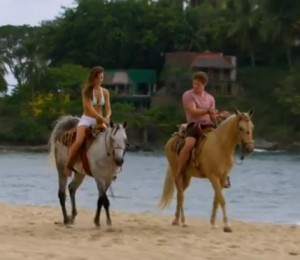 On Justin and Cassandra's date they go horseback riding on the beach and swim and have a picnic after. I really don't see the appeal of Justin. The guy has been on 3 dates in 48 hours. I guess it's because he's really the only one left but he's not that good-looking and I find him boring. The two hit it off talking about their kids. They both have boys and just enjoy being able to talk about their kids and have the other one understand. They end up making
out on the beach and I think Justin has finally found his girl. Nick and Samantha go on their date too. They are treated to a fantastic private meal cooked for them by Chef Josefina who was flown in from Mexico City. I stopped listening to the two of them talk because I didn't really care what the black widow had to say, but the food. The food looked fantastic. They even ate it. Normally the food just sits there and I salivate. It would have been pretty rude not to eat it. Anyhow the two end up kissing of course because Samantha has to kiss everyone.
Back at home everyone is still talking about the Sam spell, and how Nick is the next victim. Kirk and Carly are still happily in love but things seem to have gone south for Jared and Ashley I. For the 1000 time since being in paradise Jared realizes he's just not that into her. Now he has to tell the girl AGAIN that things aren't going any further.  The poor girl is rejected once again, he tells her how great she is blah blah but "the connection" is just not there. The waterworks begin yet again, you'd think Jared would come armed with tissues for the poor girl, it's not his first rodeo. She just wants to leave but he wants to talk, she pushes him away to have her pity party with the girls. Jared decides that there is no love for him here and he actually walks away from paradise. If your counting that is 2 down so far.
Now everyone is waiting for the cocktail party to begin and Chris Harrison walks in and throws a wrench into everyone plans. The girls with no attachments  were hoping to get a chance to get roses from they Wild cards but not anymore. Ladies, ladies ladies, you aren't segregated from these guys, you should have been securing roses on the beach in bikinis. Ashley I decides not to put herself through a cocktail party and pulls herself out. The silver lining, Jared has taught her that the full package does exist but she calls her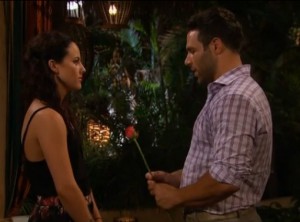 sister in tears. Time will heal Ashley's heart and aside from her dramatics she really is a sweet girl and I hope she finds her Aladdin sooner than later. We are down three and the ceremony hasn't even started. Kirk gives his rose to Carly of course. Tanner and Jade are still a thing. Nick gives his rose to his new-found love Samantha and Josh and Tenley are still going strong. Justin picks Cassandra and then it's Dan's turn. Before he gives his rose out, he needs to give a speech. He tells Ashley S there first two weeks were amazing and he is so flattered that Amber came her for him but he didn't find love in paradise…..or did he? and removes himself and his rose from paradise. Mikey, who lurked around for the free vacation asks Mackenzie to take his rose and she says no and walks out. That was an unlikely pairing, Mackenzie being the youngest and probably craziest and Mikey being the oldest. Mikey says he has no more options and he leaves paradise as well. So there you have it 10 people are gone with Jaclyn, Amber. Chelsie and Ashley S all without roses and going home as well.
In the light of day Kirk wakes up feeling uneasy about things. 10 remain and are all solidly shipped up. Of course Chris walks in and everyone is thinking Awww shit here we go. It's the final week in paradise and no one new is coming in. It's time for the couples to take this to the next level. Can this last outside Mexico. They will all get dates with fantasy suites. Cassandra who has only known Justin for 24 hours is a little weary. Cassandra, you have a kid, you know what sex is, calm down. Being in the same room doesn't have to lead to that. Just ask Ashley I! Jade and Carly are super excited. Carly more so because they've only had one date. Kirk is with the guys freaking the heck out. Things are moving way to fast for him. Carly talked about moving, and having kids and weddings. Kirk being a guy is thinking whoa, back up the bus. He's just not there yet. He knows he has to talk to Carly and things go bad. He tells her everything his feeling and she is beyond devastated. She can't even wrap her brain around it, you can see her mind is going a mile a minute. Were you
just pretending. She just wants to go, she needs Jade and the girls and he just wants to talk. Kirk NO, you want to talk because this went badly and you need to feel better. Let Carly take the lead her and let her go be with the girls. Jade and Tenley close ranks around her LIKE GOOD GIRLFRIENDS DO (take note Samantha) and help her pack her things as she breaks down in tears. Kirk shows back up again and I want to smack him. She has told you so many times to leave her alone…just go pack your own crap. It was probably the hardest breakup I've seen on The Bachelor franchise
Going in to the final, finale episode the girls are reeling after Carly's heartbreak and starting to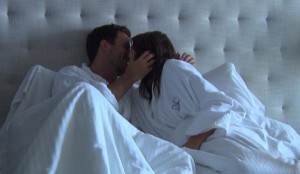 question everything. The guys feel bad but just want their dates to begin before the girls start to chicken out. Now let me say first that I was extremely underwhelmed at this last episode. I was promised dramatics and in my mind Jade and Tanner were breaking up, Tenley was pregnant, Justin proposes to Cassandra and she says yes. That would be a dramatic final episode. But no. The dates go on and we see very little. Some highlights were the Cassandra denied Justin a stay in the fantasy suite. It's too soon and they have to think of their kids and the Jade and Tanner dropped the Love Bomb on each other. They all return to the beach the next day.
It's their final day in paradise and the couples have this last day to spend together before the evenings rose ceremonies. Tenley is waffling about Joshua. She just isn't sure how things would work outside of Mexico but everyone else seems pretty solid. One by one the boys stand on the beach waiting for their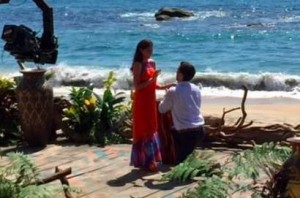 women. First up is new couple Justin and Cassandra. He is so happy they found each other and offers up his rose and she accepts. Nick is up next and Samantha happily accepts his rose. Wake me up when things get dramatic please.  Josh is on the beach waiting for Tenley and here is where things get a touch dramatic. Josh is beaming, he loves her so much.  He tells her how much he can't wait to be out in the world with her and she wants the same thing but why does he have to live in Idaho? He makes her feel loved and adored and safe but outside of paradise he's a country boy and she's a city girl and she would resent living there and he'd hate the city so they should just end it. I wanted to slap her. You found a guy you adore, who adores you and you're going to let a little geography get in the way. Finally the moment we are waiting for Jade and Tanner. The two profess their love for each other. Tanner fools her though and tells her he can't give her a rose…………….because their love is worth more than that and out pops a gorgeous Neil Lane diamond ring. I don't think Chris Harrison travels without Neil Lane by his side.  He asks Jade to marry him and of course she says yes. Move over Marcus and Lacey and new Bachelor Royalty couple has been crowned.
Quick up date on the couples. Justin and Cassandra have since broken up and she randomly met Jonathan at a photo shoot and they are now dating. Nick and Samantha are still going strong, Carly is still pretty bitter (not that a blame her) at Kirk and Tenley are Joshua are still broken up but friendly. Jade and Tanner don't plan on a long engagement show now it's a race to the altar between them and Kaitlyn and Shawn. I am sure next years BIP will start with Jade and Tanner tying the knot. So that is it, another season of Bachelor in Paradise over. Congratulations to all the happy couples and I hope that both Tenley and Carly find the love they are looking for.
What are your thoughts on the outcome of this season? Comment below and let me know. Who would you like to see return next season. The Ashley's need to be there as long as they are single it just has to happen. See you in January for The Bachelor!