It was quite the emotional fourth leg as the teams set out from Buenos Aires heading back home to Halifax, Nova Scotia. With just over an hour separating the teams they all end up at the airport waiting for their flight. Knocking out Kristen and Neil's first place finish. We start off on a somber note as we learn that Leilani, who is originally from Halifax, hasn't been home since she planned her fathers funeral a few years back. Making the trek home is going to be emotional for her as it she ends up back there on the anniversary of her mom's death. She stays strong though and dedicates this leg of the race to her. Everyone has their eye on that express pass which needs to be given out by the end of this leg of the race. Gino and Jesse even offer them 50 bucks and help with any challenges they need help with. Nova Scotia natives Hamilton and Michaelia hold the treasured pass and have a strong bond with fellow province natives Brent and Sean. The two struck an immediate bond that Sean is hoping to use to gain the express pass. At the airport Hamilton decided to let the brothers in on his news. He tells them he's transgender. The two share an emotional moment. The brothers are honored that he would share such personal news with them. I was crying, I had goosebumps and then Hamilton pulls out the all mighty Express Pass and hands it over to the brothers. YES! Good choice guys.
Off to Halifax they go and once there they need to find Halifax Central Library. They need to count the amount of black and white smart phone art that is hanging on a wall with 5000 other pieces of art. write their number on cue card, go up an elevator and give their number to the librarian. If they are right they get their next clue, if wrong she gives them another card and off the go to try again. They can only guess once a turn so many teams when back a few times Hamilton and Michaelia were first out of the challenge. Gino and Jesse, Matt and Nick, Simi and Ope, Sean and Brent and Nick and Kristen all just start guessing. The choose to divide an concur each getting 10 numbers they go one at a time to the librarian and whoever got the right one shared the answer with the group. The strategy worked but only in Canada does that happen right?
Their next clue is the Road Block. Who's got an Eagle Eye? Definitely not me! My race partner would be doing this one. The racer needs to climb 340 feet to the top of the Angus L MacDonald bridge and with binoculars scan the area to find their next clue. Brian manages to over take Michaelia during the climb and is first out of the challenge. Then disaster strikes! While Michaelia is climbing Hamilton realizes he doesn't know where is passport is. He tears apart their bags and it's not there. He gives her the bad news when she gets to the ground. After a squabble the
two duck into a hotel and call the airline. They have no choice now but to run the rest of the leg and hope to got they find the passport by the time they are done and go back to the airport to get it, as the rules of the race are you can not be checked in unless it is with you. Please let it be a non elimination leg. Leilani had no problems figuring out where they next clue was because she knows the city. Nic thought he saw what he thought was the clue and ended up at a marina and had to head back. The found the marker on the way back in the cab. Jesse couldn't find the flag but Kristin helped him out when she found it without even using binoculars. He didn't  bother really looking at it though and they ended up going to the wrong place. On the way back to the bridge they catch sight of the flag saving them some time.
Their clue is at the top of Military landmark Citadel Hill. There they need to taste test 5 smoothies and guess all the flavors correctly using the 10 options they gave them. I think most teams were just happy it wasn't something nasty and it was an opportunity for them to fill their bellies.Brian and Cynthia are first to finish. Most teams did it in a few tries, Simi and Ope made up some much-needed time there but Sabrina and Nic struggled. They were the last there and it seemed to me like they were contemplating taking a penalty again, They persevered though and made their way to the next clue.
Roadblock time! Teams pick from Suds, where they need to find the Garrison brewery truck deliver three orders to neighborhood pubs and pick up two empty kegs to bring back and Bubbles, where they go the Aquatron each grab two lobsters and they need to band and tag them for tracking in the wild to receive their next clue. Leilani and Dujean are the first at Suds and her knowledge of the city gives them an advantage except THEY DIDN'T READ THE CLUE!!!!! They delivered
everything so fast but didn't pick up their kegs. Leilani goes beast mode though. Back to the bars they go and while Dujean uses the dolly to take the kegs, Leilani is carrying kegs through the streets. Don't mess with that girl, she's doing this for MOM and nothings going to stop her.  Brian and Cynthia and Hamilton and Michaelia try Bubbles but they can't dive so they go over to Suds. Kristin and Neil and Brent and Sean stick it out though and manage to tag and band their lobsters. Simi and Ope and Nick and Matt read their clues and do Suds. In last place Nic and Sabrina go to Bubble but  decide after changing to over to suds. After being told they forgot to pick up their kegs they go finish the detour. Michaelia and Hamilton now have to head back to the airport to find the missing passport. Can they make it in time to not be eliminated?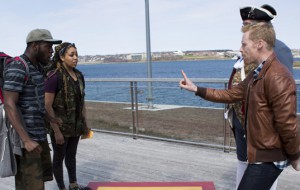 After the roadblock they all need to head over to Halifax's Seaport Farmer's Market to meet Jon at the pit stop! After crushing this leg of the race for her mom Leilani and Dujean have an emotional first place finish. The win a trip for 2 to any Caribbean destination and the 6 months of free gas. They are followed by Brian and Cynthia in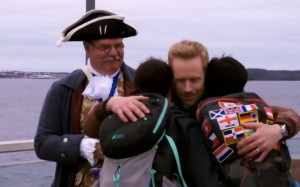 second. Nick and Matt come in third for the third leg in a row. Sean and Brent are just off the podium in fourth followed by Simi and Ope in their best finish so far. Kristin and Nick fall to 6th and Gino and Jess are 7th. It's now a race between Nic and Sabrina  and Michaelia and Hamilton who have been reunited with their passport. Unfortunately for the young couple Nic and Sabrina beat them out and Hamilton and Michaelia are eliminated from the race.
It was a hard elimination to stomach and I think for Jon is was difficult for him to deliver the news. You wanted this young couple who were so brave to share their story with the world to go far. I see big things in their future though. But on the plus side it was nice to see Leilani pull out the win in her home city on the anniversary of her mom's death. She worked for that win and I was so proud of her. Teams now head to Iles de la Madeleine and we get to see the first face off! Who do you think is going to come out on top? Can Nic and Sabrina make a comeback in their home province? Comment below and let me know!