It's the week we have all been waiting for! Fantasy Suite week. We've finally left the good ole USA and have headed to Bali. Chris is coming off of three really great hometown dates and can't wait to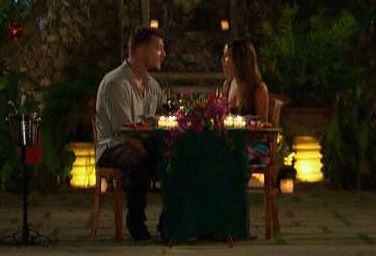 see the girls again. Kaitlyn gets the first date of the week.  The only concern Chris really has with Kaitlyn is that she has a guard up and he's hoping that will come down today. First off they visit a temple where you aren't allowed to kiss, the spend time with the people in the temple. Then the go walking around the village. It's a fun easy time with them as always. They go to feed the monkeys and Chris gets peed on which he takes in great stride. Kaitlyn is scared of the them but wishes she could be more like a monkey. They know what they want and they just go and get it. They do talk about the hometown date and she tells Chris that her parents can tell that she's falling for him. At their romantic dinner (where no one eats) she does address his concerns about her guard being up. She knows she has it and she really doesn't want it, but she has this fear of loss from her last relationship. Chris now feels it's time to pull out the Fantasy Suite card. Of course Kaitlyn says yes. She feels that things are happening the way they should be and really wants to tell him she loves him. They go check out their suite that is gorgeous with a bathtub full of roses and before they close the curtains and say good night to the cameras Kaitlyn does tell Chris that she is completely falling in love with him and he says it back to her! WHAT! They aren't supposed to say that. Do you think this is the relationship that could lead to engagement or are they more suited as friends than lovers?
Whitney gets the second date of the week. Chris really only has one concern with Whitney as well. After seeing how passionate she is about her career he wonders (as did I) if she could give it all up
for small town living. Their date is an afternoon on a boat. The two enjoy cuddling up to each other on the rocky water and Whitney has a concern of her own and she brings it up. After her sisters cool reaction to giving Chris her blessing she is afraid that it might impact how he feels about their relationship. Chris tells her that while it wasn't exactly what he wanted to hear he appreciates that she was honest with him. Her reaction doesn't change how he feels about Whitney or their relationship. They brave the waters and go swimming,  and Whitney is confident she'll marry Chris. At dinner Chris opens up to her about his fears. Whitney was the only one that while in Iowa never got to see Arlington so he lays it out for her just what she's in for. There is nothing to do, if she wants to still work there will be a drive. Des Moines is 2 hours, Chicago is 4 hours away.  He tells her that he normally just stays at home because even to see a movie it's a drive. Whitney is honest with him. Would she have picked Arlington off the map to go live. No.  She tells him that while she worked hard to get where she is at with her career she's not fully happy because she also wants to be a wife and a mother. She is more than happy to give up career to have babies and make motherhood her new career. Chris breathes a sigh of relief and presents her with the Fantasy Suite card. She accepts it because she knows that they need this time alone. Chris also tells Whitney he's falling in love with her. So I see how this works, tell all three your falling for them. Do you guys think Whitney can truly be happy giving up her career for love and babies?
Last but not least Becca gets the third date. She goes in knowing she needs to reveal her virgin status. Unlike Ashley's virginity being because the opportunity hasn't presented itself, Becca's is a life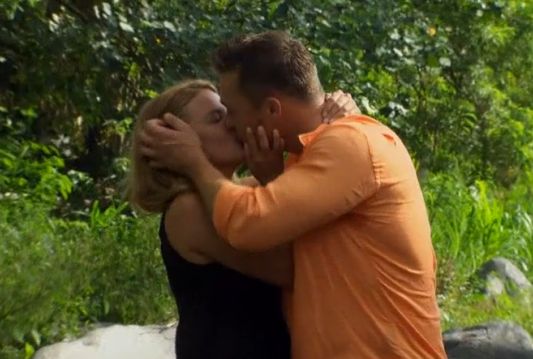 choice to wait til marriage. A choice she is confident in making. Chris is still worried about Becca never having been in love and wondering if she's capable of falling in love. The two walk around the village, play with the local kids. Becca's sister painted her to be this person that doesn't need affection or love, but with Chris there is no evidence of that girl. They end up in a temple where they meet the village medium. He tells them they are a very good couple, and they would be good parents. When asked if he had any advise for the night it was "making the love" I thought they were supposed to be in a place of worship? This afternoon reaffirmed to Becca the feeling she felt on the hometown date, Chris still wonders will she be able to love me. Becca is very honest with Chris telling him that she'll only marry once so she is very cautious, and before moving to Arlington she have to be really sure about the relationship. She also tells him how she misses him when he's gone and can't stop thinking about him, and things that is what love feels like. He tells her he's falling in love with her too. He presents her with the Fantasy Suite card. The moment we've all been waiting for. Will she tell him? No, not yet. She does accept and back in the room she finally  drops the bomb. He tells her that he respects that but he is surprised. Chris really needs to find out if things will work between the two of them. The next morning Chris is visibly upset, Becca and him had a serious conversation when they woke up and he's not sure where she stands.
Chris Harrison pops up to help him sort through his emotions. He's not ready to send girls home. He knows one rose for
sure but he's not sure about the other. He knows he's falling in love with Whitney but he can't he's there yet. He sees a great life with Kaitlyn. Then theres Becca. She's not there yet but he thinks it's just a matter of time, he can see a future and is OK with being patient. He is seeking clarity and Chris leaves him alone to find it. At the rose ceremony in yet another temple. They are dressed in traditional dress. There is strict rules only hand holding is allowed. Before handing out roses he pulls Becca outside. Whitney and Kaitlyn are
sure he's sending her home in private. Becca tells him regardless of what happens she didn't want to leave things they way they had. She's crazy about him and it's not because of the show, her feelings are real. Chris tells her again that he's falling in love with her and she says the same. She's willing to do whatever they have to make Arlington and their life together work. The girls are shocked to see Chris emerge with Becca in hand to restart the rose ceremony. For the third week in a row Whitney gets the first rose. It was obvious to me that Becca was going to get the last rose when he didn't send her home after talking to her and Kaitlyn is left devastated. She asks him what happened and he tells her nothing happened it was just more right with the other two. They talk forever as Chris tries to explain and breaks down as well. Kaitlyn is finally off and Chris takes time to compose himself before rejoining Whitney and Becca. Oh and through the whole heartfelt moment there was a stupid rooster crowing in the background!
Next week is The Women Tell All. Is Chris going to get some flack from Kaitlyn for leading her on and telling her that he was falling in love with her?  Comment below and let me know what you thought of this episode! Don't forget to join Michael and I on Tuesday's at 7pm EST on ourROSES page where we break down everything that happened and let you know what we think!  Don't forget we are also covering King of the Nerds,  and RHOA, RHOBH and Vanderpump Rules