This week at the mansion was a lot less dramatic in the mansion than last week. The crazy was reined in just a tad and we had a surprise guest. Chris was woken up by Jimmy Kimmel and we learn that Jimmy is in charge this week. He's deciding on what the date will be and even joining them on the dates. While Chris gets ready Jimmy goes to tell the ladies the great (or not so great) news. You have to admit Jimmy is hilarious he breaks the ice telling the girls he's going to help Chris choose this week by making love with every one of them. HAHA. As we know each season we have a catch word. Andi's was STOP and Chris' is AMAZING.  Jimmy has a brought swear jar of sorts and every time someone says amazing a dollar goes in the jar.  He also leaves behind this weeks first date card.
Kaitlyn is the lucky lady that gets to go with Chris on what they think is going to be a romantic date with spectacular views and vaulted ceilings. Chris really has no idea what the date actually is and  both are shocked to end up at Costco (seriously can't tell Costco is a sponsor this year). Jimmy gives them a shopping list and off they go because they are having a dinner party with Jimmy later on. I am really starting to like Kaitlyn. Her first night I was a bit leery of her but her fun personality  has totally won me over. Most girls would have been pissed that their one on
one date on The Bachelor is running around Costco and not some extravagant, romantic day. Not Kaitlyn, after the shock wore off her and Chris made the best of it. They had fun going up and down the aisles, laughing and joking. At one point even found one of those inflatable balls you can get into have people push you around in. After getting some kids to push them a bit they made their own romance in the ball. After getting everything Jimmy instructed (including enough ketchup to fill a hot tub) they go back to Chris' place to make dinner. What I love about these dates is that how it is more like what real life will be. It felt like they were really boyfriend and girlfriend making dinner. Once everything was ready they had some alone time before Jimmy arrived. They made the most of it. A little talking with a little smooching added in. Chris felt that Kaitlyn made the date enjoyable, and she told him  that she isn't after a glamorous lifestyle. She likes things more low key. Jimmy interupts their smooching. The boys start grilling the meet while Kaitlyn is making the drinks. At dinner Jimmy asks Kaitlyn that if she makes it to the final 3 and she find out that Chris, in the fantasy suite, slept with all three girls. She said she couldn't be mad, that is party of the process and you need to test drive the car before you buy it. She is definitely a keeper there! The last bit of business on the date is the rose, which Chris gladly gives to her. The kiss reaching over Jimmy (totally not awkward at all) and they move to the hot tub. Last we see of these two is them making out……..with Jimmy watching! Do you all think the addition of Jimmy this week was a good idea or a bad one?
At the mansion we see Jillian working out, and all the girls a slightly terrified of her. The girl needs to wear cloths that over her ass. It's hanging out all over the place this episode. The group date card arrives and asks "ARE YOU READY TO MEET SOME REAL PARTY ANIMALS?"  Britt, Juelia, Becca, Mackenzie, Ashely S, Amber, Jillian, Nikki, Carly, Kelsey, Samantha,  are the
lucky girls. The girls show up and are told by Jimmy that they are testing whether or not they can make it on the farm. They have 4 tasks, corn shucking, gathering an egg out of a chicken coop then cracking the egg without breaking the yolk, milking a goat then drinking it, shovelling manure, and pig wrestling. Jillian (with her ass black barred for 98% of the time) and Carly are the front-runners of the competition and shockingly to everyone (especially Jillian) Carly wins the competition. On the party portion of the date Carly waits about 2 seconds before she steals him away. After what seemed a  hot minute the two are making out. He makes out with Amber when they are alone two. The chemistry with Amber is all off, it seems like he's kissing her because he thinks he has to. All the girls are noticing that Chris has become a bit of a kissing bandit. Mackenzie has proven she really is a bit crazy and confronts him on it, but not in a good way. It was more a you kissed me you shouldn't kiss others kind of way. For the first time we see some one on one with Becca. They have a great conversation and she wants to kiss him but sees how he's kissing everyone else, and tells him that she doesn't want to rush their first kiss. Will that cost her a rose?  Chris  decides it's time to give out the date rose in front of everyone again. Carly thinks she's got this in the bag. She is shocked and a bit pissed when the rose goes to BECCA! Becca's strategy worked. She played it a bit risky but got a big reward for it!
The last date card arrives and you have to wonder who it's going to. Ashley I, Megan, Trina, Jade and Whitney are all dateless so far. Whitney is the lucky girl who gets the date titles "TODAY IS
GOING TO BE FUN, NO WHINING" They are at a winery enjoying some wine and conversation. Coincidentally as he is talking about how he likes spontaneity they spot a wedding below elsewhere on the grounds. Whitney thinks they should crash the party and Chris is on board. They go change and go shopping for a gift??? This whole thing reeks of planning. I'm sure they didn't blow off whatever date was planned to do this (that would waste too much $$) I am sure they didn't go to the mall and the kicker is while the camera crew "didn't follow them" the footage was awfully close up and clear to be cell phone video and NO faces were blurred out. All the guest signed releases. You can't tell me the producers were sitting in the car with hundreds of release forms ready to be signed. Anyways planned or not the two go in with a story that filming is over and they are engaged in case Chris gets recognized. They chat it up with the bridal party and the brides mom and Chris displays some pretty fly moves on the dance floor. Another point to my totally planned theory. You are telling me the bride or groom didn't realize total strangers were making a spectacle of themselves on the dance floor? I think Whitney told the I'm engaged to Chris story so much she really started to believe it. Chris does become very into Whitney this date and their relationship moves forward about 10 steps tonight with a genuinely romantic moment at the end. He plucks a rose from a centerpiece, she accepts it and the end their evening off with a romantic kiss.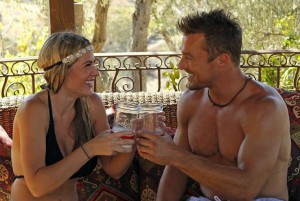 The next morning the girls are all chilling out planning their cocktail party outfits and hair when Jimmy comes in and tells them no cocktail party tonight. The girls without dates go into panic, but Jimmy tells them it's going to be a pool party instead. Most of the girls are happy about the informal party but Ashley (who really wanted to get her Kim Kardashian look on) and Juelia (who thought the formal party would be better to tell her story at) were not happy. Juelia takes him aside first and we hear the heart breaking story of her husband who killed himself when their baby was just a newborn. The story is tragic and Chris comforted her though the story. Thankfully the girls gave her the space she needed to get through it without interruption. Britt grabs him next and is all over him in two seconds flat. Jade grabs him and brings him back to his place, which doesn't escape the eye of Jillian who follows them. Jillian parks herself in the hot tub while Jade and Chris are inside steaming things up in his bed. The girl is wearing an itty bitty bikini that I think was lifted in places and we say parts of Jade we shouldn't have seen. He then spends time with Jillian. Ashely I is freaking out because she's had no time and her Megan and Mackenzie go to interrupt and Jillian and she sends them away….TWICE!  Ashley is noticeable pissed and when he's done with Jillian he goes looking for her. On a balcony of the mansion they talk it out and then start making out. Ashley is the one that has never had a boyfriend and by the way she kisses you can see why. It's like she is trying to devour Chris's face. They almost go over the edge of the balcony. The last things she asks is if he could not let her be one of the last roses given out. Noticeably quiet and sane this week is Ashley S. She is always in the background but she says very little. It's time for the rose ceremony and after talking a  bit with Jimmy and Chris decides to give roses to Jade (no shock there), Samantha, Juelia, Mackenzie, Kelsey, Britt, Megan, Carly, Ashley S, Nikki, Jillian, Ashley I (who is pissed off) and Kaitlyn, Becca and Whitney all have roses from their dates. Going home are Amber, Tracey and Trina (who never got a date this week)
Do you think Chris is kissing too much? I would say yes only because he's not careful and respectful of the other girls. He's not just kissing but full on making out with girls in front of everyone. He's going to start causing friction in drama in an already tense and emotion process. Was it fair to send home a girl you didn't even talk to this week? Don't forget to watch my live The Bachelor recap show with Michael Richardi every Tuesday at 7 on our ROSES PAGE. Join us and tweet us your questions and comments #YRRLive We want to know what you think of all the drama that goes down. Even if you can't watch live Tweet us your comments and questions and we'll be sure to include them in the show.