I got some things to say this week about a certain father/son team that should not be acting so high and mighty… But I shouldn't get ahead of myself. The eighth leg of the race begins in Rome, Italy and Brenchel is leaving first at 7:48am. Teams must now drive themselves 80 miles to Civita di Bagnoregio. There is a U-Turn ahead and Brenchel wants to be the first team there – they want to use it on the Cowboys to force them into using their express pass.
The Blondes leave next followed immediately by Dave and Conner – remember how the father/son team let those sweet girls hit the mat before them in the last leg? The Blondes just love them so much and they are going to work together on this leg because Dave and Conner just love those girls so much right back. Dave thinks they are honest, kind and bright girls! Awww. Isn't it just so cute? And those Blondes are just kicking so much ass against the tough guy teams. After the Blondes pick up directions and maps for both teams, they load up and hit the road. In the midst of all the traffic, the Blondes start to lag behind and even though Dave does everything he can to slow down so they can catch up, the love fest is broken up for the time being. Dave feels really bad about it and the girls are just positive that he's ditching them on purpose. Aww, girls, where's the love!?
Detour: Donkey Run involves picking a pair of animals, saddling up and racing them around a short track, three laps, before the band finishes a song. In Donkey Build, the team must use all of the provided parts to assemble a donkey then deliver it to a man dressed up like Geppetto from Pinocchio to get their next clue. Brenchel arrives first, commenting on the beauty of the country side as they jog to their destination.  They were going to do Donkey Build, but when they stumble upon Donkey Run they decide not to look a gift horse in the mouth and get to work choosing a pair of donkeys. I don't know much about donkeys, but I highly doubt defecation is a factor in how fast one of them can run, Brendon…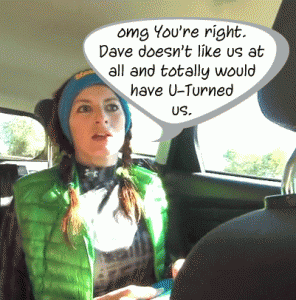 In their first attempt to get around the track quickly, Rachel falls off her donkey and in his bid to help her, Brendon does too. They are the jackasses in this race! (Brendon's words, not mine). So they fail the first attempt just as Dave and Conner arrive at Donkey run; they ask where they are supposed to find their gear, but Brenchel doesn't say a word as they start their second attempt at racing the donkeys. This time, Rachel is just going to lie on the donkey and hold on to its neck, which works because they finish the task and move on to the U-Turn area. The newlyweds thought they had a good lead on Dave and Conner and decide to U-Turn them instead of the Cowboys – Rachel is undecided on whether or not they did the right thing, but Brendon is quick to remind her that Dave and Conner would have U-Turned them if they could have because Dave doesn't like Brenchel. As they are leaving the Detour area, they pass the Cowboys who are just arriving.
Oh yeah, The Afganimals, Globetrotters and Blondes are all lost, by the way, at this point in the leg. Back at Donkey run, Dave thinks the task is a pain in the ass. Bahahahaha! They are on their fourth attempt around the track when the Cowboys turn in their Express Pass to Geppetto and they finish successfully and both teams make their way to the U-Turn station. And Brenchel, those snakes, U-Turning a 60 year old man… The nerve! And here's where I need to rant a bit because like I said last week, DAVE: You weren't being very helpful to Rachel when she was doing the car thing wrong and it totally would have benefited you to help her – she was in your way. So, Dave, you can whine and whine all you want about Brenchel U-Turning you and Conner and how they haven't been helpful to your team, but you threw the first stone, dude. Maybe if Brenchel was comprised of two cute, Blonde country singers…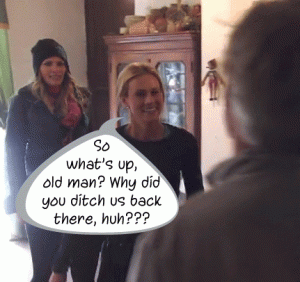 So Dave and Conner want to U-Turn someone – they choose the Afganimals and when they are on their way back to the task areas, they let the Afganimals know what they did – there are no hard feelings. The Afganimals know they can complete both tasks and not get eliminated – they've done it before. They are the only team in history that has successfully completed a U-Turn… Everyone makes their way to Donkey Build because they are going to work together to complete the tasks. When the Blondes finally arrive, they call out Dave and Conner immediately for ditching them. Dave is on it with damage control and swears they waited then lets them know that Brenchel had the GALL to U-Turn a 60 year old man. So now the Blondes have joined "Happy Fun Amazing Race Arts and Crafts Time" because everyone just wants to work together and help each other and it's Kumbaya all around the campfire.
Meanwhile, the Globetrotters are still asking people for directions to the Detour.
Road Block: The Write Stuff requires that one person on the team copy a page from an ancient manuscript just as the monks in the church have done for centuries, including gold-leafing a giant letter "D". Once their work is approved by one of the monks, they will receive their next clue. Rachel the Artist will be performing this task, she's done calligraphy and she feels really confident. Brenchel and God are unstoppable! Brendon is praying. He knows Dave and Conner probably won't be eliminated in this leg and that he will have to deal with the backlash of U-Turning them, but they are in a place of worship! The father/son team can't get mad at them if they are in a church, right? Right???
Back at Donkey Build, people are really having trouble putting all the pieces together. The Afganimals decide to let Dave, Conner and the Blondes work on the build while they go complete Donkey Run. Dave and Conner think they are missing something obvious and they are. They can't figure out that they need to put the wooden crate on the donkey so it can be loaded with firewood before it's delivered to Geppetto. After they read the clue again… they finally solve the puzzle and head over to check in with the puppeteer and on their way they pass the Donkey run track. The Afganimals do notice the donkey being delivered, Dave and Conner finish then they head back over to help the Blondes. Hats off to Dave and Conner, say the Afganimals, sure the father/son team U-Turned them, but they are calling it a gift, a blessing, because they stayed and helped and were super cool about it. And once Dave and Conner finish helping the Blondes, they leave with the Detour area with them… The power of the Blondes, ladies and gentleman! Dave and Conner promised to stay and help the Afganimals finish the build, didn't they???
As Dave, Conner and the Blondes are leaving, the Globetrotters are finally arriving at the Detour.
Back at the Road Block, the Cowboys have arrived because, oh yeah, they finished the Detour pretty quickly because of the express pass, which I'm actually a little confused about the use of, but it doesn't really matter so I'm not getting into it. Rachel is still working hard and really appreciates the artistry of the page she's copied as she watches the gold-leafing demonstration. One of the monks is wearing one of the Cowboy's hats – really, when a monk wants to wear your cowboy hat, a monk gets to wear your cowboy hat. Rachel's first attempt at completing the task is a failure. Her lettering just isn't good enough and she has to start over, but Brendon is right on it with the cheerleading. Have faith, Rachel, Brendon is right outside praying. Rachel still looks annoyed and frustrated.
The Globetrotters are racing donkeys when the Afganimals finish their build and carry their wooden donkey passed the race arena to Geppetto; Big Easy's donkey is not being very easy on him so he and Flight Time decide to switch out their animals for a new pair. Flight Time picks another dud though and not long after his animal stalls, Big Easy's donkey decides that its not going any further either. They are wasting time! They are switching tasks and the Afganimals are leaving the Detour area, taking a few moments to appreciate the beauty of the landscape around them. They are having such a great time! And now the Globetrotters can't figure out to put the wooden crate on the donkey. Come on, guys! Didn't you see the Afganimals carrying theirs?! As they stand around trying to figure out what they are missing, the Globetrotters start getting silly with the Detour guy who is, like, looking right at the crate they need to use, but they just aren't picking up what he's laying down.
When Dave and Conner arrive at the Road Block, Brendon is quick to apologize for the U-Turn as soon as he sees the father and son. Dave says something about being a 60 year old man again then he and Conner argue over who should do the task – neither of them is very artistic. Brendon apologizes again – it wasn't personal. When Dave enters the building, he approaches Rachel, pats her on the back and says "thanks a lot" then we cut to Brenchel in a confessional. Brenchel says they are playing the same game that Dave and Conner are playing and that Brenchel is playing it better. Truth! At least Brenchel isn't being all self-ri… Ya know… I'm not gonna be like that. I just… It really irritates me how hypocritical Dave is being towards Brenchel. And as far as him being a 60 year old man… Sixty isn't that old, Dave! You seem pretty spry for your age, you're doing really well in this race so be glad you got the opportunity to show the world to expect more from a man your age. I actually do mean that, no matter how annoyed I am with Dave right now. (Sorry for all the not-so-nice captions…)
The Globetrotters still can't figure out the Donkey Build and they are going to switch tasks again.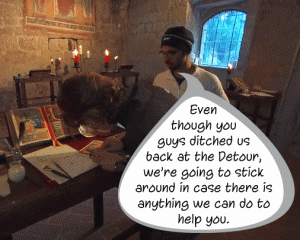 Rachel's artwork is finally approved and she and Brendon move on to the Pit Stop. After they leave Cord tells Dave to take the U-Turn as a compliment – it means that Brenchel is threatened by them then Jet finishes the task and they are back on the road. Conner is having a lot of trouble with the Road Block and thinks they are running out of time. Everyone else is feeling really good and Caroline finishes for the Blondes. (Meanwhile, the Globetrotters have finally chosen a good pair of donkeys and are on their way to the Road Block, hopeful that they can catch up to the other teams). Conner wants to take a penalty because he just doesn't see himself finishing this task. The Afganimals are good to go, but they don't. They are so thankful for Dave and Conner's help with the Detour that they offer to stay and help in any way that they can. Conner's work is approved and both teams hustle on their way to the Pit Stop.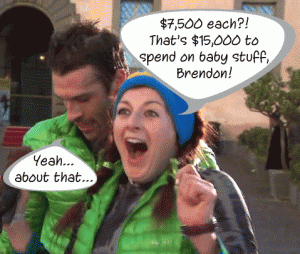 So let's speed things up because I think it's pretty "obvi" how these teams are going to hit the mat in front of Phil. Brenchel places in spot number one and they will both receive a prize of $7,500 "in cash" after the race. The Cowboys slide into second, the Afganimals take third and Dave, Conner and the Blondes arrive at the same time again, but this time, the boys put their feet on the mat first. At the Road Block, Flight Time is getting his "Leonardo Dicaprio" on and they finish the task, but we all know they are the last team to arrive and that they are being eliminated. And we're all supposed to send Big Easy cookies. I don't have an address, though, but I think we should all send him cookies. I think that would be really funny and he would probably love it.
The Amazing Race airs on CBS on Sunday nights at 8/7c. As always, when Eric and Jon aren't doing Reality Rally things, their live recap of the latest episode of the Amazing Race airs Mondays around 3/2c, but you can always watch the edited versions later. Don't miss my Survivor blogs and if you haven't heard of King of the Nerds – I highly recommend it to fans of Survivor, Big Brother and the Amazing Race. They are currently doing preliminary casting for a third season so if you've got nerdy friends, please tell them to apply so TBS will definitely renew the show. Oh, and check out all of the other great content here at Your Reality Recaps!