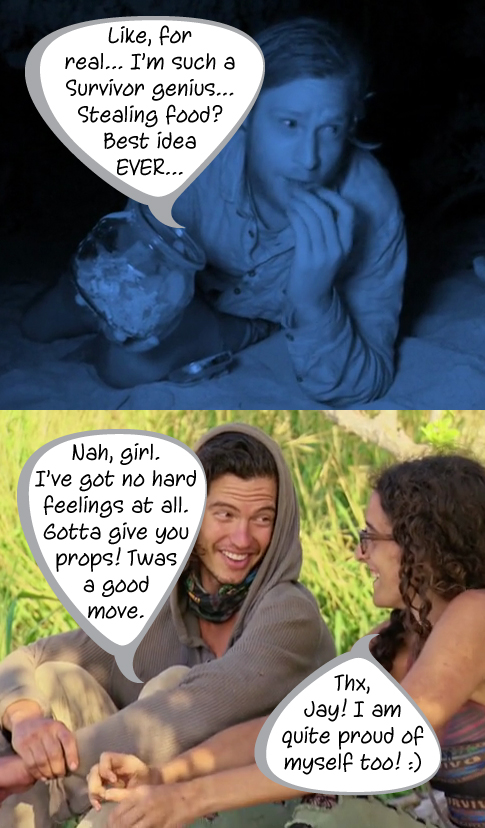 This time on Survivor… When the tribe returns to camp, Jay is pretty salty about the "idiot" Millennial flippers that helped to vote out Michelle. He congratulates Adam on being at the bottom of the Gen X group, but the Gen Xers show some appreciation. Chris is happy with the way the votes went, but he's still uncomfortable with Adam's display of bouncing back and forth between the Millennials and Gen Xers before Tribal Council. Together away from the others, Jay and Taylor know their days are numbered if they don't do something. Taylor knows he has to get with Adam to talk about things because Adam knows that Taylor has hidden two jars of food for himself. Later that night, Taylor talks to Adam on the beach, but Adam isn't that into the conversation because if Taylor had gotten his way at Tribal, Adam would be out of the game so Adam isn't that concerned at the moment to be on the bottom of the Gen X group. In the conversation, though, Adam is very cool as Taylor talks about how he still respects the fact that Adam told him about his Reward-Stealing advantage; they both agree to keep both of their secrets to themselves. After this, Taylor gleefully indulges himself to some of his hidden food stash saying it's his best idea ever, no one noticed that he took half of the food, he's not even half way finished with one jar and he still has a whole other jar buried in the sand! The pretzels are getting soggy and he's trying to eat those first… And he's so happy to have some leverage over Adam because Adam's secret is WAY bigger than his… This guy, am I right? He's obviously never seen the show… The next day, knowing he needs to make some connections, Jay pulls Hannah over to a secluded spot on the beach where Hannah explains that she had to make an independent move at Tribal because of how she felt about her position with the Millennials. She didn't want to be a goat that they just drug along to the end and the Gen Xers make her feel like they are taking her somewhere. Jay understands, says he's proud of the move she made and maybe next time she'll include him? All is well with Jay and Hannah, and Hannah is sooo proud that she's actually playing the game she's loved since she was 14.
Come on in, guys! It's time for Reward! Up for grabs? The winning team will go to a resort and eat cheeseburgers, fries, and cocktails, soda for Will, by the pool. In this challenge, the tribe will school yard pick into two teams of six then race through a series of obstacles to retrieve a key that will be used to unlock a box. The box must then be dragged/pushed under a net obstacle to the end of the course, chop the ropes that are tied around the box then toss five bolas, a rope with a ball attached to each end, onto pole targets. So, the draw and pick for teams results with Chris as captain for the Purple team and Hannah as a captain for the Orange team. With Chris: Bret, Ken, Dave, Sunday, and Taylor. With Hannah: Adam, Zeke, Jay, Will, and Jess. Aaand, Hannah is going to regret her team mate decisions because that box is HEAVY and the Purple guys beast mode that box through the net obstacle while the Orange guys struggle to get out of the netting. Hannah remarks that clearly, she is not meant to be a sports captain… So before you know it, Taylor is tosses bolas for the Purple team and he's really good at it, he doesn't miss a shot and it's all over – Chris, Ken, Bret, Dave, Sunday, and Taylor have won reward. It was a total blow out…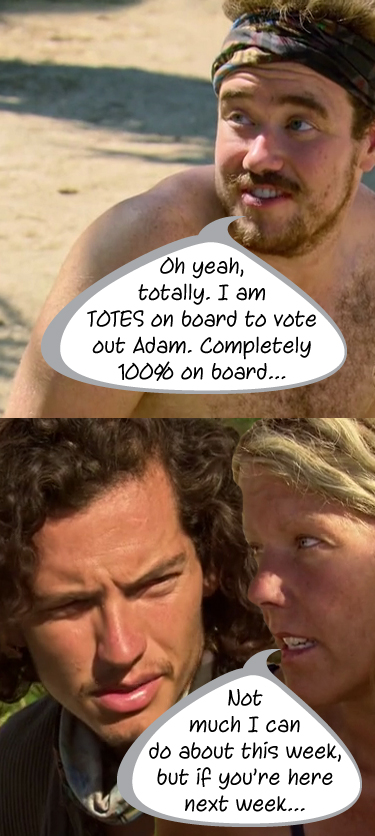 At reward, Taylor is very happy that he's been sneaking food because he'll be able to eat more than everyone else giving him an edge moving forward. Bret decides to drink up because why not? He knocks back more than a few cocktails. And then there's Sunday, who laments on this interesting group of people. She's still not completely 100% with Dave, Ken, and Jess; Sunday thinks she needs to take control of the game. Back at camp, everyone agrees the challenge was brutal. Jay and Adam head for the water and they have a little chat. Jay knows he needs to take advantage of most of the Gen Xers being away from camp to strengthen the Millennial bonds. Adam explains that he had to do what he had to do at the last Tribal council, he had no choice or he would have been out, then he lets Jay know that Jay is absolutely on the bottom. Like Chris said, lines were drawn, and the Gen Xers seem to be all together right now. Jay is like, offended and says that Adam is rubbing it in his face that he's on the other side of the line, but I don't really see it. It was just blunt honesty, and not a good game move, but I didn't think it was mean-spirited. No one else sees it that way, though. Around the fire, Jay is telling Will, and Hannah and Zeke, about his conversation with Adam. Hannah and Zeke both confirm that they wanted to vote Adam out at the last Tribal just so they wouldn't have to work with him anymore. Zeke is befuddled about Adam's willingness to let Jay know he's at the bottom because when you do THAT kind of stuff, people vote against you. And Zeke is right! Adam is playing a bit sloppy… He needs to clean up his game. The next day, Sunday is still thinking she needs to get a handle on her own game by wrangling some control for herself and she thinks Jay is her best bet since they bonded at Ikabula AND because he and his buddies feel like they are on the bottom. She joins all three guys as they are telling each other "nice knowin' ya" and stuff. Alone with Sunday, Jay tells her that he'll vote however she wants, even if they all come up to him five minutes before Tribal. She tells him she is going to try to sway the votes towards Jess because she feels threatened by her, Jay is cool with that since that's what he did to Michaela. And Jay is feeling a little bit better about his position now…
Come on in, guys! It's time for Immunity! In this challenge, players will balance on a slanted, narrow beam and balance a ball on a wooden bow. They will gradually move down the beam, which becomes more narrow as they advance. If their ball falls, or if they fall off the beam, they are out; last person standing wins Immunity. Survivors, ready? WAIT! But first… Jeff has a little offer! Anyone that's feeling safe can opt to sit out of the challenge and in return, they can eat all the grilled ham and cheese sandwiches and potato chips they want and wash it all down with soda, ice water, and beer (except for Will, of course). So! Will and Zeke decide to eat… Will knew he wasn't going to win with the surfer guys in the challenge and he didn't want to go back to camp with nothing so he opted to fill his belly. Now… Survivors ready? GO! The first round will last five minutes, but Hannah barely makes it to one minute before he balls rolls off the end of her bow. Everyone else makes it to the next five-minute round and for a quick moment, it looks like Sunday will be out next, but she manages to steady her ball. Bret is not so lucky; he's the only person that doesn't make it to the next round and he wishes he would have opted out and eaten. In Round three, players will have one foot in the narrowest part of the beam and they must stay in that position for 20 minutes! Jess is out first, followed immediately by Sunday and Dave then Chris leaving Jay, Adam, Taylor and Ken still in the challenge. Not for long, though, because Adam and Jay begin to struggle and just like that *snap*, it's down to Taylor and Ken. Both are struggling, balls are rolling, legs are wobbling, but *sliiiiiiiiip*, Taylor's ball rolls off the end of his both and KEN wins Immunity!  And Jay is really hoping this vote Jess thing out is really gonna happen otherwise, it's him or Taylor leaving…
After returning to camp, Dave, Bret, Chris, Sunday, Jess, Adam, Hannah, and Zeke talk on the beach and agree that they need to split the votes between Taylor and Jay in case of an Idol being played. After the group disperses, though, Sunday confides in Bret that she doesn't like this plan, she doesn't want to write down Jay's name – they really need to get rid of Jess next time, she wants Jess out of the game. Bret says he'll talk to Chris. Sunday continues to tell us that she wants Jay around to make a move on Jess, and later, she tells Jay what the plan is and that there's nothing she can do about it. Taylor joins, then the boys go off alone – he takes Jay to his secret food stash and they feast on a last meal as bros. Jay talks to us about his idol – he can play it for himself, play it for Taylor and risk that they are splitting the votes, or he can just hope for the best and save his Idol for later. After their meal, Taylor tells Jay about Adam's advantage and since he has nothing to lose, he's going to expose the secret at Tribal. People already know he steals food so what does it matter to him if he throws Adam under the bus? Figgy told him to fight so he's going to fight and with that…
Time for Tribal Council! After bringing in Jury member, Michelle, Jeff commences with the council… Jeff asks Jay what it was like coming back to camp after the last Tribal. Jay says it was not fun at all knowing he's on the OTHER side of the line, Adam agrees – a lot of them have been blindsided at Tribal Councils. Jay says that's the game. Jeff then asks about Taylor, Will, and Jay being on the bottom – Jay says the all definitely feel that they are on the bottom, their clocks are ticking. Chris says that he's been on the wrong side of the line, you just gotta work your way back over to the other side then he mentions that there are cracks and the boys' eyes light up with glee! Taylor takes this as an opportunity to bring up Adam's Reward-Stealing advantage. Yeah, the whole banana chips thing, he's been stealing food, he exposes that he hid two jars of food and that Adam helped him bury the things away from camp. Jay confirms that the jars exist then Adam jumps in to clear the air: He did NOT help Adam steal or bury the food, he NEVER ate any of it, all he did was keep the secret. Well, the rest of the tribe is pretty stunned to hear all this. Dave asks what food he stole, Taylor says he stuffed the jars full, but it's ALL gone now. He and Jay ate it all before Tribal because they knew one of them would be going home. Taylor tells them all to vote Jay or himself all they want, but the bigger threat is over there because Adam has an advantage. Adam is just like, OMG… Then he explains his advantage to the tribe at Will's request, but says again that he did NOT help bury the food, did NOT eat the food, and he clearly put his trust in the wrong person by telling Taylor about his advantage.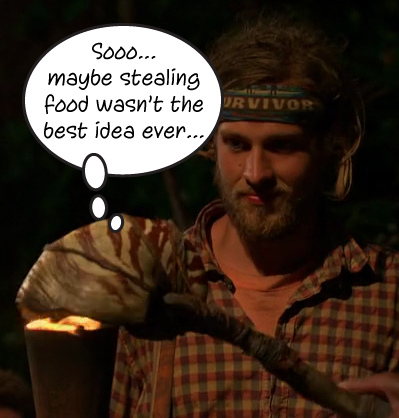 So… Jeff asks David how he feels about this bomb being dropped. Dave is definitely shocked and he feels uncomfortable, then he turns to Taylor and says that the food thing was really the nail in the coffin… For one of them. Taylor said he had no other choice, Adam says that Taylor had no other choice in revealing his food stash because he knew that Adam would call him out on it once Taylor told everyone about his advantage. Then, Taylor puts more nails in his coffin by stating that he will continue to eat more food if it gives him an advantage in the game… Jess is asked to comment and she doesn't think any of the Gen Xers were brought up to be "that" way, and Jay is quick to jump in to say that he was disappointed that Taylor and Adam buried food, he would have said it wasn't right if he had been there and Adam is chomping at the bit to talk. Jeff says that Jay has a point, then Adam speaks again saying that HE did not eat the food, but Jay did and blah blah blah… Hannah explains that the game is more complicated than a simple disagreement, there is the trust factor, hidden Idols, etc. Bret says the rest of them just have to figure out which of their perfectly reasonable options is best to send over to Jess for torch snuffing. Time to vote! Jay does NOT play his Idol, which I think is a good move… Then Jeff reads the votes: Jay, Taylor, Adam, Jay, Taylor, Jay, Taylor, Jay, Taylor, Taylor… Taylor… That six votes and that's enough! Tsk Tsk, Taylor. You never steal food on Survivor… It never works out for people… 😉
Next time on Survivor, Gen X is imploding, it's a civil war between voting out Chris and Jess apparently. Meanwhile, Will, who doesn't want to tell everyone this, lets Zeke know that Jay has an Idol… Then Zeke tells Dave, Dave tells Chris, Chris tells Bret, and Dave tells Hannah… Should be a fun episode! If you love Survivor like me, check out ALL my Survivor blogs for Your Reality Recaps – If you like the Amazing Race and King of the Nerds – check those out too (I did the All Stars 2 season of TAR)… AAAND… Big Brother 18! I'm not blogging about Big Brother Over the Top, but I AM watching and chatting in the YRR live feed chatroom as "dolphinpoet". Be sure to join the Patreon program and use Eric's Amazon link when shopping there if you really love what you see here at YRR! Love you all! xoxox