This time on Survivor… Upon returning to camp, Adam is quick to defend himself about his Reward-Stealing advantage, but everyone seems more annoyed that Taylor was stealing food. Jay knows that Taylor pushed him against a wall by bringing his name into the food stealing business, but he still has his Idol and he doesn't think anyone will suspect that he has one now. Later, Chris and Bret take to the jungle to retrieve some water and they know things are about to get crazy. Bret isn't sure how to move forward, but Chris does… Chris knows that Jay thinks he's on the bottom, but to Chris, Jay is okay for now – he wants to take out Jess and he figures that with Bret, Sunday, himself, and Zeke, they can manage to get the rest of the numbers to make the move. If it's the last thing he does, Chris will write Jess' name down… The next morning, Hannah and Ken are enjoying the sunrise while Hannah talks to us about how she DOES flirt with Ken, but he would… he would never… no… of course he wouldn't, but maybe, I dunno, maybe? lol It's super cute, then we cut to Zeke walking through the jungle with Will talking about Tribal Council. Will is totally OFF the sinking Jay ship, by the way, and he proves that his alliance is Zeke and Hannah by telling Zeke that Jay has an Idol… Then he asks if Zeke will keep it to himself, Zeke says he will, buuut… He tells Dave, Dave tells Chris, Dave talks to Hannah, Zeke confirms to Hannah that Jay has an Idol, Chris tells Bret, Dave tells Ken, Zeke confirms with Chris… Then Chris and Zeke how to move forward with this info. Zeke says they should let Jay keep thinking that he's next, Chris says he wants to go after Jess, Zeke is all for that aaand BREAK!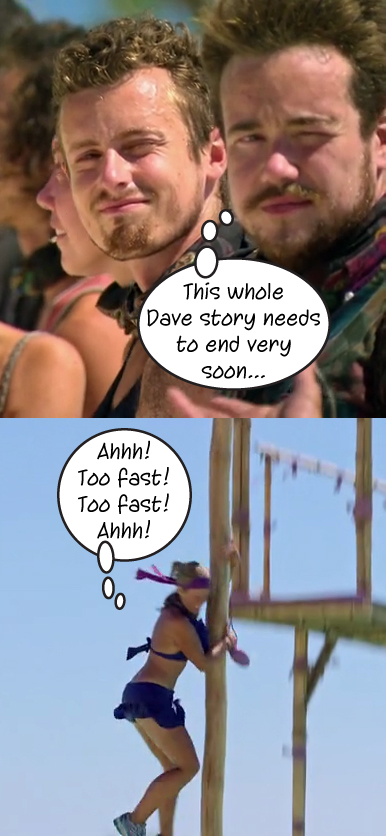 Come on in, guys! It's time for Reward! Up for grabs? A trip to a floating pizza restaurant for pizza, wings, and beer… That will be anchored about 50 feet away from camp… Jeff, you are so cruel sometimes… In this challenge, the tribe will be divided into two teams of five and they must swim out to a platform and when Jeff says GO, they will board a narrow raft and use a pully system to pull themselves to a platform closer to the beach to retrieve keys. One at a time, they will retrieve the keys then slide down a bamboo pole until all five keys have been collected then they will use the keys to open cages that contain colored blocks, which must be stacked and have no colors repeat themselves on all four sides! They will draw colored rocks to select teams and one person will not play in the challenge. Dave volunteers to sit out since he's a terrible swimmer and doesn't want to be the reason his team loses the challenge, but everyone is like "no, just play, you'll do fine, etc." There is a touching moment because Dave feels the love and he decides to take his chances with the rocks… And he ends up on the Orange team with Ken, Jess, Chris, and Will. On the Purple team is Hannah, Adam, Sunday, Bret, and Zeke – Jay gets rocked out of this challenge. Survivors ready? GO! With all the man muscle on the Orange team, they arrive at the platform first, but the Purple teams isn't that far behind them. Ken scurries up the key platform first for the Oranges, but he drops his key and has to back track for it while Hannah closes the gap on the Oranges on the other team's platform, but Sunday widens the gap while the Oranges speed through the rest of the players gathering keys. Dave is the last Orange on the platform, racing Zeke, the second to last Purple, to the beach. While Bret gets the last key for the Purples, Orange is flying through the unlocking of the puzzle boxes and they are the first to start stacking them. David and Chris are solving the puzzle for Orange and finally Zeke and Adam get to work on it for the Purples and just like that *snap* Zeke and Adam figured out this puzzle FAST and the Purples win reward.
On the Reward, Hannah is very conscious of the fact that if they don't keep down the volume of their celebrating, the losing team will definitely hear them. Bret never cared. He's excited about food, and the chance to bond with Zeke more. After a bit, they receive letters from home, which is very emotional for Adam especially because his mom has cancer, but she went to the ballet so it's happy tears from Adam. Back at camp, Dave and Ken have a little alone time to reconnect. Dave thanks him for all the support, Ken says he has really come a long way since the beginning and Dave knows that he has changed for the better. It's one of the reasons why Dave is there, to become less afraid of life. He confirms with Ken that he is still 100% with Ken to the Final three then Jess wanders into the scene and they begin to discuss the trio of Sunday, Bret, and Chris. Dave thinks they need to be broken up and the other three agree. Dave says if the three of them vote Chris, he's pretty sure Hannah and Zeke will too – and Adam – so that's six votes. Ken isn't so sure that Zeke will vote against Chris, but Dave really feels like Zeke is playing a really good game and he, Dave, really feels that getting rid of Chris is honestly the best move for Zeke to make. Privately, Jess lets us know that she just feels like Chris is targeting her so she is ALL kinds of on board to vote him out of the game…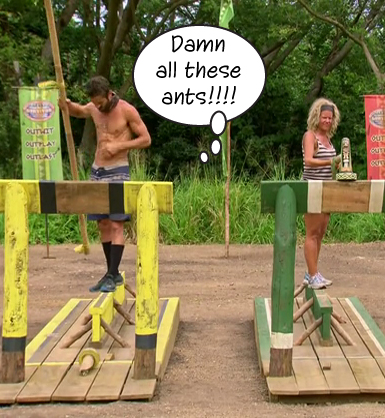 Come on in, guys! It's time for Immunity! In this challenge, players will stand on a narrow beam while balancing a wooden statue perched on another narrow beam with a long pole. They will move farther and farther away from the statue at intervals, the beam will also become more narrow, and any falling, whether it be a statue or a person, results in elimination. Survivors ready? GO! Round one is five minutes and Ken has ants crawling on his stomach, but he makes the transition to round two. Hannah is the first one to drop then Ken succumbs to the ants on this body and he's out next. Everyone else makes it to the third five-minute round, but Ken's ants have found a new host in Adam. Sunday is the next one to fall, though, followed immediately by Chris then Will, Jay, and Bret. Jay says an ant flew into his eyes; Jeff remarks that ants are proving to be quite the nuisance in this challenge. LOL So it's down to Jess, Adam, Zeke, and Dave and all four make it to the last round where it is a battle until a winner is crowned – no time limit. Zeke begins to wobble, but the wind that comes up helps to knock Adam out of the challenge. Zeke is still struggling, but Jess is next to drop leaving it all up to Dave and Zeke. Zeke is STILL wobbling, but he keeps saving himself, Dave is really steady, but wind enters the scene again and Dave begins to shake, Zeke is still wobbling, and it's just a real nail-biter folks! Zeke falls, though, and Dave wins Immunity. Jeff talks to Dave a little bit about his journey… A winner's edit perhaps??? 😉
Back at camp, Jay is nervous about Tribal without that necklace around his neck. He asks Hannah what the "word" is and she says she gets told multiple things and really doesn't know. Jay tells us that he WILL play his Idol if he feels he needs to, oh yes, he will play it… Elsewhere, Bret, Chris, and Sunday have gathered around Zeke to enlist his help in voting out Jess. They still want Jay to feel like he's going so he'll burn his Idol, but definitely, everyone in the trio wants Jess's torch in front of Jeff next.  Later, Dave and Zeke are on a walk to the well and Dave proposes the idea of voting out Chris and Zeke is pretty happy that the Gen Xers are beginning a "civil war" and it's the perfect time for this to happen. Zeke tells Dave that Will will vote with Hannah and himself, and that Jess is Chris' target, which doesn't surprise Dave a bit since Chris has wanted Jess out for a looong time.  Dave breaks the news to Jess and Ken later, which is a scary feeling for Jess, obviously, and later she talks to Adam. He's down to vote in favor of keeping Jess, he thinks Zeke will be on board as well to vote out Chris. So later, Zeke and Hannah talk about the Gen X groups both thinking they are pulling off a blindside, but it's all up to the Millennials. Zeke likes having options, but he has to choose one very carefully…
And awaaay we go to Tribal Council! Jeff's first order of business is Jay and how he's feeling after the whole Taylor debacle at the last Tribal. He's definitely feeling like a target, but Dave brings up voting blocks and says that tonight's vote will either be predictable or a blindside. Zeke comments on voting blocks and alliances as well keeping things very unspecific, as you SHOULD at Tribal Council, then Hannah chimes into say that she thinks of the voting blocks and alliances as "trust clusters". Voting blocks get broken up, alliances never change, but trust clusters, a term that both Jeff and I LOVE, are in the middle. Jeff asks Bret for his opinion on the trust clusters in the game and Hannah starts giggling because Jeff just used a term she just created, but she's totally focused – Jeff says that she is fantastic, and again, Jeff and I agree! Back to Bret, he says yeah, there are clusters, but it is all about trust and who you think you can move forward with in the game. Chris says there are a couple of groups in the tribe, the line gets redrawn with every vote, but he doesn't think that's gonna happen during this vote. Adam points out that Jay is an obvious target, Jay knows his torch is probably gonna be snuffed tonight, but Sunday comments that past actions must be considered now when voting and it's tea time at Tribal. Adam knows people have a reason to vote against him, Jess knows that there are people within the Gen X tribe that might target her over past actions. Chris acknowledges that he knows what she's talking about, but says that Jess shouldn't be worried. So, Dave feels 100% certain about the outcome of the vote, maybe it's the necklace, but he's not worried. You know who else isn't worried? Zeke, Sunday, Chris, and Jay – oh yeah, 100% sure ready to go! He has no idea what's going to happen. Zeke points out that this group is good at blindsides so… yeah… Let's vote! So, Jeff gets the votes and pops the question: Anyone wanna use an Idol? JAY DOES NOT USE HIS IDOL! So, the votes: Chris, Jess, Chris, Jess, Chris, Jess, Chris, Jess, Chris and… Chris! That six that's enough… Tally another blindside for Survivor Millennials vs Gen X…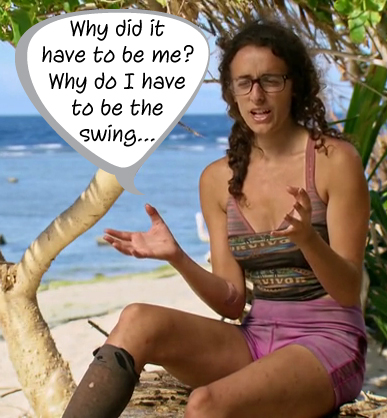 And since this is a double episode, and since this already long, we're gonna speed through the second half… Despite the blindside, everyone is pretty cool and chill when they get back to camp. Jay can't believe he's still in the game and he apologizes to Jess for writing down her name, but she's doesn't mind. Bret tells Zeke that he is okay with Chris being gone, Zeke says he would have loved to have included him, but it just couldn't happen like that. He also tells Bret that he and Sunday are not on the bottom – Zeke knows he has to go after Dave at some point and he's glad to have Bret and Sunday on his side of that vote. The next morning, Dave talks with Sunday and Bret about going after Jay next, but Dave has Zeke on his mind and he tells Sunday and Bret that Zeke will win the game because he's great socially. Later, Bret tells Zeke that Dave is coming for him, Zeke isn't surprised, and he tells Bret about Dave's Idol… After some back and forth confessionals from Dave and Zeke about how the other is such a threat, Zeke pulls Hannah and Adam away from camp to talk about targeting Dave and tells THEM about Dave's Idol. Hannah is conflicted because she feels loyalty to both Dave and Zeke; she doesn't know what she's going to do.
Come on in, guys! It's time for Reward! Up for grabs? A helicopter tour around the island and a Survivor picnic with all the goodies you'd expect. The tribe will be split into three teams of three; they will draw rocks to decide teams and since there is an extra player – whomever draws the white rock automatically wins reward! For those playing, they will all be bound by the ankles and their wrists will be bound to their sides with a belt; they must slither across the sand obstacles to a snake puzzle, first team to assemble the puzzle wins reward! So, Dave draws the white rock and our teams are as such: Ken, Will, and Jay; Hannah, Jess, and Adam; and Sunday, Bret, and Zeke. Survivors ready? GO! I really have no words to describe this challenge. Watching everyone on their bellies slithering through the sand, some doing the Worm… It's hilarious. Just go watch it again… So Ken's team is first to start on the puzzle, Jess is really struggling, but both her team and Zeke's team start the puzzle around the same time. And Zeke's team is FLYING through the puzzle… It's over fast – Zeke, Bret, and Sunday win Reward… And Adam doesn't steal it. On the reward, everyone breaks into the beer, even though it's not Zeke's thing, he wants to be Bret's drinkin' buddy. When Sunday and Dave go for a walk, Bret reveals that Zeke isn't the only gay guy on the island – Bret wasn't open about it before because of all the macho guys, and it's a generational thing. Zeke is like, whaaat? Aaand, they bond about this for bit until Sunday comes back then they start in on the "We gotta target Dave" discussion. Zeke thinks he can get Jay and Will, and Hannah and Adam on board. And Zeke is very happy to have so many soldiers on this side of the battlefield. When the winners return to camp, Hannah immediately pulls Dave away from camp. She's decided to stay loyal to him and go after Zeke so she lets Dave know that Zeke totally threw him under the bus and told people about his Idol. Dave is like, UGH! But Hannah tells him to relax, Zeke trusts her so if he's really going to make a move on Dave, Hannah will know so he shouldn't freak out and get all neurotic about it.
Come on in, guys! It's time for Immunity… In this challenge, players will be positioned behind a gate where they must maneuver a handle through a maze to unlock the gate then solve a slide puzzle… Survivors ready? GO! Everyone is struggling with this maze because they can't see it, all they can do is feel around. Jay is first to be free and is creating quite a lead for himself and just like that – BAM! Jay wins Immunity. No one else even made it passed the maze! Back at camp, Jay is very happy to have the necklace and plans to keep his Idol for himself. Dave talks with Jess about targeting Zeke, she knows he's a big threat, but darnit all if Dave just couldn't keep his mouth shut. Ken joins and all three agree to vote for Zeke since Zeke will come after Dave and this trio is all very loyal to each other. Elsewhere, Zeke is talking to Hannah about Dave being the biggest threat in the game aaand… She should have done a better job at acting like she was with Zeke because her response lets Zeke know that he can't work with Hannah anymore and if she's going to be a number for Dave, she becomes Zeke's target since Dave has that Idol… Later, Zeke talks to Will about Hannah being in Dave's pocket, then he mentions it to Sunday and Bret, then he sits Jay down to let him know that he, Will, Sunday, and Bret are all voting for Hannah. That's only five votes, it's only half, but worst case – they tie… Elsewhere, Hannah is solidifying her loyalty with Adam and lets him know about the plan to vote out Zeke since he's targeting Dave – Adam isn't quite down with this plan, but he's been sitting back to let Hannah run the show so he will stick with her. Later, Hannah talks to Dave, says they have five votes – that's half – but she has this feeling that the other five are voting for her, she just has this feeling. She thinks Dave needs to play the Idol for her, but Dave is nervous about that because if he plays it for her, and her name isn't in the voting jar, it's a tie and if no one flips in the revote – they draw rocks… Dave feels very schizophrenic about this Tribal…
Time for Tribal Council! Right out of the gate, Jeff asks if anyone feels comfortable THIS week… No one does. When asked if anyone feels any kind of security, Jay gleefully raises his hand. So will this be another crazy vote? Dave says it probably will be. Jeff says it seems like everyone is playing like it's their second time, but it's not. Jay agrees, there are a lot of hardcore gamers in the gang then Hannah starts whispering to Adam. Jeff comments that Dave is right in the middle of it, Dave says it's called a "trust cluster muck" then Bret is just like, oh forget about all the trust clusters and crap. This is an individual game, it's every man for himself, and he's just done with all the nonsense Survivor terminology. Then Dave asks if members of Zeke's alliance would like to raise their hands! Bret groans then Zeke is all, "why don't people on Dave's alliance raise their hands" all sarcastic-like then Bret and Zeke start taunting Dave about having anxiety and wanting to cry. Hannah and Sunday are quick to put an end to this, Dave says it's a personal attack, but smiles through it then tells Jeff that THAT is where they are at in the game. Jeff is speechless and asks Adam what HE'S thinking – Adam is very nervous. The vote is still very much live, Jess has no idea what's going on, people are whispering like crazy… Then Hannah asks Sunday what the plan is and she says KEN… Not Hannah, KEN. LIES! Lol Good move, Sunday… So, as Jeff continues to discuss the game, Hannah and Adam continue to work together to get into Dave's ear. Zeke says the facades will fall with this vote and the voting begins. And a HUGE bug lands on Taylor… After the vote tally, Jeff proposes the Idol question and Dave offers up his for Ken, but no votes are cast against Ken. It's a tie between Hannah and Zeke. While the votes are being recast, Zeke urges Jess to flip, that he realigns with people all the time, and does she really want it to go to rocks? NO! NO SHE DOESN'T! Because that's EXACTLY what happens and JESS is rocked out of the game… She is completely broken-hearted, as am I, as she leaves camp and she DOES will her advantage to Ken…
Next time on Survivor! Dave is approached by Will because Will wants to really start playing the game and it's time for some love from home… What will Adam do??? If you love Survivor like me, check out ALL my Survivor blogs for Your Reality Recaps – If you like the Amazing Race and King of the Nerds – check those out too (I did the All Stars 2 season of TAR)… AAAND… Big Brother 18! I'm not blogging about Big Brother Over the Top, but I AM watching and chatting in the YRR live feed chatroom as "dolphinpoet". Be sure to join the Patreon program and use Eric's Amazon link when shopping there if you really love what you see here at YRR! Love you all! xoxox