I miss LJ. I'm not the only one. As soon as the tribe returns to camp, Jefra is asking Tony what happened at Tribal, was it only Tony and Woo voting for LJ? Tony explains that yes, it was just he and Woo voting for LJ; he further explains that he didn't say anything to the women, (let's make sure everyone sees that Tony didn't want to tell the WOMEN about his plan – just kidding, but really… Not even, Kass, Tony?), because he didn't want to the plan to blow up in his face. Trish totally gets that, she totally understands it, Tony just didn't want "anyone" skittering around camp running their mouths. Stupid people, just can't keep their hen-pickin' mouths shut. I have no idea what "hen-pickin'" means and I hope no one takes offense to it, but really… Was Tony insinuating something by not telling the women his plan? Not even Kass?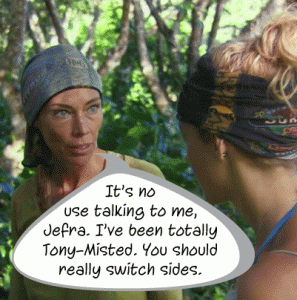 The next day, "Mary Poppins" is back in his bag of tricks pulling out everything he needs to build a new spy shack by the water well so he can eavesdrop on people. Trish and Jefra are the first to step into his web. Jefra tells Trish that she doesn't really mind that LJ is gone, but she doesn't appreciate the way Tony went about orchestrating LJ's blindside and now she doesn't trust him. In a confessional, Tony lets us know that he only trusts Kass and Trish and that now he really doesn't trust Jefra because she doesn't trust him… Uuuhhhh, Tony? Jefra doesn't trust YOU because YOU set her up to not trust you. Just want to make sure I'm not the only one who sees that fact.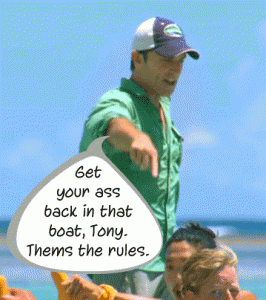 Reward Challenge: BBQ in a Cave w/ Chocolate Chip Cookies: After being divided into two teams, the players must row a boat out to a series of crates that have paddles tied to them. The paddles must be untied then brought back to the shore where the covers over the paddles can then be removed to reveal the letters that will help them solve a word puzzle. On the orange team: Kass, Trish, Tony and Woo; on the purple team: Tasha, Jefra, Spencer and Jeremiah. Purple seems to be off to a good lead, but when Woo and Tasha start untying paddles, Woo does so a little faster and orange pulls ahead. Tony drops a paddle in the water at one point and has to jump into the water to retrieve, but orange still makes it back to the beach first. But then they completely reshuffle their letters and purple wins! Bonding on the reward, (I think it would have been better to throw it to the orange team, and you can hear all about why I think that way by watching this week's Survivor recap); Jefra, Spencer, Tasha and Jeremiah. Dot Dot Dot Hmmm.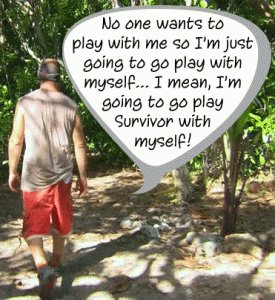 Back at camp, Woo gives credit where credit is due. Tony is just sure that the two Brains and the Beauty are going to work on Jefra; he's just so sure of it. Duh, yeah they are. It's Survivor and they know that you know that Jefra knows that she's on the bottom of your "alliance", Tony. Kass thinks she needs to stick with the five… The "Core Five", Kass: Sure, Tony is annoying, but it's good to keep the annoying person around; Spencer is the person she wants to target. Trish walks into the conversation at this point and she wants absolutely NOTHING to do with strategy talk. Strategy is ALL that Tony wants to discuss. Tony thinks that this could be the demise of the "alliance" and now, poor Tony has to go strategize all by himself. Boo hoo! Tiny violin.
And just when I forgot about it, Tony brings up the special powers Idol… Crap. This stupid special powers Idol… Tony runs off into the jungle to go look for it and meanwhile, Woo is on a mission to get some papayas for the tribe. He's climbing up that tree and shaking it and shaking it and on his way down, not even that far from the ground, he falls out of the tree. Dot Dot Dot editing. *eyeroll* At the "caves of epic scale" everyone is enjoying their reward and Spencer makes his move on Jefra – it's just perfect, this Reward situation. Jefra admits that she is confused about the big move Tony pulled to vote out LJ and the fact that she, Kass and Trish weren't told about it. She wants to vote out Tony and Spencer takes the opportunity to ask if she would like to work with them. Before she can grab another rib to help aid her though process, a special delivery arrives…
Letters from home! See… This is what Survivor Blood vs. Water was missing; letters from home and the family visit – which we had better see in this season. I mean, if all we get is letters from home, I'm going to be very disappointed in you, Survivor. You might even get an open letter from me, Jeff Probst, because I know for a fact that you fought to keep the family visit in the show in the early years. The family visit is a vital part of what makes Survivor such a popular show. I totally understand why it wasn't in BvW, but you have no excuses this season, none, to skip the family visit. Moving on!
Immunity Challenge: I love this challenge. I'd be willing to bet that this one cost less than $1,000 to produce including wages to pay the carpenter and challenge designer. Easy less than $1,000. I spent a lot of time watching past seasons to look for low budget challenges and this one is perfect. Each player must stand on a slanted balance beam while balances a ball on a pole with a flat disc on the top; they will move down the balance beam at intervals making the challenge more difficult. As the challenge begins, as if on cue, the wind picks up and Bam Bam Bam, Jefra, Trish and Tony are out and  Bam – Kass isn't far behind them. Only three minutes into the ten minute round and four players have been benched. When the difficultly is increased after the time limit, Jeremiah is the first to fall leaving Spencer, Woo and Tasha in the challenge. Woo… Amazing. I really thought he was going to save that one, but he didn't and then there were too – Déjà vu! Is this last week's challenge I'm watching because it's down to Tasha and Spencer again and Tasha wins it.
Back at camp it's congratulations all around for Tasha. She, Spencer, Jeremiah and Jefra want to blindside Tony, but it could be a 4/4 vote, which could lead to someone being rocked out of the game. All four agree that they have to vote out Tony, though. They just have to… Because he's running through the jungle on another mad treasure hunt, Mad Treasure Hunt 2: Jungle Madness and he's determined to find this special powers Idol. He's dashing around Tree Mail then he finds a "rocket ship tree" and he starts looking around and wouldn't you know – He finds it. And omg… Just look at my picture, that's pretty much what he's like when he finds it. This Tony guy is seriously a little too obsessed with hidden Immunity Idols… Oh, and he's the only person he can use it on and he can use it after the votes are read.
So, Trish and Jefra are in the water while Tony is out looking for "Precious/Wilson" in the jungle, (implying that Tony is losing it like Tom Hanks in Castaway…), and Jefra tells Trish that she feels like she is on the bottom and that she's really leaning towards wanting to Tony out of the game. Kass wades into the conversation at this point, then Tony joins them after he makes sure his "Precious" is nice and clean and shiny. Trish flat out asks if they can trust him – he gets defensive fast. Then Woo wades in and Tony starts swearing on everything he can to prove that he's down with the Five. Trish thinks he's loyal and won't flip. And NOW Kass thinks that Spencer has an Idol, which Woo thinks means that they are screwed, but Jeremiah is just sitting there, looking pretty like models tend to do on Survivor.
Did everyone Google Jeremiah Wood Model? I didn't.
Jefra approaches Jeremiah after the Pow Wow in the water and informs him that she's voting with her five, not with him, Spencer and Tasha. Jeremiah knew something was up when he saw her with everyone in the water and we cut to him, Spencer and Tasha having their own water Pow Wow. This is when Jeremiah lets it out of the bag that he's a fashion model, which Spencer finds very amusing, like it's such a taboo thing for him to be a model – it's such a "Beauty Tribe" though process. THEN Spencer tells his group that he has an Idol; he's had it for a week and he's thinking maybe they should target Woo instead of Tony. Oh Spencer… Don't you dare… I love you, but if you vote out my Woo…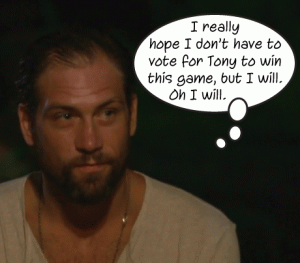 Tribal Council: Of course, Jeff calls out the Spencer/Jeremiah/Tasha group. Spencer knows where they stand – on the outside. Jeremiah agrees and says that Jefra was going to switch, but she had a change of heart. Chiming in, Jefra notes that the LJ thing really bothered her; none of the girls knew what was going to happen, but that Spencer and Tasha could probably beat her in the final. Spencer pipes up to say that Jefra is on the bottom and on the outside; Tony swore on everything and has broken his word before so Jefra's right – she needs to look at the big picture. Tony is curious as to what broken promises Spencer is talking about. Spencer replies with "we've all done it" then starts doing something that earns him a special badge in my book.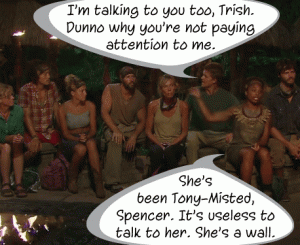 Spencer, you are the first person in your season to be award with my "Throwin' It Down and Keepin' It Real at Tribal Council" badge. Why does Spencer win this award? Because that's exactly what he did when he told everyone in that five – if you take Tony to the end, I'm voting for him to win because Tony has been steering this game and they haven't. Tasha agrees. Her vote will go to Tony. Woo get its, yeah, they are rooting for Tony and might vote for him, but – Spencer is quick to say that he's rooting for himself, but Tony is putting himself into a position to win. Trish defends that "we called him out" and Tasha is flabbergasted that no one is very alarmed by Tony's actions in the last Tribal Council. Woo points out their biggest threat right now is who has the Idol and the big question is whether or not he or she is going to play it.
Jeremiah throws Spencer under the bus as a threat bigger then he is at this point. Spencer doesn't blame him because he's knows he's a threat, but social game is a big factor and Jeremiah is likeable. Tasha also makes it known that her group will not – repeat will NOT – be voting for Tony this session. Good, says Tony, because he brought his bag of tricks… This bag of tricks seems to be bottomless and Spencer would love to get a peek inside, but it's time to vote! And let's just get to the tally because before Jeff starts reading, Spencer plays his Idol on himself and just before Jeff starts reading, Tony interrupts, holding his Idol spouting about Spencer's inexperience because he almost played the Idol for Jeremy… I don't know who Jeremy is, but Tony flippantly says that the bundle in his hands is a fake Idol, Jeff reads the votes and we all say bye bye Jeremiah Wood, Model as he joins the rest of the group at Ponderosa.
Tune in next week on Wednesday when Survivor airs on CBS at 8/7c to see what's up with all this chaos that Spencer and Tony are supposedly going to create. You can also recap every episode of Survivor with Eric and Jon and their guests, (guess who sits in this week… me!), live or you can catch the edited versions later. Don't forget to "like" and subscribe on YouTube, check out my Amazing Race and King of the Nerds blogs and all of the other awesome content here at Your Reality Recaps – there is something for everyone! (And if you wanna be on King of the Nerds – apply apply apply)!