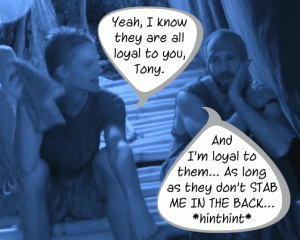 Night 33: Island of Misery Part Two: Shenanigans! Spencer is confused after Tribal Council. He thought he had a Final Three deal with Woo, but Woo says he already has a Final Three deal and Spencer says that he could have just told him that. Oh, but Spencer, lying is part of the game, says Kass. And guess who's still not remembering what Spencer said at Tribal Council a few episodes back – Kass! She is still talking about how no one likes Tony, he's been such a jerk, he's burned so many bridges, no one wants him to win, and he's so obnoxious… Spencer is glad that he's playing with people who understand the game so little – it's his saving grace. I'm not sure how much I agree with that statement. Kass certainly understands the game; she understands it a little too much! Kass is way overthinking things, Woo isn't thinking enough and Tony understands it so much that it's scrambled his brain. I will agree that Trish has no idea what she's doing, but definitely, out of the five people left, Spencer's mind is more in the right place.
The next day, Woo and Tony take a little fishing excursion on the boat; Woo wants to keep Tony on his side. Woo thinks it would be lovely to sit next to Tony in the end since they've been together the whole game. After some chitchat about how Kass won't get any votes and that it would be a toss up between Tony and Woo, he proceeds to tell Tony everything that happened on the reward he went on with Kass and Spencer. Kass is the one that said it should be the three of them in the Final Three and Tony is all whaaat? He's glad Woo came to him, proved his trust and loyalty and it tears him apart that he's going to have to blindside him. Someone like Woo will get jury votes in the end and his wife told him not to do anything stupid before he left. He has to think about his family. This is business. Nooo! Not my Woo! Keep your Idol-findin' mitts off my Woo, Tony!
Reward: Pizza Delivered to Camp! How do they earn it? It's time for these Survivors to get down and dirty, baby! Literally! The players must transport mud from a pit, over hurdles, to a bucket using their bodies as the carrying vessel; they cannot use their hands. Things start off a little slow, what with their bodies being so clean. I don't know why the girls aren't immediately using their long hair, but past Woo must have been channeling future me because he starts using his hair as soon as I had that thought. As the challenge continues, the mud is starting to pile up more easily, but looking at Tony's bucket, it's not going to matter, he's already hit the lip of the bucket and with one minute to go – it's overflowing. When Jeff calls time, he addresses Spencer: Is there any question of who won? Do we need to weigh the buckets? Do you all agree to forgo the weighing? They all do. Tony has clearly won and of course, he gets to choose another Survivor to enjoy pizza with him an of course, he chooses Trish, "Anorexia". That's what he called her. Some people don't like it, but think about it – he said that to explain without explaining that he chose her because she needs to eat – not because he wants to take her to the end, not because he's so closely aligned to him.
Tony was trying to create an illusion by calling Trish "Anorexia", but no one bought was he was selling. Kass is glad Tony picked Trish; to her, Tony's choice revealed who he is most loyal to, Tony and Trish are attached at the hip, everyone can see it and no one should have that much power. While they are eating, (and boy is Tony eating), Trish brings up that they have to get rid of Spencer and then she asks if Tony really has a special Idol. He admits that he does, but he's going to bluff and tell everyone that he an use it to secure his spot in the Final Three. He also tells us that Kass is reckless and perfect for him to take to the end. The game is in his hands, he's in the driving seat. He wants to take Trish and Kass to the end because he knows he will have more votes to win than the ladies, which is exactly what I've been saying. Man, I'm good.
Later, Tony and Kass are talking alone out in the jungle; today is an important day. If Spencer wins Immunity, one of them will leave the game. Knowing that Kass was out to get him last week, Tony spills the beans that Woo told him everything about her attempt to blindside him. Privately, Kass tells us that she thinks it was stupid of Woo to tell Tony and stupid of Tony to tell her. Tony continues to pledge his loyalty to Kass, he's taking her to the end. That's a promise. So what does Kass do? She confronts Woo in an attempt to show everyone that Tony is a bully and shouldn't win the money. Woo lies and says he never said anything to Tony about what was discussed at the previous Reward. Tony walks into the conversation at this point and Kass says something to him. Why are you investigating, Kass? Why were you interrogating  me, Tony? I'm allowed to confront people too, she says and Tony is just at his wits end with her. She just sealed her fate! Kass tells Woo, all out in the open, that Tony swore on his wife and baby that he would take her to the Final Three. Tony doesn't like this one bit, Kass blowing up his game like this and he spouts off some more, to which Kass responds: What? Nobody is allowed to talk to each other? Just to you, Tony? Is that how it is? Then Tony goes off about llamas and camels and I dunno where all that came from, but Tony says Kass is an insult to the game. He's done with her. Kass explains that what she did was strategic, she didn't trust him. Tony is all like, "I know, you're your own worst enemy". Tony walks off, Trish follows.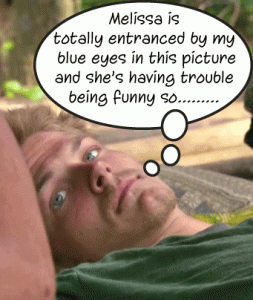 Alone with themselves, Kass, Spencer and Woo discuss, but first Kass lets us know that she's over the Tony thing, the typical strategy would be getting rid of Tony, he's a jerk, she can beat him in the end and the best thing for her to do now is to pull in Woo and Spencer to screw up Tony's game – because they know he has Idols and that they won't be able to vote him out at the next Tribal. So, Woo, Kass begins, did Tony swear on his wife and baby to you out in the boat the other day? No is the answer then Spencer asks if Woo has any thoughts. Yes is the answer. Why would Tony take him when Woo has a good reputation with the Jury? Kass adds that Tony wants to take her because he thinks she can't win and that makes her so mad! So Woo now knows that Tony was going to blindside him, Spencer says that Woo knows how the game works. Kass calls Trish a goat, they should vote her out and look who's wandering over – Trish! And guess who just heard that? Trish. And guess who's going to be sorry about that? Kass. Spencer is very happy about these recent developments, cracks are showing, but even with everything going on at camp, he has to fight for Immunity and he's going to work his ass off to get that necklace.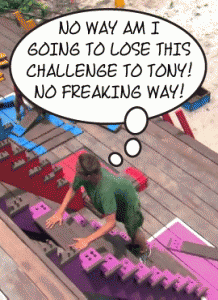 Immunity Challenge: First players must unbraid a rope to release a key, the key must be used to free puzzle ladder rungs, which must be assembled from bottom step to top steps, then a series of puzzle planks must be placed to form steps up to the final platform where the equalizer, a slide puzzle, awaits our players. Tony is the first person to release his key and not much else matter because Tony owns this challenge. He's up on the final platform in record time with everyone scrambling just to keep up with Spencer who is the only one with any kind of hope of catching up to Tony but he's still pretty far behind, trying to finish the ladder. Working on the slide puzzle, Tony's sun-fried brain is clearly do him no favors; he has no strategy with this puzzle what-so-ever and Jeff is not shy about making sure the viewers know it. While Tony haphazardly slides puzzle pieces around, Spencer is slowly creeping closer to the final platform and when he finally does he quickly gains the ground that Tony's feet can't seem to find. In what has to be the biggest comeback in the show's history, Spencer wins the much-needed Immunity necklace. I couldn't be happier! GREAT job, Spencer. Great job.
Back on the beach after the challenge, Spencer is just as pleased as I am with his Immunity win. It was Nirvana, a win of epic proportions! Spencer had to win it and he did and now those four are going to have to cannibalize each other and he's just going to sit back and enjoy the show. Trish is eager to please. "Quick question, Kass – do you think I'm stupid or deaf?" OH NO SHE DIDN'T! Trish proceeds to tell Kass that she heard her talking to about voting her out, says she's an agitator, always plays the victim, sitting there with a smirk on her face like she's going to win everything, getting people angry at each other. Tony, of all people, is trying to get the ladies to calm down, but they don't hear him. The back and forth continues, well mostly the forth actually because Kass really doesn't say a whole lot – she just sits there with that smirk on her face as Trish says that "everyone sees you for who you are except for you". "Hey, Trish, let's take a walk!" Tony finally interrupts then pulls her away; Woo follows.
What was THAT all about? Kass asks Spencer, to which he replies, "This is why we have to get Woo." They have to talk to Woo because they, Woo, Trish and Tony, are over there talking about voting Kass out at that very minute. Yes, they totally are doing just that. Woo wants to know from Tony if he swore on his wife and child to Kass and Tony admits that he did, but now he's swearing to Woo and Trish. Tony swears on his wife, Tony swears on his life. Tony swears on his son, Tony swears that Kass is done! Tony swears on his father's grave, Tony swears his Idols will save! Tony swears he's loyal to Trish and Woo and Tony swears that Kass is through! Woo, though, isn't buying it. Tony has been making promises to everyone and he doesn't trust him. It's time for Woo to make a move so he goes to talk to Kass, offering to "help" her with something, then says quietly that he's decided to vote out Trish. YES! Then he says he hasn't decided yet. NO! Then it's time for Tribal Council and I have no idea what's going to happen!!!
Tribal Council: Well, well, well… This is an interesting situation isn't it, Tony? Spencer wins Immunity and your four is about to eat one of their own. So how's life at camp? I'm paraphrasing Jeff Probst, of course. Kass jumps right into the pool about how the minute they got back from the Immunity challenge the "wild skeleton blue-eyed banshee" that is Trish showed off her capacity for hatred by ripping into Kass. Trish goes on about Kass being a trouble maker, but not liking conflict and how she hasn't fought with anyone except Kass today. Yeah, Kass agrees, she just rails into people. Jeff acknowledges the exchange then turns to Spencer – This just great for you, isn't it? Totally great! People are crumbling, it's a great opportunity and his Immunity win sped up the process of people turning on each other. Woo brings up that the hidden vendettas and animosity were evident. The foursome is breaking up and it's now the three Brawn against the two Brains.
Wait… What? Jeff's "curiosity" is tingled. So Kass and Spencer are back together? Yes, it's pretty clear that they are. Kass is in a venerable position, she didn't predict "psycho bitch" coming after her, but her exchange with Woo about Tony played out exactly like she thought, right along with her plan. Woo likens this final five to the worst family ever; Tony is the dad, Trish is the mom, Kass is the sister, Spencer is the son and there he is, Woo, the foreign exchange student just sitting there like, what is going on?!  Well, just sit right back Woo because Papa's got, well, not a brand new bag; it's the same bag of tricks he's been toting to Tribal for weeks now! Tony says it's out with the old, pulling one Idol from the bag, and in with the new, and pulls out the special Idol claiming he will disclose more information about this new Idol later. Spencer says that Tony is the biggest threat, his vote would be going that way, but "all this" complicates things.
And it's time to vote! Jeff goes to tally, Tony "plays" his regular Idol for himself, Jeff reads the votes and BAM! Trish's game is over. With a flip of the bird from Kass, Trish's torch is snuffed and WHAAAT?!?!?!?! TONY VOTED FOR TRISH AS WELL?! What is THAT all about?! I'm so confused! Why didn't he play the regular Idol on Trish to save his pet goat robot?! No one is going to buy that he can play the special Idol to get to the Final Three, right? RIGHT?! Tony has gotten away with so much smoke and mirrors, but can he really pull this kind of wool over the eyes of Woo, Spencer and Kass?!
And how GREAT is this Final Four?! I JUST LOVE IT! I cannot WAIT for the finale next week on Wednesday May 21st (two days before my 36th birthday!) at 8/7c on CBS! It will be the usual two hour season finale followed immediately by the live Reunion Show; check out Jon's latest blog post for more exciting information about the finale and watch our recap of this episode. Also, Amazing Race finale on Sunday! You can read my latest TAR blog here and definitely watch the recap show with Eric, Jon and Dana! Trust me. Watch it! See you next week! Can't wait to talk about the finale!