Was that a damn panther in the shadows at the top of the episode?! It definitely wasn't a house cat… So the tribe gets back to camp and Tony is flipping out that he got some votes at Tribal Council. Morgan wasn't worthy of staying, that's why she went home, Jeremiah and Tasha deserve to be in the game and that's why they didn't go home. Tasha says, and Spencer agrees, that they would have been on board to vote out Morgan if Tony would have said something to them about it. Publicly, Tony appreciates the compliment of being viewed as a threat, but privately, he doesn't understand why big, strong Woo and LJ weren't the targets.
The next day on the beach, LJ and Trish are talking about Tony. LJ says the Tony exposed his true anxiety in his laugh and that he's probably going to be in scramble mode now. Later, Tony has LJ alone and says that he thinks Woo found the Idol, he's sure of it and LJ asks if Tony would like to get rid of him. Tony thinks its sneaky behavior and he seems happy that LJ is playing into his trap. Tony's plan is to set it up so that it looks like LJ broke his word to the six, he wants everyone pitted against LJ. Tree Mail arrives and it looks like there will be a pampering reward up for grabs. Tony is immediately scared of people being in separate groups giving them free reign to talk about him; he's totally sure that he will be the topic of everyone's conversations.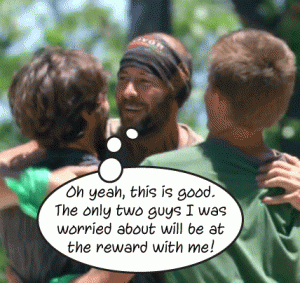 Reward Challenge: The tribe will be divided by a random draw into teams of three. Each team will have to toss a rope through a ring to release sandbags in a barrel above them, once released, the bags must be tossed through a netted tunnel then worked through to the next phase of the challenge. In the final phase, one tribe member at a time must bounce the sandbags off of a trampoline into five baskets – first team to get five wins the spa day reward. Teams: Jefra, LJ and Trish; Kass, Tasha and Woo; Spencer, Tony and Jeremiah. Jeremiah snags the ring on the second toss putting his team in first place, LJ snags his soon after and Woo is finally the last to release the sandbags. LJ doesn't miss a single toss and makes up a lot of time for his team, but Spencer, Tony and Jeremiah are first to start bouncing bags and Tony is killing it! Tony lands three bags in a row as the other two teams finally start bouncing bags, but bam, bam! Tony lands the final two and the all boy team will be enjoying showers, massages and a meal.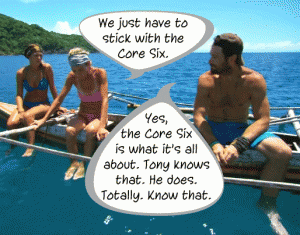 Back at camp, Woo is just picturing himself getting a mani/pedi and eating and mimosas, but his reality is fire building and white rice. Woo is glad that Tony is with Jeremiah and Spencer, though, keeping an eye on them. Jefra admits that the boys earned it and it doesn't bother her that she didn't get to enjoy the spa day – she's still in the game and she believes in her core six; they are going to stick together. Later, LJ is talking with Trish and Jefra about Tony bringing up Woo and wanting to target him. LJ knows Tony is just being paranoid and thinks he's built a strong bond with Tony and he trusts that Tony will do the right thing. If any of the Brains go to the final, one of them will win – Tony wouldn't be stupid enough to let one of them slip through. Trish says she will talk to Tony and tell him to relax – the core six needs to stick together. That seems to be the theme this week with that group – the core six – they need to stick together. Well, minus Tony they all believe that.
At the reward, Spencer knows the odds are stacked against him, he's confident, though, that he can pull himself back up after being pushed down. Jeremiah is Spencer's right hand man and he's looking forward to spending some time with Tony; he thinks it will really help his game. Tony, as if on cue, asks if Spencer wants to talk strategy. Jeremiah, from the shower, chimes in and asks if Tony feels comfortable where he's at in the game with his people. Tony's response? He tells Jeremiah and Spencer to hang in there until the time comes. Spencer wants to know if they will be there when that time comes and says they are more than happy to be pawns on his game board. They are totally okay with that right now. Tony says that he knows he needs their help to advance in the game, maybe not now, but later and that they don't need to worry about being voted out in the next Tribal Council.  Jeremiah doesn't know if he believes him or not. Spencer totally doesn't trust him, he knows Tony is playing a lot of people, juggling a lot of balls, but Tony doesn't know that Spencer has the Idol and he's going to tell Tony that he trusts him 100%.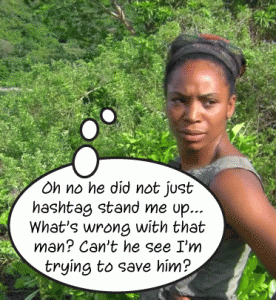 Back from the reward, fire-making is still happening. Tasha knows she needs to convince someone to flip and decides that LJ is her best shot so she approaches him quietly about scheduling a little strategy date away from camp. Tasha  has a proposition. LJ says he's willing to listen, but he doesn't want Tony to see him doing anything suspicious, he's going to stick with Tony and he totally stands up Tasha. This is very disappointing to Tasha, everyone is under Tony's thumb and unless something changes, she's screwed. When Tree Mail arrives again, the clue mentions colors. Tony let's us know that this challenge is huge. If LJ doesn't win there's a good chance he will join the jury; everyone is going to see who will throw the first punch if LJ doesn't win that necklace.
Immunity Challenge: It's finally time for a mental Immunity Challenge! Jeff will show everyone a series of colored tiles then when the series is complete, they will each slide tile after tile into a wooden "Connect Four" type game board. What a clever way to make a low budget challenge flashier! Round one: Trish is out on the second color and Woo joins her on the bench after getting the third color wrong. Everyone else moves on to round two and you just know that Jeff goes real slow like that on purpose so people forget colors. Before you know it, Jefra, Kass, Spencer and Jeremiah are all out leaving only Tasha, Tony and LJ in the challenge and they are on the last color. Everyone has a different color. Tony thinks he's wrong and thinks that LJ is right with red, but Tasha is also confident that she is right with blue. Only Tasha is right to be so confident because I typed up the color order and I knew she had won as soon as I checked my notes.
Back at camp there are congratulations all around for Tasha. Tony says it was a tough challenge and Tasha is pretty happy that she won it. She really needed to have that pretty necklace around her neck so in yo face, LJ! AND WTF SURVIVOR?! I THOUGHT WE TALKED ABOUT PUTTING SHOTS OF SPIDERS INTO THE SHOW! I THOUGHT WE HAD A DEAL! What happened to the pretty birds? I don't even mind the snakes, but spiders?! Stop it! Just stop. Anyway… LJ says he's feeling really comfortable; Tony is still going on about how he believes Woo has the Idol, but LJ says they should stick with the plan. The boys will vote for Jeremiah and the girls will vote for Spencer. Tony is just waiting for LJ to throw his punch –  Sure, Tony set him up, but he doesn't care, he's going to pin all the trouble-making on LJ and he's got destroy LJ's game before LJ destroy… Oh, wait, that was a different pair of players…
So Tony tells Woo that LJ said he would vote Woo out – Woo is shocked. Woo was totally down for the core six, but if LJ is going to Tony about snuffing Woo's torch, he needs to make a move before LJ does. Woo will vote LJ out and he trusts that Tony has his back. If all goes well, Woo predicts it will be another huge night at Tribal Council. After Woo has been checked off of his list of people to talk to, Tony whisks his way up to Spencer and tells him that he is 100% safe and that he wants to target LJ. Tony's been stirring things up so he's in trouble. Spencer suggests they go find Tasha – it's like Christmas morning with presents instead of ash and coal! Oh happy day! Spencer just needs to get a little further down the road for it to be a whole new game for him. After talking with Tasha, Spencer finds Jeremiah and fills him in. "We just need to let them kill each other and we're good".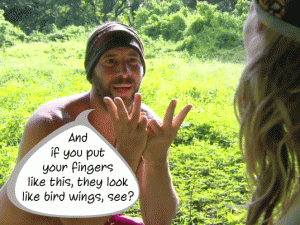 Later, Tony wants to know from Trish what everyone was talking about while they were on Reward. Trish reports that LJ said that Tony said he wanted to get Woo out – and my best friend's cousin's best friend's girlfriend saw Ferris pass out at 31 Flavors last night, I think it's pretty serious. Tony is immediately on it with the damage control. I can't even follow what he said, but Trish says he's being paranoid and she doesn't know what to believe because she's heard conflicting stories from LJ and Tony. Trish wants the core six to stay loyal – she doesn't want LJ to go – Trish doesn't think LJ is doing anything sneaky, but she thinks it's possible. On the other hand, Tony has played her before, but there is no way she's going to break up the core six, which I should really start capitalizing now because it's the Core Six.
Trish goes to talk to Kass – Kass agrees that no one needs to mess things up, a blindside would be stupid and she thinks Tony knows that. As long as everyone sticks to the alliance they are good. Oh really, Kass? You're in an alliance now? Really? Before Tribal, Tony says there are going to be a lot of hard feelings if LJ goes home – I think he means the Jury, but whatever. Tony says everything could blow up in his face and that he would rather make his power move now – he needs to… What? Get rid of Spencer or Jeremiah? Okay, so I taking notes pretty furiously when I'm watching Survivor – I pretty much write half of my blog in my notes, but I'm certain that's what Tony said. I even asked my mom to confirm it. She did. So, I'm really confused at this point about what's going to happen at Tribal Council.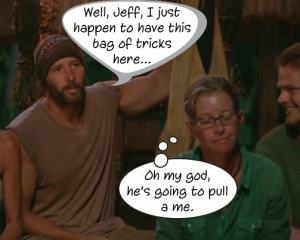 Tribal Council: Seems that Tasha, Spencer and Jeremiah are still in trouble – the Core Six is still tight. Any empathy, Kass? It's the game, she says – you can't play and not get a little dirty. Tony agrees. There is a bunch of confusion out there! Tony doesn't know who is saying what and who's telling the truth, but… Tony brought his bag of tricks! Oh ho Ho! Jeff loves this and jumps right on it: If there's such a tight six why did you bring a bag of tricks? Tasha thinks this is a really good question, there must be cracks, but she's glad she has such a beautiful necklace around her neck. LJ thinks Tasha is going to get a reality check because there are not cracks in their alliance, they are pretty water tight. Loyalty is very huge and difficult to find, LJ says, and he thinks he is a good gauge of the loyalty of the Core Six and that he has a sharp eye for disloyal things.
Tony is also good at seeing disloyalty at his job. Construction! lol Lots of trust issues in construction with all of those tools going missing! Blah blah blah the topic becomes focused on what players are on the bottom and where the threats are. Woo is adamant that their six is strong, they are going to take out the bottom three, but they are getting to that point in the game when they are going to have to start eating their own. Spencer pops in to remind people that if your name is at the bottom of the Core Six list, you should start considering your position in the game. Trish thinks she got comfortable with the six, she knows something will break, it could happen tonight – she would be shocked by it, but Tribal is a crazy place. Tribal is fun, but it makes you sick to your stomach at the same time. And with that – it's time to vote!
LJ, LJ, LJ – are the first three votes then it's Jeremiah, Jeremiah, Jeremiah. Jeff reads off a vote for "Spence" next, then another for LJ and then… another for LJ! Well played, LJ murmurs as he walks his torch over to Jeff. Jefra leans over and says, "did you flip? Wow." – Yeah, Jefra, this stuff happens when your playing Survivor, though it has happened quite a bit in this season. So many blindsides! And next week, more running through the jungle? Woo's on a mission for food and nooooooooooooooo! What happens with the coconuts and the tree, Woo?! Please tell me you're not going to leave the game because of medical reasons! Please tell me this! Follow me on Twitter, send me a DM to let me know that you don't leave the game for medical reasons, then you can unfollow and be done with me. I won't tell anyone. I promise! I'm a good secret keeper! I just can't handle the emotional trauma I will suffer if you go home because you got hurt unless I have some time to prepare myself.
Survivor airs on CBS at 8/7c. You can recap every episode via our Your Reality Recaps video recaps (I'm in a couple!) and my blog. I also write about The Amazing Race and as always, check out my King of the Nerds blogs if you've never heard of the show so you're ready for season three if TBS decides to renew it. There is also loads more awesome reality show content here so surf around when you're done reading and see what else tickles your reality TV fancy. (Yeah, totally copied and pasted that from last week's).
And because LJ was our BB Canada 2 blogger Dana's "Survivor boyfriend", I must give him his proper due respect as he joins Sarah and Morgan on the Jury. Since I am a poet, I shall bid him adieu with a poem.
An Ode to LJ McKanas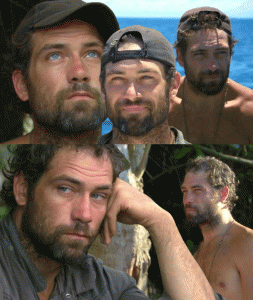 Oh, LJ. Oh, LJ. Wherefore art thou loyalty detector?
How could it be
that you did not see
that in your midst there was a defector?
It was Tony! Yes Tony! He was totally setting you up
to take a fall,
he told them all
that you were stirring the pot!
And Woo believed him!
But Trish new better,
but you've seen all that go down by now,
but my dear, how did you not fear
the words put in your ear
by the paranoid, scrambling man lying about his career?
*sigh*
and *pause* I'm not one with judgment to pass,
but, LJ, oh, LJ, you had so much class!
You were a triple threat,
you have beauty, brawn and a brain!
I have to admit
that you solved the question
of the chicken and the egg.
Because dinosaurs did come before chickens and they did lay eggs so technically the egg is the answer to the question of which came first. There's, like, sound logic in that! So…
LJ McCanas, you're the McManus,
but you should have met with Tasha away from camp!
That was the kiss off that sealed your fate and adhered the stamp
to the votes that snuffed your torch and caused your harsh blindside,
but we still love you, so many do, and we hope you enjoyed the ride…
to Ponderosa, where you got to shower and eat food and shower again and chill out on the beach and whatever other fun activities that may have been planned for you and the ladies.
See you in another season LJ! You're definitely returning player material!
Oh… And watch this great gem of a video that Spencer Tweeted earlier today. It's FAN-Tastic.