"That was intense," says Spencer upon the tribe's arrival back at camp from Tribal Council. Kass is pissed that she's been surprised at Tribal twice now. Jefra crossed the Don, though, and that was wrong. Tony put those cement shoes on the Beauty and threw her in the pond. Tony asks if Kass and Trish want to know why he did what he did, but Trish totally gets it. Kass doesn't think that anyone learned the lesson from when she flipped – oh? Now you're saying you're a flipper? Okay, gotcha, Kass. At least you're being honest about it now. So yeah, no one learned from Kass that you have to watch out for the people on the bottom. "I know you're feeling proud of yourself," Kass says to Tony and they go back an forth. Spencer privately tells us that working with Tony was a one-time deal, but now that he and Kass are bickering, that's good for him and Tasha.
The next morning, Woo, Spencer and Tony are all sitting up awake while the ladies are… not sleeping, but listening to them talk. Woo is asking if Tony gets nervous on the job; he doesn't. Adrenaline. Spencer says he's "screwed up" and thinks that he's still lying all the time, but he's good at it, but it will make working with him going forward a lot more difficult – he's sly and dangerous. Tony wonders why Kass isn't up yet. Kass hears her name and starts whispering with Tasha, thinking that Tony is talking "stuff" on her and whispers over to Trish to see if she's hearing all this – she is. When Kass makes her not sleeping status known, the boys have meandered back to the shelter and Tony asks why she wasn't up earlier. Immediately, Kass says she heard everything Tony said about her and he's all, like, whaaat? Tony defends that they were not talking about her, nothing bad anyway; Woo backs this up publicly, but Kass is having none of it. She knows what she heard, damnit! Privately, Spencer says that Tony was actually telling the truth this time, but he's keeping his mouth. Kass says Tony is the cult leader of the tribe, he's a red flag, and she wants to "kill" him.
Later, Tony is determined to squash any ideas that Kass has about getting rid of him. He approaches her away from camp on the beach, swears he wasn't talking about her, but she knows what she heard and wants him to stop lying – he's making such a big deal about this! Again, Tony is all, like, I know what I said and Kass is all, like, I know what I heard and blah blah blah. Tony goes off to sulk and Kass lets us know that she likes to see people at their breaking point in the game. Tony finds Trish who tells him to let it go, but he can't. Kass rejoins the conversation and it's back and forth between the two again. "You gonna vote me out," he says? "I might!" Kass replies then Tony says "then you're going home." Kass tells him to play his Idol then OMG Tony says he has a special Idol – Put my name down and you'll see it. Tony! You are so nuts! I love/hate it so much!
Reward Challenge: Tribe members, separated into two teams, must take turns throwing sandbags at a wall of blocks until they are all knocked off the table then one tribe member must rebuild the wall; it's a puzzle, to win the reward. Up for grabs? The winning team will act as Survivor Ambassadors of Good Will by delivering school supplies to local school children and they will get to eat burgers and dogs, American style. Kass, Woo and Spencer make up one team, Tasha, Tony and Trish are on the other side, which I will refer to as the "T Team" during this reward challenge. In the beginning of the challenge, both teams are pretty neck and neck, but Kass knocks down the last block for her team and Spencer gets to work on the puzzle. T Team finishes the slinging sandbags soon after, though and Tasha takes off on the puzzle and she catches up quickly, leaving Spencer behind in her dust. From the mats, the other players make with the helping and before you know it, Spencer is making good progress and the puzzles is quickly falling into place. Tasha starts to panic and Spencer, Kass and Woo win the challenge. Nicely done, Spencer! And what a perfect threesome to enjoy the reward; almost all of the people I'd like to see working together…
And awww! Woo! How cute was Woo with those kids? Adorable. Spencer; however, doesn't like kids, which should come as no surprise since he's "a stupid 21 year old college guy" – according to Kass a couple episodes ago. I'm paraphrasing of course, but by the end of the good will portion of the reward, Spencer says that it was, indeed, a rewarding experience. When the threesome sits down to eat, the strategy talk begins. Kass thinks she could have a new alliance with Woo and Spencer to flush at least one of Tony's Idols. They can let Tony and Trish vote for whoever and the three of them plus Tasha will vote for Tony. Spencer would be happy with Woo and Kass in the final three with him – it would be a fair three with no landslide. Woo agrees; now is the time to make a move, but it's stressful. Spencer is a bit worried at Woo's seeming indecision, only answering with "yeah, yeah" and "something to consider". Spencer urges him to be straight up and Woo says yeah, but he's been with Tony since day one, but if he had to make a big move to get rid of him, he'll consider it and as they are walking down the beach back to camp, Woo says he's in. Great! Awesome! Just what I want to see… Spencer will talk to Tasha, Woo says he won't disclose info and Kass is glad Woo took his time to think about it.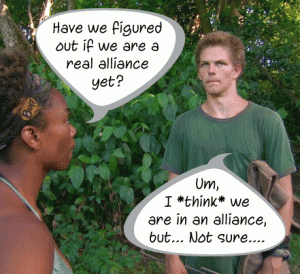 When the threesome returns to camp, Spencer gets Tasha alone to talk; they can't lose if they team up. If they split the votes between Tony and Trish, they can send Tony home next week. Tasha asks if Spencer thinks they can trust Woo. He hopes so or Tony knows everything. Back at camp, Trish is asking Tony if he thinks Kass and Spencer talked Woo into turning on him and Tony says that he will find out for sure. Woo approaches and bless him! Woo is just such a honest, trustworthy guy in real life that he can't lie very well in the game. Without revealing anything, Woo attempts to dodge Tony's questions, but Tony isn't buying it. Woo says that Spencer didn't bring up a Tony blindside, which, come on, Woo, you're smart! I know you are! You could have been honest without telling the whole truth. "Yeah, Tony, they tried and I told them that I'd vote with them, but I won't so we're good". That's probably all you needed to say. I bet it would have worked.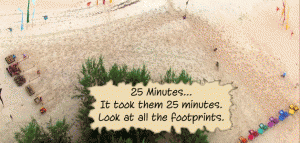 Immunity Challenge: Players must look at groups of items, count them, then run around the trees back to puzzle boxes with combination locks; first person to get all the numbers right to release a mallet or whatever to break a tile wins the necklace. And it's wrong answer over and over and over and over and over and over… Twenty-five minutes later… Spencer finally wins Immunity. Afterward, Spencer, Tasha and Woo are talking and yes, it's still in all of their best interests to aim for Tony by forcing him to burn an Idol; they are going to split the votes between Tony and Trish to send Trish home. Tasha says she will make like she's going home, but… She doesn't do a very good job of it because Tony is suspicious. Then Kass starts thinking… Hey, everyone hates Tony… He'd be good to take to the end… No one votes for the person they hate…
For my opinion on this, watch this week's Survivor Recap with Steve DiCarlo from Opposite Worlds. Especially watch if you're not a Kass fan because Steve, Eric and I are all so sick of Kass! Ugh!
Tribal Council: You know what… All you need to know about Tribal Council is this: Tasha wins my "Throwin' It Down and Keepin' It Real At Tribal Council" Badge for, well, you know. Ya'll saw the episode so I feel like I don't need to go into it, but if you haven't seen it… Why not?! Watch Survivor and read my blogs. It's okay do to both. Badge award or not. Tasha's torch is snuffed because Kass is stupid and doesn't know what's best for her game. I mean, really. Really!? Really. Ugh. I can't stand it. She thinks she's sooo good at reading people, but… BLAH! Oh well. I mean; whatever. It's good that Tasha is on the jury, but like I said before; my disgust with all of this business is in this week's recap. Survivor airs on Wednesday nights at 8/7c and there is only one episode until the finale, which reminds me…
This year's Survivor finale will air on Wednesday, May 21st! I'm glad we get a couple more weeks since it's usually on Mother's Day Sunday! Not sure why they changed it, but no complaints here! Now about these rumors that it'll be a Final Two… I still have no info. I guess we'll all find out in two weeks. Also, check out all of the other great blogs and vlogs, including my Amazing Race and King of the Nerds blogs! (Oh yeah, *Robot Voice* My name is Trish. I am a robot. I follow Tony. Tony is my master. I am a robot – see photo below).