The ladies all meet up at a local market area for some shopping. Brandi tells Kim about the jokingly slap gone wrong with Lisa V. Kim thinks its funny and said "just Brandi being Brandi". Brandi gets Lisa some flowers and once again apologizes but Lisa isn't having it this time. Tells her she is pissed off and it wasn't right. Yolanda tries to smooth things over with Lisa but Lisa is just done and wishes Yolanda would be harder on Brandi. Yolanda starts to defend herself saying how she doesn't condone it and has told Brandi how wrong it was. Yolanda heads to Brandi's room to talk before their final night in Amsterdam. Again goes over with her how wrong it was to slap her and Brandi explains how its unfair Lisa can basically attack Kim and all is ok but whatever she does nobody ever really forgets. Brandi also has a date planned for the night anyway. Brandi says "Maybe I shouldn't go" Yolanda agrees "Maybe best..you'll have more fun". Side interview Yolanda says Brandi is completely acting like a child.
Ladies all meet up for dinner on the cannel. Yolanda's Brother and his wife Liseth join. Yolanda tells the group that Brandi will join be joining them for dinner since she is going on a date with a guy she met the day before who happened to grow up with Max. Kim also states how he spent the night with Brandi last night. Li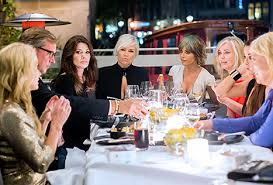 sa V is kind of discusted since he is so much younger than her. But as Eileen says in side interview she is happy and Lisa chimes in at dinner "were in for a quiet evening". Also we find out Yolanda use to date Julio Iglesias when she lived in Paris. Lisa Rinna is really impressed with how fabulous Yolanda is. Lisa V jokes how she hasn't seen a live sex show yet. Eileen laughs and said she has seen one once before in Mexico and wasn't impressed. LOL Yolanda gives a great toast thanking all the ladies for coming and seeing her country with her. While ladies enjoy their final dinner we have Brandi sitting waiting for what seems awhile for her date to arrive. He is 22 year old Holland man named Andre. He and Max knew each other growing up. Brandi says how last night was fun and they both giggle. They have a couple drinks and small chat before heading back to the hotel.
We suddenly are now back in Beverly Hills. Yolanda sets up a spa trip with Brandi. Once Brandi arrives she starts to show cracks as we find out her father is in the hospital after experiencing some black outs. Apparently her father has had heart issues. Clearly Brandi is very upset and stressed. While getting a facial Yolanda comes in and sits with Brandi. They start to talk of all the crazy stuff that happened in Holland. Brandi breaks down again going over how unfair it is that everyone else can speak freely but her. Yolanda says that isn't true and she can say whatever she wants. But quickly adds you cant go below the belt with people. Upset over how Lisa Rinna almost grabbed Kim's throat and shattered a glass but next morning everyone is fine like nothing happened but with her its never forgiven. Brandi is crying now and Yolanda really hates to see her hurting and tries to make her feel better! Yolanda knows Brandi has a good heart and this all comes from fear and rejection.
Adrienne has invited Kim to hangout and they meet up where Adrienne is planning her next party. Kim comes in and is greeted by Adrienne and her team Krystal, Chad and
 Steve. Kim and Adrienne sit down at a table and begin to catch up. Clearly Adrienne doesn't know what all is going on with the group. Kim begins to tell her how upset she is with Kyle for befriending people who keep questioning her sobriety. Adrienne asks "What do you have to do to fix things with Kyle". Kim wants to talk to Kyle but she has been so upset and hurt. But Kim does tell Adrienne she wants to meet up with Kyle and talk cause their fighting affects their kids as well.
Lisa ordains a gay wedding at Pump. Was all pretty and had to be expensive to do it there. Kinda all we saw. LOL
Kyle and Lisa Rinna meet up for dinner. Lisa is clearly still very upset over her fight with Kim and wishes things wouldn't have gotten so heated. Kyle tells Lisa that she is going to invite Kim to see her new house in Palm Springs so they can talk one on one. Lisa then tells Kyle of how she had a lunch with Brandi and that she is also worried about Kim. Kyles eyes course get all big since she hasn't been waiting everyday for something like this to be said to her. Lisa says Brandi's hands are tied cause she doesn't want to upset Kim and that they also talked about intervention. Kyle doesn't understand if she is such a friend to Kim why she wouldn't come to her or Kim herself.
Kim heads out to meet Kyle at her new place. After a nice five hour long traffic drive Kim arrives and they sit down to talk while food cooks. Kim goes right in saying how upset she is still at Lisa for asking such
personal questions about her. Kyle sticks up for Lisa and tells Kim she was being aggressive and all of it goes back to Eileen's poker party. Kim is defensive! Feels insulted by Kyle and that Brandi has been there more lately. Kyle sees her chance and spills what Lisa told her Brandi said. But says she told Lisa you don't need an intervention and been telling everyone you have been sober since rehab. Kims heated now and all goes back to season one! Kim is still angry on how the selling of their parents house went and starts to call Kyle a LIAR. Kyle argues saying "you and Kathy wanted to be bought out". Myabe Kyle wasn't best to have this talk in your new house! Kim just thinks Kyle has been looking for a reason since day one that she befriended Brandi. Kyle says "If Kim wasn't a sister she would have given up on her". Kyle gets up and goes into the kitchen and Kim comes in and says sorry. They hug and Kim says I love you and your my sister.
Whose side are you on Kim or Kyle? Will Brandi be nice in the final episode of the season next week? Don't forget to check out all our Bravo content on our Bravo Page. We have blogs for all the Housewives shows and V  anderpump Rules and Jon is doing Audio Blogs for RHOBH, RHOA and Vanderpump Rules. They are HILARIOUS you don't want to miss them!