This week in Nerdvana…As the nerds coconut gallop their way back into the house after Thomas' banishment, Kaitlin is feeling very good, but not so much because she won the Nerd Off. No, Kaitlin's joy comes from proving that everyone else needs to be scared of her – she is a force to be reckoned with, ya'll. After telling the group that she thinks Thomas is an awesome person, Raychelle suggests that it be time for food and everyone else agrees.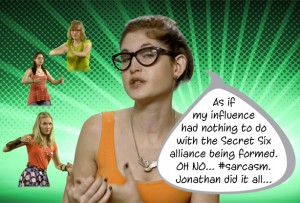 The next morning, Team Smash makes their intentions known to the Universe – they aim to win the Nerd War that day. Amanda couldn't BE happier with her Secret Six alliance with Lily, Raychelle, Heather, Ben and Jonathan; they are all people that she wants to see go far in the game. Ben is totally on board with the Secret Six now; as long as they stick together they should be able to get rid of the "floaters". Heather is feeling pretty good about the cross-team alliance too, but once they get to the final six it's every man and woman for his or her self. Good plan! Before the Nerd War, there is some light chatter about Heather's 80/20 thing and Ben rambles on about doing a study based on … Well… That whole thing kind of went over my head, but it was super nerdy and smart and light-hearted; Kaitlin is going to peer review said study.
Calling all Nerds! It's Ancient Civilizations week in Nerdvana and this week's Nerd War is called Nerdgatta… Am I spelling that right? No matter! This week it's all about myths, engineering and mathematics! Time for mathematician Jonathan to shine! In this Nerd War teams need to build two ships out of cardboard and tape, (duct tape to be exact – it's like the challenge producers are channeling the Mythbusters AGAIN this week), to sail across the "Nerdriatic". On the opposite shore they will find math puzzles to solve, one team member will remain on dry land as a spotter and they have TWO HOURS to build their ships. And Ori is really wishing his friend that has built concrete canoes was in Nerdvana right about now…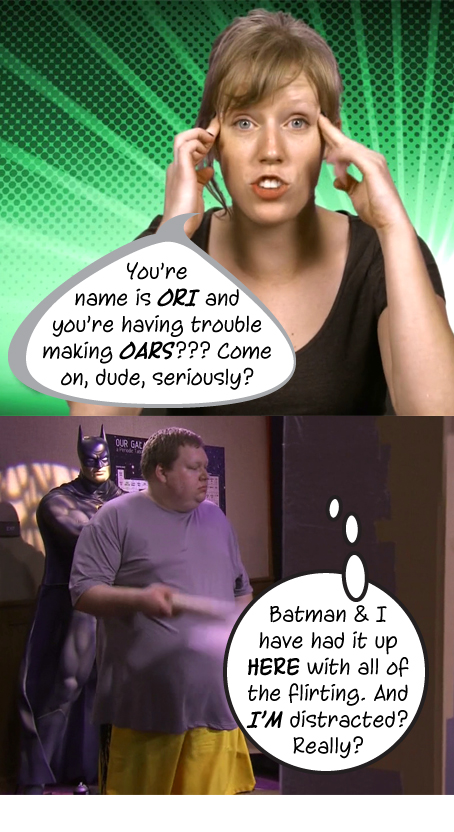 In addition to cardboard and duct tape, each team also has spray adhesive, poster tubes and wood glue to work with to build their ships and with only two hours to build them, as soon as Curtis releases them back into Nerdvana, the nerds get to work. Team SMASH, per Amanda's concern, will be making "pointy" boats; if their boats are boxy steering is fruitless. House Hooloovoo, under Kaitlin's guidance, will be making boxy boats – they WILL float and that's all that matters. The real name of the game here is water resistance – both teams are using the spray adhesive and duct tape to make their boats as water proof as possible. There are some problems, though, but the issues are all "personnel" related. Team SMASH is again dealing with Ori's lack of focus; all he has to do is engineer the oars, which Heather points out that a baby could make – you have one thing and another thing and it's that simple. House Hooloovoo's personnel issues revolve around three people: Ben, Lily and Todd. Todd knows he's on the chopping block if Hooloovoo loses this Nerd War – Ben says it's because he gets distracted so easily. Todd has a problem with this because Lily and Ben have a serious flirtmance going on and Lily isn't performing the task she was assigned to and is instead helping Ben tape up stacks of cardboard. In Todd's eyes, she's the weakest link, but he knows he's the one his team are all targeting so he's doing everything he can to ensure a win for House Hooloovoo.
After their two hours are up, it's time for the nerds to make their way to the pool to commence with the Nerd War. Upon arriving, Curtis further explains the challenge. Teams will board their boats in pairs and the spotters, Todd and Colby, will stay "on shore" to help guide their team mates to the other side of the pool as they pull up bags containing the math puzzles that will reveal the combination to a locked box containing the Minotaur's crown. Once a team has captured their crown, they must return to the other shore and place the crown on a bust of Bobby or Curtis. If their boats are no longer sea worthy, they may swim them back, but they MUST return to the other shore with their boats.
Amanda is immediately worried about her teams' boats; House Hooloovoo's vessels are covered in duct tape and Team SMASH's boats are not. When Curtis says "go"; however, Jonathan's fears that their boats will sink immediately are put somewhat at ease. SMASH quickly load their boats, set sail on the course and take an early lead because House Hooloovoo isn't having as much luck boarding their boats. Hooloovoo's boats are smaller and more shallow and they are taking their sweet time getting into them, but once they are securely boarded it's like they are in speed boats. While Heather yells at Ori, Hooloovoo zooms ahead and Jonathan is wishing SMASH has some better engineered oars. With their five bags retrieved, Hooloovoo is the first to the opposite shore, but not before Ben and Lily are forced to abandon ship. As Heather continues to yell at Ori while they collect the last bag for SMASH, Jonathan and Amanda suffer a hull breach – their boat is dead in the water and Hooloovoo has a head start on the math puzzles, which are all simple geometry problems.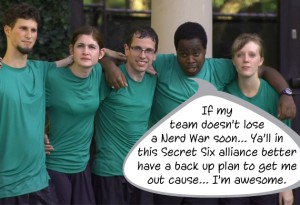 House Hooloovoo has larger math problem to deal with though – They are relying on Kaitlin for this part of the challenge and the one math course she hasn't taken is geometry. In addition, Hooloovoo hasn't figured out the sequence of the numbers, which is hidden in the lettered variables of all five math puzzles to spell out NERDS. Team SMASH's issue is not the sequence, it's the parallelogram and the fact that Jonathan's mind is accustomed to higher forms of math and these are middle school geometry puzzles. Time for teacher Colby to step in and do what he does best – teach, and it's not long before they've retrieved their Minotaur's crown and are back in the water headed for the finish line. All Hooloovoo can do at this point is watch as they lose their lead and this Nerd War. In addition to keeping their team safe this week, each member of SMASH has also won a complete home gaming system from Razer.
Back in Nerdvana, Todd doesn't feel as vulnerable as he did before the Nerd War. Lily is by far the weakest member of their team and he's confident that the rest of his team will be voting her into the Nerd Off. As soon as he leaves their bedroom, though, Ben and the rest of Hooloovoo agree that they are all voting for Todd. After Team Smash apologizes to Ori for all the yelling, they #nerdgasm over their new gaming gear; Amanda isn't much of a gamer, but audio books will sound totally fab on those headphones. After the sun sets, Jonathan, Ori and Colby discuss their teams' vote for the Nerd Off. They are pretty sure that Hooloovoo will be voting for Todd and since Jonathan is in the Secret Six alliance, the only other person he SHOULD be voting for is Kaitlin… But he feels like a jerk doing it and is keeping the Secret Six together if he feels like a jerk? Later with Ori and Heather, Jonathan mentions that Ben is a viable candidate, but Heather pushes for Kaitlin. It's in Heather's best interest to stay with the Secret Six because it keeps her safe… Until six players are left. And Kaitlin is more adaptable than Ben so it just makes more sense. Jonathan isn't entirely sold and he admits to Heather and Raychelle, at some point in the evening that the Secret Six may be crumbling.
Over in the House Hooloovoo, Todd asks Raychelle and Kaitlin about voting and the Nerd Off and they tell him that his vote won't matter because there will be four votes for him. Todd is NOT a happy about this. Lily is one who didn't pull her weight in the Nerd Off and he's getting really annoyed with her and Ben's power couple status because it seems unbreakable. Don't worry Todd, Ben and Lily are far from Boston Rob and Amber from Survivor – Ben and Lily are too nice! And awwww! King of the Nerd's first power couple! Will they be the Jeff and Jordan of Nerdvana? (That's a Big Brother reference…).  So Todd is pissed, especially since the rest of Hooloovoo went behind his back to decide their votes, and he leaves the room in search of Lily and/or Ben. In the living/game room is where Lily finds him, though and Todd unleashes his inner Hulk and goes OFF on her; she was the weakest link, he did more work than her and she should be in the Nerd Off, not him. She says, very calmly, that this is why they are voting for him – he has a short fuse. This only fuels Todd's fire – when has he shown a short fuse before this moment? When did SHE have a problem with HIM before right now? She says she sees through his anger, which is probably why she stays so calm, like, really calm. Cue Ben entering the room followed by pretty much every other nerd left in the game.
Ben places himself between Todd and Lily, who remains cool as a cucumber, and Heather comes to her defense. Todd needs to stop being a bully! When Heather starts shouting, Jonathan and Raychelle escort Todd out of the room. Raychelle is not happy with Todd – that's now how he treats people, this is not who he is. He wants to win, everyone wants to win, but he shouldn't be treating people so poorly. Todd looks genuinely upset with himself over the outburst, but I'd be mad too! Everyone was upfront with Thomas after the Nerd War, didn't Todd deserve as much respect? That's just my thought on the matter. In another room, it's pretty obvious to the rest of the nerds that Todd definitely needs to go and Heather is just so angry that Todd behaved like such a jerk. You just don't go out of your way to make people feel bad like he did with Lily, but Jonathan points out that they were all kind of being mean to Ori earlier. Heather says that's different, Jonathan says it's a thin line and Heather says it's not – it's a freakin' moat, but I disagree with Heather.
And I will quickly explain why I disagree: We are all human beings and when the situation is stressful enough, we react emotionally instead of responding with thought and consideration. (And there's a BIG difference between a reaction and a response). Ori stressed out Heather on the boat course and her reaction was to yell angrily. The rest of Todd's team stressed him out by not being upfront and honest with him about their voting strategy and he reacted emotionally by yelling angrily. To me, there is no difference except that Lily is super sensitive and Ori doesn't seem to be bothered much by his team yelling at him. Every group has a Brandon! (My brother will get that joke). So, I don't blame Todd at all for losing his cool. He has every right to be upset. Sure, he could have handled his emotions better, but… I've been observing human emotional behavior in others, and especially myself, very closely over the last year and… When the emotions are strong enough, all reason goes out the door unless you are super aware of your emotional and mental state. Okay. That wasn't so quick.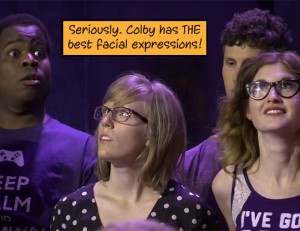 Let's move on because this is getting really long again. To the Throne Room! But first… Todd DOES apologize to Lily the next morning at breakfast; she thinks he will be very calm in the Throne Room, but Raychelle is still not looking forward to the ceremony. Before the votes are revealed, Curtis and Bobby put on their Jeff Probst faces and question the group about the argument the night before and blah blah blah. Hooloovoo puts Todd in the Nerd Off and Kaitlin is Team SMASH's choice and they bend a knee. Curtis explains this week's Nerd Off, Myth and Match: the contestants will have to pair up mythological items that have been "stolen" with the mythological figures with whom they are associated. After a crack of thunder from mighty "Zeus", Curtis lets them know that there are study materials in the library and that they are free to return to Nerdvana.
Mythology books, one each, have been left for Todd and Kaitlin and she wastes no time swiping hers from the table and swiftly leaves the room with Ben behind her. She fully expects some congratulations from the green team as well if she wins this one. Around the table Heather cannot believe how ridiculous Todd sounded during the Throne Room ceremony. All his talk of tearing down the team to rebuild it, the Batman references… He's like Draco – if he can't be friends Harry Potter, he's going to be the Anti-Harry and it's stupid and so wrong to hurt people's feelings and blah blah blah. While Lily, Colby, Ben and Raychelle are helping Kaitlin study, Ori checks in on Todd, in the library by himself, to see if he wants some help. Ori feels bad that Todd "evil villained" himself into a corner and I love Ori for making up one of my favorite reality TV phrases and verb ever. Back around the table, Raychelle, Heather, Jonathan and Amanda discuss Todd and Kaitlin's abilities in this Nerd Off. As a comic book nerd, Todd has a huge advantage since a lot of superhero lore is based on mythology and Todd agrees. This is his Nerd Off to lose and he doesn't plan on losing and if he doesn't, Jonathan fears they may need to get out the fire extinguisher.
To the Nerd Off! As the nerds assemble in a small, outdoor amphitheater type setting, which is very coliseum-esque, we see the myriad of mythological items laid out on the steps that will have to be matched with a mythological figure. After they settle in, Cleopatra Pom Pom Kitty, (that IS who Mindy is supposed to be right?) rehashes what they will have to do, a sumo wrestler stomps into the arena – he will be the obstacle between the player and the items. Bobby orders "slave" Curtis to begin reading the questions aaand… I'll just jump right to it – Todd gets his ass handed to him by Kaitlin. All the emotions messed with his head! Come on, Todd! Prometheus!!! You were right by the fire! That was so hard to watch… So no one will be kneeling before Todd, at least not as he sits upon the Throne of Games, but I'm super excited for next week because… Nerd Anthem time!!! They brought back the music challenge! And THANK YOU SO MUCH, editors, for pretty much telling us that Team SMASH loses!  I mean, it's pretty obvious by the diary room cuts you showed of Heather and Amanda… Sorry for the "spoiler", but it's just my prediction. I could be wrong!
King of the Nerds airs on TBS on Friday nights at 9/8c and check out Knights of Nerdvana! There is also lots of other content here at Your Reality Recaps for you reality TV nerds like me. We've got plenty of Bachelor coverage from Dana, blogs & recap videos, Bravo shows and check out my Survivor: Worlds Apart Cast Preview! And please do all of your Valentines Day Amazon shopping by clicking here – it doesn't cost you any more and it really helps support what we do here. (Yeah, I totally did copy and paste this paragraph from last week's blog… ) Much love, loves! BE EXCELLENT TO EACH OTHER! And if you're excited about the possibility of a sequel to Spaceballs, be sure to let Mel Brooks know by Tweeting him with #SpaceballsSequelYESPLEASE @MelBrooks. 😉