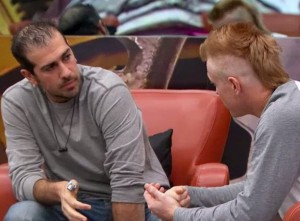 The house is scrambling after the dramatic Veto ceremony, Queen B's reign has ruffled some feathers. We have Graig and Bobby on the block, or as Jordan would say Dumb and Dumber. Graig is left reeling after the bully accusation. Is he a bully, I'm with Jordan, and think no. Outspoken, emotional and has no filter – absolutely, but he's not strong arming anyone. Bruno is taking on the role as the Graig Whisperer. He needs to keep the Ginga Ninja calm for the next few days so he  talks him down giving him hope they can get the votes to keep them then blow the house up. Bobby is putting his trust in Bruno too. He expresses concern that the house will flip because Graig will always be a target. Bobby does reason to be worried as  that is one of Bruno's strategy points with Jordan, Zach and Ashley. Will he turn his back on Bobby or Graig? Graig does give it one last fight, using Bruno and Godfrey to work on his behalf not even realizing how hard Bruno had already been working.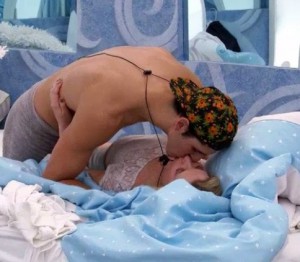 The showmance with Zach and Ashleigh is amping up behind closed doors as not to upset Willow and Bobby. He does reveal to Jordan their have not room shenanigans and is actually shocked there are cameras in the Have Not room. Have you seen Big Brother Zach? The cameras are EVERYWHERE of course we saw your hot and heavy make out session with Ashleigh. You were practically making babies in there! Kevin discovers the secret that the tiles are the trigger to the sensor in the Have Not room and lets Pilar and Jordan in on the secret. Will Kevin be the one that finds the hidden power. He was told to "Stop That" by BB himself when he played with the tiles. Hopefully he's allowed to fully explore it soon. I imagine he may even throw competitions to be a have not so he has reason to be in there.
Big Brother has called them all to do a task again this week. To win $1000 and HOH advantage, everyone must run through the house that Big Brother has destroyed and covered with colored T-shirts. They need to collect their 30 colored shirts to win. The house is disgusting, but no real change from how it normally is. Although they've been good about the kitchen this year! It's a real close race between Zach, Graig and Godfrey. Godfrey thought he had it, rang the buzzer but he was missing one. Back at it everyone. All three find their last shirt and are racing to the buzzer. Zach gets their first to win his prize.
Time for the live vote. These guys have some pretty stupid speeches. Bobby promises he doesn't want HOH and won't try to win but will work with anyone. Graig shouts out everyone in BC then tells Johnny he needs to come to grips with his own insecurities and sits down. In a unanimous vote Graig is evicted from the Big Brother Canada house! Someone in productions needs to tell Bruno to cut it with the shout outs, it's too much! No one is shocked, but Graig was up and out in less than a minute. Not a good-bye to everyone. Talking with Arisa he says he's not good at good byes he's cry too much. He also defends himself against the bully comments and admits that he doesn't know if he wants back into the house. Is it smart to dis BB like that no, but it was honest. I'm sure once he decompresses he'll change his mind.
With Graig of to sequester, the HoH is being played. It's quite the obstacle course called Through The Ringer. They slide into a tub of sudsy water (supplied by oxyclean of course) and they need to find lettered wash cloths to spell the phrase FIGHT DIRTY LAUNDRY in order, bring it through the course and pin it on their drying rack. Zach was given the one letter advantage for winning the shirt challenge and everyone is off and running. Who do you want to see in power this week? Can the Chop Shop survive the first cut?
Don't forget to join Jon and I this week on Friday at 3pmEST for our Recap on our BBCAN page.  We also will be having exit interviews  on Thursdays so tweet us your questions #YRRLive right after the episode so we can ask them what you want to know.  Check out our exit interviews with the evicted house guests and past shows below. 
Don't forget we are also covering Survivor, The Amazing Race, RuPaul's Drag Race, Hell's Kitchen and all the Bravo shows so check out the site, new content is happening every day!