BEFORE WE GET STARTED:  Don't forget to fan RealityRecaps on YouNow HERE.  Eric will be live from Canada all next week!  By becoming a fan on YouNow, you will be notified when he goes live. Expect interviews with this season's winner and all the houseguests after the finale from aboard the BBCAN5 Odyssey. Plus, Eric and Jon will bring you exclusive interviews with houseguests from all seasons of BBCAN from Liza's After Party.
Demetres won the Solve for X HOH, making him the first verified member of the Final 3. From what I understand from houseguests' chatter, Ika was extremely close to winning the comp. She had mentioned to him on feeds that she would appreciate it if he threw it to her prior to the competition. In Ika's defense, she was ready to throw her game away for Demetres last week before Kevin used the POV on her. Karen advised Demetres that nobody should throw anything this far into the game. (Convenient of her since Demetres would take her to final 2 if Ika isn't there!)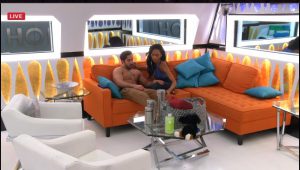 After the competition, Ika was piss-y with Demetres for not letting her win. She explained that she was telling Dillon and Karen to vote her out before the veto ceremony. She asked him if he would have done the same for her. He said that he told her not to do that. So, she took that to mean that the answer is no. She let him know that she has been selfless with her game for him, while he has been selfish. She let him know that she wasn't mad at him; she was disappointed in herself. However, after their super awkward conversation, Ika slept in the pink room away from Demetres in the HOH room. When Ika went into the pink room, she told Karen that she isn't sure she likes him anymore. Karen, told her to stop it. Yes, Ika was bratty and petty, but with her willing to go out 5th to get Demetres further in the game, strictly from a romantic gesture point of view, I am willing to see Ika's point of view. Would I toss my chance to be guaranteed final 3 to make a person I met 2 months ago happy? NOPE. This is Demetres' 7th comp win with 5 HOHs and 2 Vetoes. He holds the record for BBCAN comp wins. He also holds the record for most HOHs, while Kevin holds the record for most Vetoes in a season.
The feeds were off for most of the day on Friday while the Big Brother Awards were held. Additionally, Demetres nominates Karen and Kevin, but really this week is all about the Veto. That person casts the sole vote to evict. Big Brother was serving champagne during the awards. The houseguests were tired from a long day. Then, surprise! The day isn't over yet. Shortly after the feeds come back at 8 p.m., the TV in the living room says that the Veto Competition will be taking place on Friday night. Karen, Ika and Demetres are nervously cramming days in preparation for the comp, but Kevin is telling himself that he will win this competition, then the final HOH, take Karen to the finale and Ika will go out 4th.
The feeds were off from 11 p.m. until 5 a.m. From descriptions, it sounds like the BBUS wall competitions that involve climbing while harnessed. They had to place magnetic numbers to correspond to days. Ika went first and finished the comp in around 45 minutes. Kevin went 2nd with a time of 19:15. Karen and Demetres both were disqualified for going over Kevin's time. Since they went individually, Karen and Demetres were at an extreme disadvantage as Karen went at about 3 a.m. and Demetres at 4 a.m. In the HOH bed after the winner is revealed, Ika seems resigned to her fate as going out in 4th place, with Demetres apologizing for not pulling out the win for her. He tells her that she deserves to win more than anyone. She tells him that he is a great all-around player with his record breaking comp wins and fantastic social game. She thinks he might even win if he was sitting next to Kevin. After the comp, Kevin says to himself that was a must win for him because no one is taking him to final 2. He says that he feels terrible for Ika and Demetres since they've worked so hard this season.  He says for him it was elation, but for them, it was devastation.
The next day, Kevin went into the bathroom and had a conversation with Karen. While they were talking, I could see that Kevin's wheels were spinning. Karen made it clear that she wouldn't take Kevin to Final 2, saying he's been her target all season long. Karen knows that she is playing for 2nd, and is expecting either Kevin or Demetres to take her to final 2. He also asked her for an explanation of why she voted Dillon out. He told her that from both game and personal perspectives, he thought she would surely vote Demetres out. She said that she could tell that Dillon made a deal with Kevin. Karen likes to talk; she talks over people and she says things at times that aren't good for her game. I think Kevin began to waiver a little bit on whether to take out Ika or Karen. I don't think that Kevin respected some of the things that Karen shared. I think Kevin was trying to get a Final 2 reciprocation from Karen, and she didn't give it to him. So, Kevin is left deciding between Ika, whose game he genuinely respects and Karen, who has been after him all season. In either case, he must win the final HOH for a shot in the finale, and he will look stronger to the jury if he evicts Karen verses Ika. The Twitter-verse says that Kevin will evict Ika, but this conversation may have sealed Karen's fate. Kevin is unpredictable and reads between the lines. This might be wishful thinking on my part because Ika has been such an integral part of BBCAN5, but people in the comments section of live feeds noticed the same thing that I did.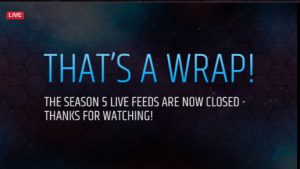 Suddenly on Saturday, Arisa appeared on the TV and the houseguests were called to the living room. They are told that in less than 1 hour, one of them will be evicted. They all figured that they had until Sunday or Monday for the veto ceremony. The feeds are cut, and we are left wondering who was evicted. Will Kevin Martin pull out another surprise and evict Karen, who is happy to be playing for 2nd or will he evict Ika, who has put in more work as a strategist and social gamer than any other houseguest? We will find out on Wednesday. Oh, to have been a fly on the wall for any last-minute campaigning by Ika to Kevin!
And before you go… please comment below and let us know what you think!  Who do you think will win? Are you excited for this season?  Let me know!

All these returning players have been on Reality Recaps shows before.  So check our Big Brother Canada Page to relive their hysterical moments during their Reality Recaps interviews.