Thank you, BB, for giving Raven an edit that makes fun of her phony accent and compulsive lying! She's full of shit, and you gave us the receipts to prove it.
We see the conclusion of the Everybody's a Wiener HOH. Kevin falls first, then Matt and Josh. Raven starts trying to negotiate for Paul, Alex and Jason to give her the HOH because she wants a letter. Paul is "stretching his shoulder" (throwing the comp) when he falls, and Raven falls immediately afterwards. Alex and Jason start pissing everyone off with their ridiculous negotiations when everyone knows they are each other's ride or die. Matt gets really pissed because of the 2 rogue votes against him and because Raven is upset. Meanwhile, Kevin is freaking out, telling Paul that he did not vote for Matt. Finally, Alex jumps off the wall to throw it to Jason after he promises her safety. Paul is glad that they made a spectacle of how strong they are, creating bigger targets on their backs for the whole house to see.
Everyone is speculating about who the rogue votes were. Jason was supposed to be the only 1, as Paul, Jason and Alex had discussed 1 rogue vote going toward Matt prior to Mark's eviction. Alex voted against Matt 'on accident.' Whatever, Alex. Josh believes that Kevin was one of the rogue votes against Matt and so do the other houseguests. They believe the other rogue vote came from either Jason or Alex. Jason tells Kevin that he and Alex were the votes against Matt. In DR, Jason admits that sometimes he gets diarrhea of mouth. Sometimes?!? Jason would be out of the game for being a shitty player if it weren't for Alex's guidance.
BB has fun mocking Raven's accent, much like many of the houseguests and the rest of us do. I'm from South Carolina, and yes, I have a bit of a southern accent, but Raven's accent is put on for the cameras. Matt can't understand much of what she says so he's oblivious to the #RavenExposedParty that's been going on outside of the house. Too bad that they didn't show that her accent comes and goes, depending upon whether she realizes the cameras are on her. BB should have shown how the houseguests mock her for that. There are many instances of BB giving her subtitles. My favorites:
"Marine colon."
"I went to Hogwarts. Fine."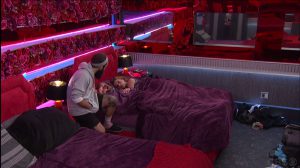 Paul confirms with Alex that Matt and Raven are going on the block. He asks her if he should tell Matt and Raven that Kevin is the target and that they are going up as pawns, even though the real plan is to get one of them out this week. She tells him that he should, so Paul tells them that either they are going up as pawns or Paul and Matt are, but Kevin is the target. They buy it. Paul is so freakin' good this season.
Jason admits to Alex that he told Kevin about them casting the rogue votes. #Busted She explains that now Kevin is a liability to their game, especially since all the houseguests are blaming Kevin for the rogue votes. She already doesn't like Kevin, and this just furthers her distaste for him.
Paul and Christmas think that Matt and Raven are really weird. Thanks for confirming what we've been seeing with our own eyes. Paul thinks that Raven's stories are made up and she's a compulsive liar. Welcome to the #RavenExposedParty, Paul. Glad you could make it! Here are examples of her BS:
Raven tells Paul that she and her Mom are members of Mensa, but when Paul asks Raven what her GPA was, she says 'dance and business.'
She can't go through a metal detector. It'll turn her pace maker off.
She says that her mom was struck by lightning.
She says she needs surgery on her knee and surgery on everything.
She stopped growing at 13, which is why she's short.
She tells Paul that she has an inverted spine, to which Paul responds in DR that would mean her legs would be where her head is.
She says that her mom holds the record in Arkansas for the fastest mile at 5:50.
Raven says that she was in training for the Olympics.
It's on her bucket list to be in a music video. Paul says she can be in one of his band's videos. Raven says that she likes their single, but there's no way she could've heard of it.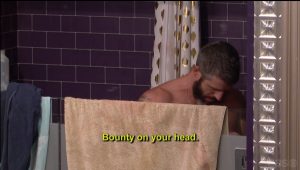 The Tree of Temptation lights up and no one takes an apple, with Alex running down from HOH to point out that the rewards and punishments aren't worth it. At this point it's a 50/50 bet on receiving a punishment, and since Paul lulled Matt and Raven into feeling safe this week, they aren't taking that chance. Dumbasses. If you had a 50/50 chance at the lottery, you'd buy a ticket. Right??
Josh expresses a hair of doubt in Paul, but then says in DR that Christmas and Paul have his back 100% and hopefully, it's vice versa. On feeds, we see Christmas explain away the situations that caused Josh to have any doubt in Paul because they were simply misunderstandings. Paul is intent on going to Final 3 with those 2. He thinks he can beat either of them.
Josh is shown dancing in the mirror as Kevin and Alex are waiting for him to come to bed. It's funny. I think production wants him to win AFP, and honestly, at this point, so do I. Please don't listen to Jessica's stupid Instagram plea to vote for Cody. He's a douchebag. Did I really need to tell you that? Probably not.
After Jason and Alex threw the rogue votes at Matt and Jason told Kevin it was him and Alex that did it, Jason says that he was 1 of the rogue votes, but doesn't know who the other 1 was. Jason tells Kevin he needs to quit pretending he doesn't know what's going on. Jason says in DR that Kevin needs to relax because the more he runs amuck, the more he's going to get in trouble. Jason is clearly getting fed up with Kevin. His paranoia is ridiculous, with him asking, "Are we good?" about every hour on the feeds.
Paul and Jason are talking shit about Kevin. Raven walks in. They are saying that Kevin doesn't get to ride with winners if he's not winning. They don't know if he fell or jumped off in the HOH competition. Jason says that Kevin told him that he had 6 wrist surgeries. Raven replies, "Hello—pacemaker." Jason says that Kevin says his social game is better than everyone else's. He's done nothing for anyone. Raven now feels comfortable going up as a pawn as it appears that Kevin is Jason's target. Paul asks Jason who they take out—Matt or Raven? Meanwhile, Raven and Matt are hoping that Kevin is truly Jason's target.
At the nomination ceremony, Jason nominates Matt and Raven. He says that he feels like everyone knows what the house's agenda REALLY is. Paul is shown dancing in the storage room post nominations. Every HOH really has been Paul's HOH, including Jessica and Cody's because he got the house to do the opposite of what they wanted. Like it or not, Paul is playing the best game. It's looking good for Mr. Friendship. Sorry, Jessica.
GET THE FLASHBACK TIMES HERE
Before you go… please comment below and let us know what you think!  Who do you think will win? Are you excited for this season? Let me know!
AND DON'T FORGET… we are doing YouNow shows all season when the feeds go down so make sure you BECOME A FAN there!  We will of course be doing recap shows and interviews too!  Whenever something goes down on the feeds we will get oepisodes, we will also be live tweeting during them!   Still want more?  Then become a Patreon for EXCLUSIVE content, giveaways, access to reality stars and become a member of the private Patreon group!  But what we're really excited about is our BIG BROTHER SPOILERS PAGE!  It's full of "Cheat Sheets" for you to use to stay on top of all the latest alliances and info!
So in order to help support us in our coverage of Big Brother this season please consider: Getting the live feeds from us here or becoming a Patreon, making a PayPal donation.  Of course we get it, money can be tight… so if you'd like to help us for free then be sure to subscribe to our shows in YouTube, iTunes, YouNow, and thumbs up and give us a nice review (we want to win a podcast award this year). Following us on your favorite social media site and sharing our content there is a great way to support us, too! We can't thank you enough for enjoying our shows these last 8 years, hopefully with your support we can continue to do them for the rest of the year.  You could also see what specific help we need by checking out our HELP US page HERE!  We can't thank you enough for all your support!  We love you all!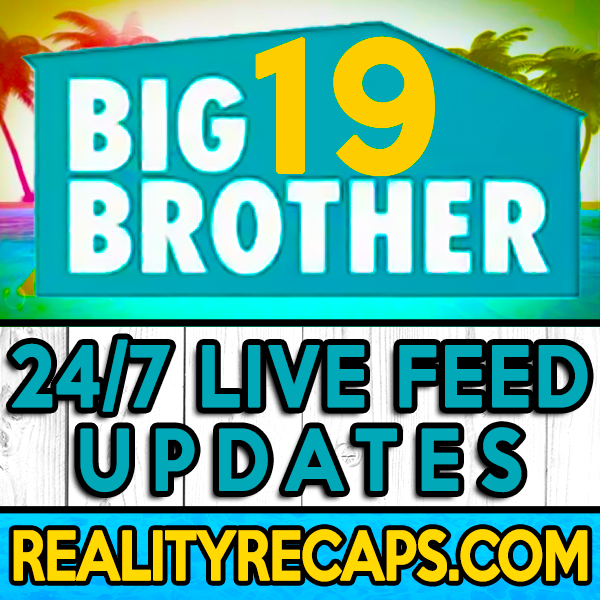 We also have a BRAND NEW TWITTER ACCOUNT which we will be using solely for our Live Feed updates.  It's a great way for you to find out what is going down as it happens 24/7 on the live feeds!  We wanted to keep it separate from our MAIN TWITTER ACCOUNT which covers all our shows because we love you and don't want to fill up your timelines!  Plus we will be posting news, gossip and spoilers there about BB19 exclusively too and we don't like to spoil on our main twitter account.  Now while twitter is a great way to get your 140 character live feed updates sometimes you just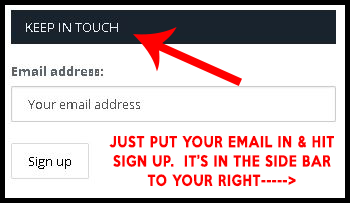 need more details, which is why we suggest you also join our newsletter!  This way you can get info like the exact cameras and flashback times for the updates we are giving you!  Plus, you can also get special prizes and all the latest info by subscribing to our monthly newsletter (WE WON'T SPAM YOU).  Thank you for all the support!