Julie tells us that when your backs against the wall, sometimes it's best to sit back and watch the house implode. Cody is looking for any way to stay in the house, but realizes his chances are slim. Elena says that she doesn't feel safe on the block, but Cody is a huge target, so she plans to just not act crazy this week. Cut scene, as Elena often says, and she acts fucking nuts.
Josh goes to Cody and tells him that Jessica wasn't his target until they had that blow up (when Cody and Jessica were fat shaming him and insulting his intelligence). He tells Cody that when he watches the show back, he'll see that Josh was campaigning for Jessica. Josh says that he's tired of Mark and Elena flip flopping. In DR, Josh says that it's time to draw a line with Mark and Elena to make them targets next week.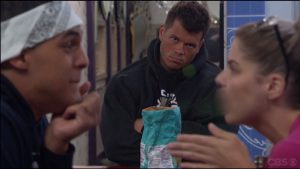 Josh then goes into the kitchen where most of the houseguests are. He asks Cody as he's walking by if he and Mark had an alliance when he came back into the house after the Battle Back. He says no and that it was just him and Jessica. Paul looks at Mark and says that's the clarity we needed. Josh begins questioning Mark and Elena about voting him out and flip flopping. Elena explodes on Josh with him calmly making points about how she is disloyal and lied about suggesting other people go on the block as pawns when he was HOH. She is screaming at him, saying that he twisted her words. (He didn't.) Alex then piles on with how Elena promised her that neither of them would punish each other at the veto comp, and minutes later, she gave Alex the punishment and took the $5K away from her. Mark and Elena realize it is now them against the house.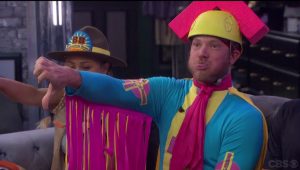 Julie informs the houseguests that tonight is a double eviction. Each nominee makes their speeches. Elena completely flubs whatever she was trying to say, again trying to reference Dominique's speech and she forgets her speech midway through. She goes on and finally finishes. Whatever happened while feeds were down today has her shook and paranoid. Next, Cody goes after Alex and Jason in his speech, saying that they played a dirty game this week with plans of possibly voting out Matt, Raven or Paul. Alex and Jason both do thumbs down and poo-poo him after his speech. Raven looked extremely taken off guard by Cody's speech. Matt then jokes that he's eaten approximately 600 bowls of cereal and his goal is to hit 1,000 so please keep him this week.
Cody is evicted unanimously. He walks across the coffee table, says goodbye to no one and tries to exit fast enough to not let the houseguest hold the door open for a second to wave to the audience. They grab it and wave. I'm so glad super douche is out of the house. In his interview with Julie, he admits that he lied in his speech about Alex and Jason. He says he's the one that made up those plans, and he did that for Jessica. Julie asks him why he couldn't have played a social game and tried being phony even a little bit. He says it's because of these people and he hates all of them. He says he wants to see Jessica and then says, 'and my daughter' as a side note. Julie asks him if he's going to marry Jessica, and he says yes. He covers his mouth and says that he probably shouldn't have said that. Julie says, "You're off to the jury house and probably want some solitude." Cody responds that it's a double eviction, so you screwed that up.
Next, it's time for the Let It Slide HOH aboard the BB Cruise Line. Houseguests play shuffle board in a head to head elimination. Matt and Josh are first; Matt is eliminated. Josh chooses Mark and Elena to go head to head. Elena is eliminated. Mark chooses Christmas and Josh (basically announcing potential targets. Josh is eliminated and Christmas chooses Raven and Mark to face off. Raven is eliminated. Mark chooses Christmas and Kevin to face off. Kevin is eliminated. Christmas chooses Mark and Jason to face off. Mark is eliminated. Christmas and Paul face off since they're the only 2 left besides Jason. Paul is eliminated. Christmas and Jason face off and Jason wins, becoming the HOH. Christmas appears to throw it to Jason.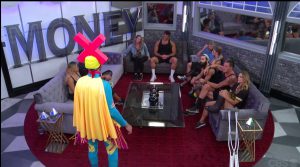 As they come into the house, Josh is saying "Bye, Bye" to Mark and Elena. They realize one of them is going home as they head to the Have Not room and start saying goodbye. For nominations, Jason tells Mark that they've been boys from the start, but he's been on the fence about him for the last week and a half. Cody told him that everything Mark says is a lie and not to trust him. Then when Jason and Mark sat at the chess table, Mark said that if we don't make a big move now, we're never going to get him out (referencing Paul). He says if you 2 aren't on the same page, he can't be in the middle of it. Jason says to Elena that Alex is his sidekick and he can't have her making a deal with her and then going against it immediately. Jason says he has no target, but is going to let the house decide who they want out.
Zingbot is in the audience, perhaps a clue for the next POV competition after Double Eviction.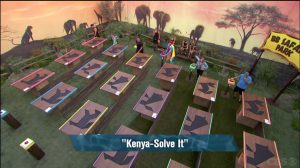 For the Kenya Solve It POV competition, easily the most boring comp ever on BB, the players are Jason, Elena, Mark, Matt, Raven and Josh. The puzzle pieces must be flat to be correct, and there are 3 puzzles to solve. Mark and Jason run neck in neck, but Mark pulls out the win. Mark and Elena are hugging afterwards and she is heard telling him to stay and fight. Mark is telling Elena that the feelings he has for her are real. They are seen saying goodbye in the green bedroom. Mark says he's crazy about Elena and if he had 2 vetoes he'd use them on them both. He uses the POV on himself and Jason puts up Matt as the replacement nominee.
Elena shouts out to her Mom saying that Lily needs her teeth cleaned (huh?) and that she'll be spending her birthday in the jury house very drunk thinking of her all-day long. She loves her to the moon and back. Matt says he hasn't had time to eat 400 bowls of cereal in the last 30 minutes and encourages everyone to wear green for gastroparesis awareness month. As expected, Elena is voted out 6 to 1, with Mark being the lone vote against Matt.
When she is interviewed by Julie she says that her association with Cody and Jessica, even though she really loves her and Mark's friendship with Cody hurt her game. Julie asks her about her relationship with Mark. She says that she does like him, but the BB house isn't her favorite place to explore a relationship and they are going on a date in Dallas when this is all over. Julie tells us that Derrick will be surprising the houseguests for the special Friday episode. Hence, the feeds have been down since Thursday afternoon.
Julie tells us that a new temptation twist will be unleashed on the house, and we'll see the HOH, twist and nominations on Sunday, but of course, when the feeds come back on Friday night, I'll start writing my spoilers blog to let you know what's been happening while the feeds have been down.
GET THE FLASHBACK TIMES HERE
Before you go… please comment below and let us know what you think!  Who do you think will win? Are you excited for this season? Let me know!
AND DON'T FORGET… we are doing YouNow shows all season when the feeds go down so make sure you BECOME A FAN there!  We will of course be doing recap shows and interviews too!  Whenever something goes down on the feeds we will get oepisodes, we will also be live tweeting during them!   Still want more?  Then become a Patreon for EXCLUSIVE content, giveaways, access to reality stars and become a member of the private Patreon group!  But what we're really excited about is our BIG BROTHER SPOILERS PAGE!  It's full of "Cheat Sheets" for you to use to stay on top of all the latest alliances and info!
So in order to help support us in our coverage of Big Brother this season please consider: Getting the live feeds from us here or becoming a Patreon, making a PayPal donation.  Of course we get it, money can be tight… so if you'd like to help us for free then be sure to subscribe to our shows in YouTube, iTunes, YouNow, and thumbs up and give us a nice review (we want to win a podcast award this year). Following us on your favorite social media site and sharing our content there is a great way to support us, too! We can't thank you enough for enjoying our shows these last 8 years, hopefully with your support we can continue to do them for the rest of the year.  You could also see what specific help we need by checking out our HELP US page HERE!  We can't thank you enough for all your support!  We love you all!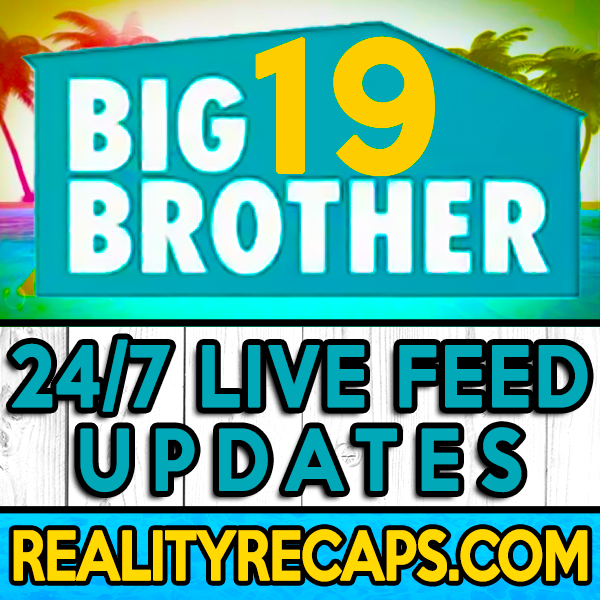 We also have a BRAND NEW TWITTER ACCOUNT which we will be using solely for our Live Feed updates.  It's a great way for you to find out what is going down as it happens 24/7 on the live feeds!  We wanted to keep it separate from our MAIN TWITTER ACCOUNT which covers all our shows because we love you and don't want to fill up your timelines!  Plus we will be posting news, gossip and spoilers there about BB19 exclusively too and we don't like to spoil on our main twitter account.  Now while twitter is a great way to get your 140 character live feed updates sometimes you just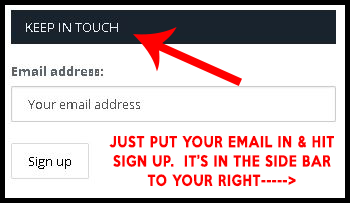 need more details, which is why we suggest you also join our newsletter!  This way you can get info like the exact cameras and flashback times for the updates we are giving you!  Plus, you can also get special prizes and all the latest info by subscribing to our monthly newsletter (WE WON'T SPAM YOU).  Thank you for all the support!