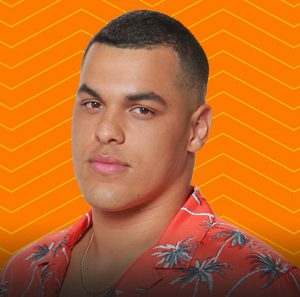 In DR, Josh is extremely excited to have made it to jury. At the beginning of the game, he thought he wouldn't make it that far. Neither did we. He gets the award for most improved houseguest. Mark points out that Paul is running the house just like Jessica said in her eviction speech. He wonders how long it will take everyone else to realize it. Cody doesn't know how to move forward in the game without Jessica. He is happy she doesn't have to be around these people anymore. He wants to strip away as many people's chances of winning $500K as possible. He realizes that Jessica should have made it further in the game than him, but he must press forward for them both. Yep, Cody should've jumped on the grenade for her and not let her use the hex; her BB skills far outweigh his since he has ZERO social game.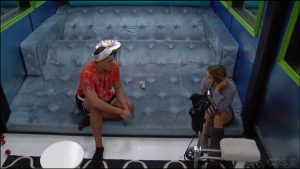 Josh and Christmas are talking about Mark and Elena trying to get in with Alex and Paul this week. Josh wants to make sure that they know Mark and Elena are disloyal and they flip. Christmas says they need to let Paul know. She fears that Jason and Alex will team up with Mark and Elena and bring in Cody. Y'all are paranoid. Nobody wants to team up with Marlena.
Everyone is playing in the Temptation Competition except Christmas. Alex thinks initially that it might be best to put up Matt and Elena as pawns, but Paul points out that Matt and Raven are comfortable with them. They shouldn't run the risk of pissing off 2 couples. Christmas adds that the 2 showmances could team up with Cody. Alex says that the house's target is Cody but she wouldn't mind breaking up 1 of the showmances. She calls herself the showmance killer. Sorry Alex, but Paul already got that hashtag earlier this season.
Kevin is talking to Cody telling him that he is going to be the house's target. Cody says it's been that way since the beginning, which doesn't make sense because he has nobody. Cody says that he would never go after Alex so she is wasting her HOH. Kevin tells Cody everybody is going to tell her to get him out. In DR, Kevin says that he wanted to work with Cody but his arguing with Josh put an end to that. He also says that by talking to Cody if he doesn't go home this week, if he wins HOH, Cody won't put Kevin on the block. Kevin tells him he has 2 chances: win safety or hope you're picked for veto and win that. As they are talking in the kitchen, it looks sketchy for sure. The alliance is meeting talking about Kevin doing sketchy things especially with Cody. Alex says she wanted to go to the end with him, but now she is having second thoughts.
Mark starts talking to Jason about Paul. He says that he is the only vet in the house and everyone is following him since the beginning of the game. Mark says that if we take Paul out of this house, all those players wouldn't have anywhere to go. He tells Jason this stays between them. He doesn't realize that Jason is working with Paul.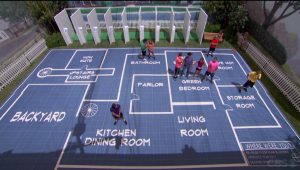 Alex wants Matt to throw the safety competition while everyone else guns for it. She wants to put up Mark and Elena and backdoor Cody. The houseguests are shown hearing various sounds repeatedly. Paul has a catchy tune to remember them all. For the Where Were You Temptation Competition, they walk out to the yard to find a huge blue print of the house. They must remember where they were when they heard the sounds. The player with the most points wins and Matt is trying to lose. Cody is also trying to throw it. He thinks he was never in the have not room, but for 1 of the sounds he was so he gets a point on accident. Matt scores a 0 and Mark wins with a perfect score of 10. Jason was 2nd with 9. Mark says in DR that he is glad that he showed his mental capacity; he is more than just muscles. Dumbass, you just made yourself a bigger target. Now, Alex must come up with a new plan for nominations. Mark says in DR that he is glad he won safety because his name is getting dragged through the mud every day in the house. Again, dumbass—do you think that might be your fault for your bromance with Cody, playing the middle and flip flopping to every HOH?
Cody says that he's going to put it in people's minds that Paul is gunning for them. Elena is happy that Mark won safety but realizes that makes her a prime candidate for becoming a pawn. Alex talks Jason into being a pawn so that it will look fair to Elena. Alex tells Elena that she is going up with Jason. Elena goes into the have not room where Cody leaks Kevin trying to get him to link up with him, Jason, Alex and Paul. He lies to Elena that they're after Mark first and then her. Cody tells her that Paul is running the house and he has a deal with everyone. How the fuck would he know that after isolating himself for 2 weeks with Jessica? Elena is pissed because she's confided in Paul a bunch in the game. Elena says that in the end that's just Paul with $500K. Cody's faces when talking about Paul are full of anger and hatred. #Sociopath Elena says that she hopes that Cody gets picked for veto and that he wins.
Christmas rolls past the APSR and catches Mark and Elena having a whispered conversation with Cody, yet they say they aren't working with him. Christmas and Josh call out Mark for being a flip-flopper. Josh says that Mark just goes wherever the numbers in the house are. He says that as soon as Josh stayed, he flipped on Jessica and Cody. Josh says if Mark will do that to his closest allies, he'll do it to anyone. Mark admits in DR that he obviously has been playing both sides. Elena has been, too. Hence, she has earned perpetual pawn status. Serves these two right!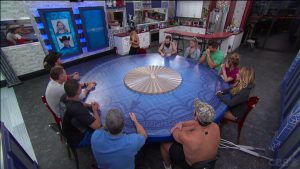 For nominations, Alex follows through with nominating Elena and Jason. Elena says in DR that she feels disposable, and Cody says in DR that he prays he gets picked to play in veto. So, Mark is targeting Paul and Kevin's group of 6 are questioning his actions. Should make for an interesting Double Eviction!
GET THE FLASHBACK TIMES HERE
Before you go… please comment below and let us know what you think!  Who do you think will win? Are you excited for this season? Let me know!
AND DON'T FORGET… we are doing YouNow shows all season when the feeds go down so make sure you BECOME A FAN there!  We will of course be doing recap shows and interviews too!  Whenever something goes down on the feeds we will get oepisodes, we will also be live tweeting during them!   Still want more?  Then become a Patreon for EXCLUSIVE content, giveaways, access to reality stars and become a member of the private Patreon group!  But what we're really excited about is our BIG BROTHER SPOILERS PAGE!  It's full of "Cheat Sheets" for you to use to stay on top of all the latest alliances and info!
So in order to help support us in our coverage of Big Brother this season please consider: Getting the live feeds from us here or becoming a Patreon, making a PayPal donation.  Of course we get it, money can be tight… so if you'd like to help us for free then be sure to subscribe to our shows in YouTube, iTunes, YouNow, and thumbs up and give us a nice review (we want to win a podcast award this year). Following us on your favorite social media site and sharing our content there is a great way to support us, too! We can't thank you enough for enjoying our shows these last 8 years, hopefully with your support we can continue to do them for the rest of the year.  You could also see what specific help we need by checking out our HELP US page HERE!  We can't thank you enough for all your support!  We love you all!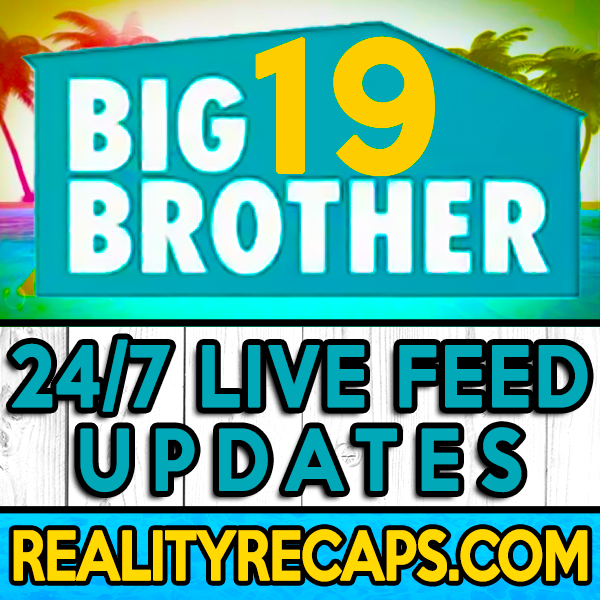 We also have a BRAND NEW TWITTER ACCOUNT which we will be using solely for our Live Feed updates.  It's a great way for you to find out what is going down as it happens 24/7 on the live feeds!  We wanted to keep it separate from our MAIN TWITTER ACCOUNT which covers all our shows because we love you and don't want to fill up your timelines!  Plus we will be posting news, gossip and spoilers there about BB19 exclusively too and we don't like to spoil on our main twitter account.  Now while twitter is a great way to get your 140 character live feed updates sometimes you just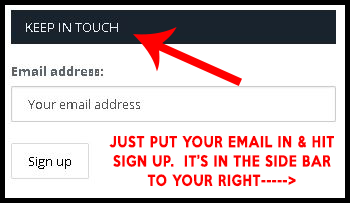 need more details, which is why we suggest you also join our newsletter!  This way you can get info like the exact cameras and flashback times for the updates we are giving you!  Plus, you can also get special prizes and all the latest info by subscribing to our monthly newsletter (WE WON'T SPAM YOU).  Thank you for all the support!