We found out at the end of last episode the leg isn't over and everyone has to continue racing. Great news for Simi and Ope who were on the cusp of elimination. Everyone needs to make their way to Sudbury, Ontario by taking a Ferry to PEI then flying to Sudbury via Toronto. Gino and Jesse are the first to get to the Ferry and find out it doesn't leave til 8am so again everyone is equalized heading into Sudbury. Once they land they all find their marked trucks and make their way to Vale Miner Company. The teams need to line up and wait til 10am for the miners to give them their next clue. Gino and Jesse and Kristin and Neil are the first two in line at the mines. Two teams at a time need to go over 1km underground into the famous Sudbury Nickel Mines, hammer a piece of rock to find a piece of nickel to receive their next clue. Gino and Jesse are the first to leave and the clue for everyone is just a simple Nickel.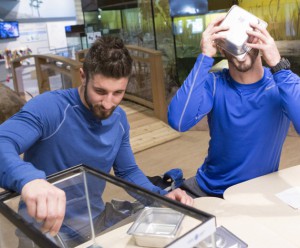 Sudbury is known for their Big Nickel. A giant monument of our 5 cent coin honoring the Nickel industry of the city. Everyone seems to figure that out and make their way over. With the brothers in the lead they are faced with a decision. To do the Fast Forward or go to the detour. Of course they go for the Fast Forward –  Feed the Turtles Gino and Jesse head to Science North to feed an at risk Ontario turtle. Her diet is crickets, meal worms and super worms. YUMMY! What the find out mid way through is not only does the turtle have to eat this stuff, so do they! The boys have fun feeding their new friend, but not so much fun  eating the bugs. They complete their task though and head off to the pit stop to see John.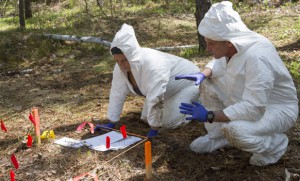 No one else decided to try for the Fast Forward. The boys had a 10 minute lead on the second place team of Brian and Cynthia, so they are all off to Laurentian University to do the detour. They choose from Synchronize – To learn a synchronized swimming routine and perform it with the team. When the judge deems it worthy the receive their next clue. Or Analyze – Time to pretend to be a real life CSI and process a 3×3 crime scene. They need to locate 10 pieces of evidence, flag it measure it and chart it. Once they get that done perfectly they get their next clue.  Only 4 teams can do each challenge at a time. Brian and Cynthia being cops think they have this in the bag. They are the first to arrive followed by Neil and Kristin. Kristin is feeling much better after being able to rest waiting for the ferry and is singing and talking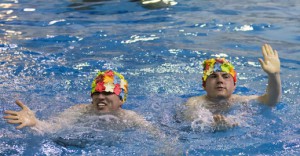 and joking with her dad. She's irritating Brian and Cynthia to know end. Keep singing Kristin I say keep on singing. Nick and Matt show up to Analyze and so do Brent and Sean. The brothers quickly realize they don't understand what they need to do so they switch to Synchronize opening up a spot for  Nic and Sabrina. Leilani wants to do Synchronize but Dujean can't swim. So they have to wait for someone to finish Analyze before they can start. Simi and Ope show up to Analyze but decide to check out Synchronize. Ope who also can't swim can't do anything in the deep end of the pool so back to Analyze they go. Nick and Matt are the first to finish analyze and Dujean and Leilani are able to start. The cops leave second and Simi and Ope begin. Over at the pool Brent and Sean get the routine in their third attempt!  Simi and Ope make up some time finishing theirs on the  first try. Nic and Sabrina we left alone at Analyze. Finally they chart their evidence correctly and get to move on.
EVeryone moves on to the RoadBlock. Teams need to decide Who has heart? At the Simulation Lab at Health Sciences North. One team member must learn CPR and perform two minutes of compressions in a
simulated emergency situation. Before knowing what the challenge actually was Matt volunteers. The wrestlers are bummed as Nick is a certified CPR instructor. Cynthia thinks she has this in the bag because before she was a cop she was a paramedic. Matt gets it on the second try but paramedic Cynthia need three tries before getting it. Kind of makes me terrified for anyone she tried to save. Sean is out his second try but watching the video Brent is terrified that Sean is going to over exert himself. Poor Sean has a tendency to vomit when he's over exerted but thankfully no dummies were vomited on. Simi made up even more time getting out her first attempt. Kristin needed a few attempts. Leilani and Dujean beat Nic and Sabrina out of the Detour but got lost so Nic and Sabrina beat them to the Roadblock. Leilani feels the pressure and so is Nic who time after time is being told it is not excellent CPR. Leilani completes the challenge leaving Nic and Sabrina behind. After a pep talk from Sabrina on his 9th attempt he finally completes the challenge.
Because they completed the Fast Forward Gino and Jesse get to go right to the Pit Stop. They are greeted by Jon and Jeopardy host and Sudbury Native Alex Trebek. The brother arrive in first for the third time and win a trip to any of Air Canada's California destinations and a year of free gas. If your keeping track that is three trips and 2.5 years worth of free gas so far! The other teams when done with the
roadblock must canoe across Ramsay lake to the Pit Stop. Nick and Matt finally bust out of third to their first second place finish and Brian and Cynthia take the third place spot. Sean and Brent place 4th. Ope has to face his fear of the water yet again and they place fifth bringing even Alex Trebek to tears. Kristin and Neil come in 6th followed by Leilani and Dujean in 7th., After a few near misses Nic and Sabrina's luck has finally worn off and they are eliminated. Alex Trebek turns into a pumpkin at dusk and the couple doesn't even get to meet him.
We head to Saskatoon next week., I really hope they get to head about out of country for a few legs of the race before it's over. I miss the language barrier factor of the race. Can Gino and Jesse keep up their winning streak or will Brian and Cynthia finally over take them? Comment below and let me know what you think!