We as Canadians are coming off  an emotional leg in Normandy, France and off to the City of Love Paris! All teams are on their way via 1 of 2 trains. Natalie and Meaghan, Michel and Pierre and Micky and Pete all snagged the first train. While waiting for their trains Alain and Audrey try one more time to reconnect with fellow Québécois Michel and Pierre. They come to an agreement that they won't U-turn each other, that deal lasts a whole 30 minutes. While on their train away from the couple the twins decided they aren't going to stick to that deal at all. Meanwhile the Olympians and Mickey and Pete check out the map of Paris. Once in Paris everyone is on the way to the Arc de Triomphe to find their next clue.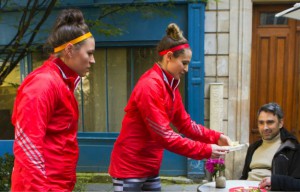 Everyone must make their way to the Place Du Canada, find the Garden of Forefathers and find the next clue. If you aren't familiar with the french language there is a HUGE difference in words like Du and Des. Mickey and Pete found that out pretty quick, when the cab took them 2 hours out of their way. The boys are now worried their lead is blown. Sukhi and Jinder's first cab rejects them because when Sukhi opened the door she slammed it into a parking meter. Teams get to now choose between Haute Couture or Plat Du Jour. In Haute Couture the teams must make their way to a Parisienne fashion school and pin pieces of  fabric to a mannequin to recreate a Haute Couture look that is displayed for them. In Plat Du Jour they must search the streets of Paris for 3  marked cafes and purchase the menu item on the chalk board in front, serve them to 3 patrons while reciting the menu item perfectly. All the teams decide to
search Paris streets. Most have a difficult time initially finding the cafes but once they find the first one they come easily. Except for Audrey and Alain who decided that they don't want to spend their day running around and switch to Haute Couture. Natalie and Meaghan are first out of the Detour. This leg the claws are starting to come out and our nice Canadians are turning into real competitors. Sukhi and Jinder even start a little fighting between them. Sukhi comes up with a way to remember the names and how to say the dishes, Jinder just wants her to shut up and then Sukhi spills her coffee and they have to go back and get some more. Ryan and Rob meet up with Sukhi and Jinder and ask to be pointed in the direction of a cafe. Jinder says they haven't found anything and Ryan asks what are the bags in their hand. Jinder plays dumb and says he can't remember where they found them. Now I am all for not helping in the Amazing Race and I love Ryan and Rob so I am torn here. I get where Sukhi and Jinder are coming from. They had a few really hard legs in China and wanted some help and nobody including Ryan and Rob wouldn't give them the time of day so I TOTALLY get it. But Ryan and Rob do have a speed bump this leg and Sukhi and Jinder know what that is like so you'd think they'd at least just point them in the right direction.  I probably would have gone with the Haute Couture detour since it looks just like a puzzle and my french is terrible BUT they didn't seem too picky on the pronunciation just that their coffee cups were full. What detour would you have picked?
After completing the detour teams are off to the Centre Pompidou where they come face to face with a Double U-turn. Here is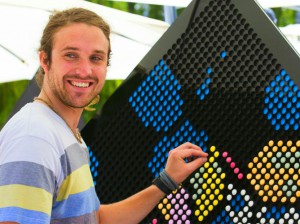 where the race gets ugly everybody. Well as ugly as Canadians can make it anyway. Natalie and Meaghan are first there and decide not to use the U-turn option. No one has done anything to them to warrant retaliation and being the honorable athletes they are decided it would show poor sportsmanship to use it. Not so with Michel and Pierre. They go back on their deal with Audrey and Alain and U-turn them and are quite happy with themselves. Sukhi and Jinder send Ryan and Rob back to the second detour. The boys are so mad everyone knows they already have a second task to complete and this is just rubbing salt in their wounds, but all is fair in the Amazing Race. Fair yes, nice not so much. It turns out that Ryan is pretty good a pinning a dress and Audrey and Alain aren't too bad at finding cafes. Ryan and Rob do manage to pull ahead of the couple a little bit. While they are doing that everyone is off to the Ile aux Cygnes to complete the Roadblock  "Who likes Candy?" Here the teams have to recreate a work of art using only Mentos candy. There are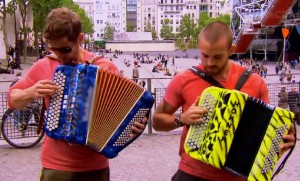 over 1000 pieces to this thing! Once the artists decides its right they are good to go. The Olympians and the twins are the first there and Michel and Pierre laugh at how they U-turned Audrey and Alain. You may not want to laugh too hard boys. Karma's a bitch and it's biting at your tail!. This roadblock is no joke!  While the other teams are doing that Ryan and Rob are learning how to play and Parisienne folk song on the accordion they have to perform in unison for a crowd. Fun fact on your blogger here. I know how to play the accordian……stop laughing……and it is hard. Much harder than parking a truck! But Ryan and Rob do it and join everyone at the road block. The boys aren't out yet! Natalie and Meaghan are first out of here again. Sukhi nailed this challenge while Jinder sat laughing with Pierre about using the U-turn.  The U-turn is a part of the game and I don't judge for doing what you need to advance, but the attitude in spirit in which you do it is whole other story. What do you think of Michel and Jinder's attitude about using the U-turn? I feel this challenge would have been in my wheelhouse too. There is an order to it and it was tailor-made to how my brain works. Who isn't feeling this challenge? Michel! Good Michel glad you can't find your mistakes.Rob doesn't  have too hard a time with it but is behind because of his speedbump. Audrey and Pete struggle. Audrey realized that though she can't find her own mistakes she can see Pete's and the two of them check out each others work and help each other get through this task. Who is helping Michel? NO ONE! See karma…..does it's bite hurt Michel? Seven hours and 52 minutes after arriving second at the roadblock the twins finally complete their task
Once the roadblock is done everyone is on the way to Pont Des Arts and the famous love lock bridge. They need to search around for Jon and the pit stop for this leg. Amazing Race beasts Natalie and Meaghan have placed first in their sixth leg of the race winning them a European trip for two and $3000. I think they have set a record for most wins by any team on the Amazing Race with  4 more to go. They have this race sewn up, just cut them a cheque now.  Any TAR experts out there can you confirm this milestone for me? Sukhi and Jinder have there best finish yet in second and Mickey and Pete stay consistent in third. If you remember,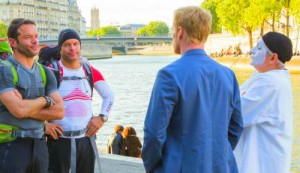 Mickey and Pete are my picks to win this race. I still think they have a shot. They don't crack under pressure, despite a two-hour time delay and they just have such a great spirit about them. Alain and Audrey despite being U-turned place 4th. Alain takes full advantage of being in the City of  Love and drops to one knee, produces a ring and asks Audrey to marry him. She says YES! And our dating couple's chyron now reads engaged. CONGRATULATIONS AUDREY AND ALAIN. We here at Your Reality Recaps wish you nothing but love and happiness forever! Karma really did take a huge chunk out of Michel and Pierre's ass today and the team that has spent the majority of the race trying to catch Natalie and Meaghan finish last and are eliminated from the race. Again karma plays a role here. For helping Pete Audrey's good karma rewards her not only with a proposal but the next leg of the race is in their hometown of Montreal. Do you think coming off the engagement high and home town advantage can bring this 4th place team into the number one spot for the second time?
Do you want to see how love birds Audrey and Alain celebrated their engagement. Check out this extended footage:
http://www.ctv.ca/TheAmazingRaceCanada/video.aspx?vid=425427