If you haven't watched Eric and Jon's comedic recap of this episode with Marie from the Amazing Race season 23, you can here (and you should), but first… Eight teams remain! The floating villages Pit Stop from the last leg will be the start of this one and first out of the gate are father son team, Dave and Conner at 9:06am. Their first task? Travel to Prince Phillip Park and find the Long House – they only have $98 for this leg of the race and Dave and Conner are in a taxi in no time. Two minutes behind team number one, The Cowboys leave next followed by the Afganimals six minutes later and despite some slow taxi trouble, the Cowboys arrive at the Road Block first. Oh yeah, and just in case anyone has forgotten about Dave hurting his leg in another season of the Amazing Race: Dave hurt his leg in another season of the Amazing Race. I just wanted to make sure everyone was aware of that moving forward in this season…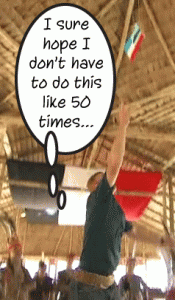 Road Block: Team members must jump on a traditional trampoline assisted by locals, and adjusted for height, to grab a flag before obtaining their next clue. The Cowboys have no luck on their first attempt and since Dave and Conner have arrived, they have a chance to reclaim their lead, but Dave has no spring in his step! Ba Dum Ching! Conner gives it a go and snags the flag on the first try! Yeehaw! Leaving the Cowboys and now, the Afganimals behind to struggle with the challenge, Dave and Conner are now on their way to the airport to catch a flight to Kuala Lumpor. There are only three flights with limited seating and only the first three teams to arrive will be allowed on the first flight. Meanwhile, back at the starting gate, Luke and Margie join the race and at the Road Block, the Afganimals have finished and are now waiting at the airport with Dave and Conner. Cord just cannot get that damn flag! He's dripping with sweat, out of breath, but he's not giving up! After 46 attempts, Cord finally grabs the flag for the Cowboys and when they get to the airport, he is still dripping with sweat, but they are happy that they made it on the first flight. Back at the Road Block, Luke has quickly captured the flag, but when they arrive at the airport they are disappointed to learn that they will be seated on flight number two.
Speaking of flight times… The Globetrotters have left and behind them are the Blondes then finally, John and Jessica and Brenchel. Rachel is bound and determined to win this race, by the way, Brendon promised they could have babies if they won so she wants that million dollars! Breezing through the Road Block, Flight Time and Big Easy make the second flight as well, along with the Blondes, but Jessica has made so many attempts that she has to wrap up her foot to continue. She finally grabs her clue, but she's worried about making it through the rest of the race on her bum foot. Rachel, decked out in her green sequins of course, also has a snag in this Road Block – her panty hose! Once she takes them off, the clue is easy to retrieve, but both Brenchel and John and Jessica, (and the Blondes) will be on the final flight. But… It doesn't really matter what flight the last two teams were on because the second flight has been delayed and both will arrive at pretty much the same time. Only the first three teams on the first flight will have anything resembling a lead, for now, because this is one difficult Detour!
Detour: Once the teams have arrived at SkyBar, they must choose between Mix Master or Master Mix. In Mix Master, they will have to learn how to DJ then show off their skills to the bar patrons; if they do not perform up to the judges standards, they have to go to the back of the line to try again. There are only four practice station and they are first come, first serve. In Master Mix, teams must pour a pyramid of cocktails without mixing colors. There are seven glasses, four on the bottom, three on the top and the drinks must be poured from a bow of mixing glasses. Both of these tasks require precision and accuracy and since everyone has been up, racing and traveling all day I don't see this being an easy one.
And I'm right! Dave and Conner don't go out to bars much – shocker – but they along with the Cowboys and the Afganimals choose Master Mix. At the airport, the other teams have arrived and I sort of lose track of who shared a taxi van and who took taxis by themselves. It's a mess and it doesn't matter because once they arrive at the Detour, they are all going to be there for awhile so there was really no reason to hurry. Brenchel seems to arrive first, though, and former Las Vegas cocktail waitress Rachel is confident that she will be able to mix those drinks. The Afganimals freak out that the other teams are starting to arrive and that they are sucking so much at the challenge so they switch tasks and head for the DJ booths.
So the Cowboys are the first to mix the drinks successfully and they are the first to learn that teams must now make their way to the Pit Stop at the BatuCaves. Dave and Conner have been at the Detour for two hours before they finish next – the Afganimals are still practicing and look who has shown up to join them! The Globetrotters, the Blondes and John and Jessica all want to take on the Mix Master task. After a short practice session, the Globetrotters take the stage – they fail and the Afganimals give it shot immediately after – they pass and maintain their top three lead. John and Jessica are next in front of the crowd, the Globetrotters make their second attempt then the Blondes – they all fail.
Back in the bar, Brenchel and Luke and Margie are also struggling with the Detour. (Flight Time and Big Easy try the DJ thing again during this scene, they fail again and the crowd is getting bored with them, John and Jessica crash and burn again as well). Brenchel is so frustrated, they talk about switching tasks, but decide to keep mixing. Luke and Margie are melting down beside them. (The Blondes and Jessica and John have successfully finished their time in the DJ booth). Twenty-eight attempts in and Brendon just want to smash some glasses, but it's Luke that actually throws the pouring stack on the ground; Margie is on it with the scolding and even makes him clean it up before they continue.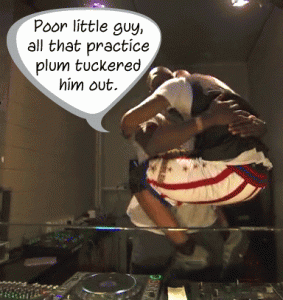 Flight Time and Big Easy finally please the Judge DJ and can move on – going to school really helped! Too bad going to "school" isn't an option for Brenchel and Margie and Luke because the mom/son meltdown is brutal. Brenchel takes a moment away from the task to encourage Luke to keep going with some applause. Margie is pretty sure they are the last two teams and that Brenchel is closer to completing the Detour; Luke suggests they take penalty time together, but Cheerleader Rachel steps in again! She knows they can do this and she doesn't want to take penalty time; they just need to keep trying! Margie is impressed with Rachel's sportsmanship and Luke's attitude changes immediately – they finish the challenge quickly after Rachel's pep talk, leaving the Newlyweds to finish alone.
Now crybaby Rachel is coming out to shine, Margie! (Love you, Rachel!) You just weren't there at the right time in the right situation! With the club empty, Brenchel is still trying to pour drinks. They don't want their future family to see them give up so they take a moment to pray. If they go home, at least they will have finished this task, which they do eventually. When they hit the mat, Phil tells them that they are the last team to arrive, but… there is hope for Brenchel! This is a non-elimination leg and if they can overcome the obstacle of their Speed Bump in the next leg, they will still have a chance at the prize.
In case you were wondering, here is the list of teams in order that they were checked in by Phil at the Pit Stop: Cowboys, Dave and Conner, Afganimals, the Blondes, John and Jessica, Flight Time and Big Easy, Luke and Margie and Brenchel. The Amazing Race airs on CBS on Sundays at 8/7c. Don't forget to tune into the Your Reality Recaps live Amazing Race comedic recap, or watch the edited versions later, (or watch both). Also, don't forget to "like" and subscribe on YouTube and if you like what you see, support the site and help Eric and Jon bring you all kinds of reality television awesomeness this year.