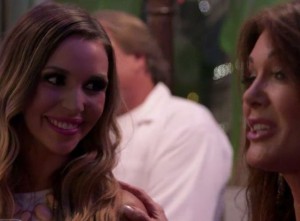 It's Sheana's wedding y'all. We heard nothing but wedding talk all season and it's finally here! But before all that amazingness happens Sheana goes over to Lisa's house to talk to her about wedding details. She is nervous about Kristina and how she'll behave but doesn't want to uninvite her days before the wedding. While the girls have having their nice gab session the boys are drinking liquor out of bags and getting haircuts. That night is the rehearsal dinner. All of both Sheana and Shay's family are there to help them celebrate. James has to show up solo because Kristin is banned from Sur. Tom has decided to put his crap with James aside and outside he shows him some texts from Kristin asking him to hang out with and shoot the shit. He just wants to spare James the crap he had to go through or so he says. Do you think he's doing it for James' own good or he is just trying to get even with Kristin?
The day before the wedding Katie, Ariana and Sheana all go check out the amazing venue . Pandora comes baring a car full of alcohol. All the girls are there having a sleep over before Scheana becomes Mrs. Shay. As a wedding gift to her bridal party she gives them all custom wine glasses.  She also doesn't forget Katie. The two girls are genuinely happy to be in such a good place in the friendship. Scheana presents her with a personalized Solo wine cup and a bottle of Tequila, Katie's favorite! Back in LA James is telling Kristin all about his conversation with Sandoval at the rehearsal dinner. Kristin is mad that Tom would do such a thing! Really Kristin, after all the stunts you pulled, this is NOTHING. James tells Kristin he's not happy about the text messages, as he should be. If she loves him as she says then she should be over Tom, not needing more time like she tells him.
The next morning all the stylist arrive. While Sheana is in the midst of getting beautified she realized she left Shay's wedding gift at home! Of course Kristin is the only one available to pict it up
and deliver it. Something that Ariana is not at all comfortable with but it's Sheana's day and she calls the shots. For one day deal with it! The boys are over in Shay's Casita getting ready. Tom put himself in charge of being Shay's personal stylist for the day and pulls through with a gorgeous white coat with black trim. The wow factor is when Shay pops his collar to reveal Shay written on the back collar. Business for the wedding, party for the reception. Tom is genuinely happy for Shay and is so happy to be able to help him out on his big day. Kristin does pull through for Sheana and delivers her present as promised. As a thanks Scheana allows her to get her hair and make up done by her stylists. Not a bad deal for Kristin I'd say!  Scheana is ready to go and looking absolutely stunning! On the boy's side Sandoval and his hair are delaying the guys. Zen Sheana is not so zen anymore! Everyone outside is wondering if Sheana has changed her mind, meanwhile she is being stuffed into a closet while Shay and the guys finally start to get into place. 20 minutes late Shay arrives and the bridal party follow suit. The girls are wearing gorgeous flowing pale gold gowns, the guys traditional black tuxedo's.  Someone has give Tina (the vocalists and former Sur server) the go ahead to start singing in Sheana too early. No one can get her to stop and Scheana is angry. First they are late now this! Scheana refuses to go until Tina has finished the song and has to start it over. Finally Sheana, her mom and dad head down the aisle. She meets her Prince Charming and their fairy tale wedding begins. With emotional vows and a romantic first kiss. Sheana and Shay are now married. Congratulations to you both. She really did to an amazing job pulling of such a beautiful wedding. It was really a dream come true and even I had a tear in my through the ceremony.
Kristin managed to keep herself composed during the ceremony but will she do the same as she's free to mill about and the alcohol is free and plentiful? You'll have to tune in next week to what happens! Comment below and let me know what you thought of Sheana's wedding! Don't forget to check out our BRAVO page for Jon's Audio blogs where we get the inside info right from the cast. You won't want to miss it, plus all our written recaps and audio blogs for all the BRAVO shows are there. Don't forget to check out our King of the Nerds recaps by Melissa and the Celebrity Apprentice Recaps by Vince. We are keeping you up to date on everything going on in reality TV Right now. To help us continue that if you click on the Amazon link in the sidebar to do all your online shopping  it would really help us out.