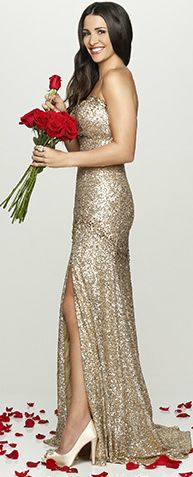 The new season of  The Bachelorette starts on Monday with Andi Dorfman as our newest girl in search of love. We all remember Andi from last seasons The Bachelor. All of woman kind stood up and cheered for her as the 26-year-old Assistant District Attorney from Georgia gave Juan Pablo a verbal tongue lashing.  After a disastrous Fantasy Suite Date she told him that It's not OK to be self absorbed and uncommunicative and left the show in St Lucia. Andi is a girl who likes to hunt and fish but she also likes to shop as well. We saw during the hometown dates last season, the girl can use a handgun. These guys better be on their best behaviour. I can't wait to watch Andi weed through these guys and find her husband. We know she won't take any crap from anyone.
Now lets meet our men. Andrew is a 30-year-old Social Media Marketer from Portola Valley, CA. He admires his dad and hates when dates don't ask him questions. He will like Andy for sure! If he could have any superpower it would be to fly.
Bradley is a 32-year-old Opera Singer from Grosse Point, MI. He loves Christmas and says his best attributes are authenticity, Empathy and passion for what he loves. His relationship deal breaker is someone recently divorced with children.
Basketball Coach Brian is 27 and from Harrisburg, PA. He'd bring a Bible, sunscreen and a surfboard to a deserted island. He is looking for a cute, athletic, natural looking girl with a great smile. His favorite author is John Grisham.
Hairstylist Brett is 29 and from Warminster, PA.  He hates when dates have their phone on all the time. The most outrageous thing he has done is cliff jumping in Jamaica. He doesn't like snobs or divas, but does like girls that are outgoing, funny, independent and family oriented.
Carl is a 30-year-old Firefighter from Hollywood, CA. He has an American Bulldog named Archie. He is looking for a girl who is funny, down to earth and easy to talk to. He loves and competes in crossfit and would love to have the superpower of incredible strength.
Chris is a 32-year-old Farmer from Lamont, IA.  He says he is a romantic guy when he's with the right person. He wants a girl who is slender, athletic and beautiful. He likes when a girl can hold a conversation.
Personal Trainer Cody is 28 and from Oakley KS. He says he's and adventurous type and considers himself a romantic, but not a cheesy romantic. To him being married means finding your best friend to experience life through thick and thin.
Craig is a 29-year-old Tax Accountant from Defiance, IA. His three best attributes are that he is energetic, funny and intelligent. He is looking for a girl with a great complexion and beautiful hair. The most outrageous thing he had done is gotten two holes in one. He also threw up on a date once.
Dylan is a 26-year-old Accountant from Long Meadow, MA. He'd like to be Tom Brady for a day. His biggest date fear is the girl being mute (his words not mine) and having an awkward time. His dream job would be GM of the Boston Red Sox or a gym teacher.
33-year-old Emil is a Pilot from Portland, OR. His top three attributes are that he is committed, honest, and being open-minded. He likes to be the center of attention. He admires his Uncle Austin who was an Air Force pilot for 33 years. Expect to see from twerking from Emil!
Eric is a 31-year-old Explorer from Citrus Heights. CA.  He considers himself a romantic and loves Wikipedia. He wants a woman who will pursue him. Side note spoiler here. Eric was tragically killed in a paraglider accident last month. RIP Eric Hill.
Jason our oldest of the bunch is a 35-year-old Urgent Care Physician from Houghton, MI. He admires philanthropists and won't forsake his family for love. He'd love to have x-ray vision because his patient reviews would be so much better and his greatest achievement is getting his MD.
JJ is a 30-year-old Pantsapreneur. What is that?  His best attributes are being driven, creative and huggable. He'd want his superpower to be that he never gets tired or needs sleep. Being married to him means finding someone you live and care for more than yourself and their happiness comes before yours. He admires his grandfather.
Telecommunication Marketer Josh B is 29 and comes from Evergreen, CO. He says he is adventurous and loves to hike. To him marriage is a true bond, sharing every feeling, thought and emotion with each other. Being there for each other no matter how up or down you are. He'd also like to be able to teleport himself.
Josh M is a 29-year-old Ex-Pro Baseball Player from Tampa, FL. He owns and American Bulldog. He would bring a woman, a gun and a knife to a deserted island. The gun and knife are to make food, he's not creepy!  He says he's a romantic, He would like to travel back in time to change some things.
Marcus is the baby of the bunch at 25 and OMGlee he's Canadian! He is a Sports Medicine Manager from Medicine Hat, Alberta. He admires his mother and considers himself to be laid back. Considering himself a romantic his perfect date would be being alone on an island, walking on a beach with a full moon and eating, drinking and talking all night long.
Marquel is a 26-year-old =Sponsorship Salesman from Rialto, CA. A typical Saturday night for him is Netflix, cookies and win. To him marriage is a promise to God to become one. He'd love to be Batman for a day and he'd love for his super power to be incredible strength. 29-year-old Bartender
Mike is a 29-year-old Bartender from Guilderland, NY. His 3 best attributes are his charisma, sincerity and open-mindedness. He loves his job because he can ski every day and has the summers off. He doesn't embaress easy, I expect crazy things from Mike.

Nick S is a 27-year-old Pro Golfer from Chicago, IL. He played soccer and considers himself to be adventurous. To him marriage is finding your team-mate and best friend for life. someone who loves you unconditionally and won't give up on you. He'd love to be president for one day.
Nick V is a 33-year-old Software Sales Executive from Waukesha, WI. His ideal girl is confidant and expects a lot but also give a lot, she should bring out the best in him. The most romantic gift he's given is a fairy tale book about their relationship with pictures he drew. AWWWW.
29-year-old Advertising Executive Patrick is from Clinton, NJ. He played soccer in Italy and England and loves Halloween. For fun he likes top down drives, sailing and pretty much any outdoor activity. He'd also like to be able to fly.
Ron is a 28-year-old beverage Sales Manager, from Nahariya, Israel. He hates when a date tries to hard. He'd love to be able to speed travel so he can be where he wants when he wants. The most romantic gift he ever received was a  card. People words are powerful when they write them down.
Rudie, a 31-year-old Attorney from Yorba, Linda CA is  hardworking, happy and honest. He likes when dates are having fun and tell him they are attracted to him. He considers himself a romantic and would love to have lunch with the Dalai Lama.
Steven is a 30-year-old Snowboard Product Designer from Meadow Vista, CA. His greatest achievement was working at a camp for kids. He likes to be outdoors. He would never switch cell phone carriers for love because he is grandfathered into an unlimited date plan. He'd love to live in the Cretaceous period so he could see a T-Rex.
Finally  we have Tasos. He is a 30-year-old Wedding Event Co-ordinator from Denver, CO. He admires his parents and would love to be Mick Jagger for a day. He love to live in ancient Egypt. The most romantic gift he was ever given was a guitar and money to pursue music.
All in all they seem like a good bunch of a guys. No red flags yet! I'm putting my money on Rudie, Marcus and Brett.  Tyler has officially put his money on Brett, Nick S and Josh B. We will see who comes cloests. It's on like Donkey Kong Tyler! The Bachelorette premiers on Monday at 9:30EST/8:30Central on ABC. Tyler will be blogging the entire season for you but that is not all. Every Tuesday at 3PMEST/2PM Central we will be doing a live recap for you at www.yourrealityrecaps.com/liveshow Join us and ask questions in the YouTube room or tweet them #YRRLIVE. Follow Tyler and I on  twitter will also be live tweeting during the show and you can catch us in the chat room here. We are so excited to be covering this season of  The Bachelorette.