Justin & Diana started this leg of the race at 10:10 pm, when they opened a clue telling them to fly to Krakow, Poland. Once in Poland, teams must find the Plaza Krakow to get their next clue. For the first time ever, teams are given a phone to book tickets with (through Expedia). The green team is in the lead on a flight arriving at 7:00 pm, while all other teams are on the same flight. Justin & Diana arrive in Krakow and make their way to the Plaza Krakow, which features a large swimming pool right next to the beach. Justin has to change into his bathing suit and jump into the water to retrieve the clue from the bottom of the pool. The green team has reached a detour; Mine requires teams to travel 1,000 feet under ground, pick up timber, and deliver it to a loading area. Then they have to fill a mining cart with salt and push the cart back through the tunnel to get their next clue. In Music, teams have to get a lesson from a violinist on how to accompany him with the piano, then push the piano to a performance area and earn 100 zloty to receive their next clue. Since the green team chose Mine, they have to change into mining work clothes before they ride the elevator into the mine. Justin carries the timber himself, but he and Diana struggle with the heavy salt, which makes them appreciate the people who mine every day for a living.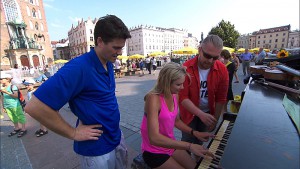 The other teams have arrived in Krakow and are attempting to make their way to the detour. While Tanner & Josh and Logan & Chris struggle to find a taxi willing to stop for them, the cheerleaders and team Alabama get directions from a local and decide to walk the 15 minutes to the detour. Both Chris & Logan and Joey & Kelsey get taxis while Tanner & Josh are still stuck on the side of the road. Tanner & Josh proceed to walk around while yelling "What is this?" Meanwhile, Kelsey & Joey arrive at music, and the green team finishes the detour. The clue directs them to the Oskar Schindler Factory, where Oskar saved the lives of over 1,000 Jewish workers during the Holocaust. Two other teams have caught up with Kelsey & Joey at the detour, although Tiffany doesn't seem to be doing well while practicing. Logan & Chris are starting Mine when Josh & Tanner finally walk into a building and ask someone to call a taxi for them. Joey & Kelsey and team Alabama finish practicing, so they push their pianos to the performance location. Once at the Oskar Schindler Factory, teams get time to take a short tour and appreciate Oskar's bravery. After this pause, the green team is headed to the Jewish district to find their next clue.
Krista tries playing the piano (and does a better job than Tiffany) but as Krista is pushing the piano it hits a bump and her finger gets slammed in the lid before the lid breaks apart from the piano. They manage to reattach it the broken lid, but Krista says she can't push the piano anymore. Chris & Logan are loading wheelbarrows with salt to fill the mining cart, then Chris tries to lift a wheelbarrow to dump the salt and says it's too hard, so he dumps all of the salt on the ground. Logan says that it seems like extra work to do that and then re-load the wheelbarrow with less salt, but Chris doesn't respond. Diana & Justin reach the roadblock, Serve It Up, which requires racers to correctly identify 7 traditional Jewish dishes using the provided order form, and bring the correct number of each to a party at a restaurant. At Music, Joey plays the piano in synch with the violinist while Kelsey asks for money. They seem to be having better luck than the cheerleaders, who haven't raised any money yet. Kelsey & Joey finish Music, putting them in second place. One very generous woman gives team Alabama 20 zloty, then she comes back and gives them 15 more zloty so they can complete the detour.
Tanner & Josh finally find the mine as Logan & Chris are leaving. At Music, Krista & Tiffany are frustrated since they only have 35 zloty. Tanner & Josh are certainly muscling through the detour, meaning either the cheerleaders or the Texan guys will probably be in last place this leg (though I'm guessing that this will be a non-elimination leg anyways). After Tiffany stepped up her flirting game, the cheerleaders finally collected enough money to finish the detour. The roadblock seems pretty challenging, since you have to be right about both the name of the dish and the number of orders for each dish. Justin gets the order correct, and receives a clue telling him to search the hotel/restaurant for Phil. Justin & Diana come in 1st place for the third time in a row, and win a trip to China. Kelsey and James are at the roadblock together, although they have different strategies. Kelsey asks two waiters what each item looks like, while James gets help from someone with a smartphone. They then compare notes while preparing their plates. Kelsey & Joey come in 2nd place, followed by team Alabama in 3rd. Logan & Chris argue about who should do the roadblock, with Chris eventually winning.
Tiffany was just guessing the name of each dish, so it's not a big shock when she doesn't get approved on the first try. After that, she has someone search pictures of the dishes on her phone. Tiffany's platter is rejected a second time, and she can barely hold it up after all of these trips. Chris is asking locals for help when Josh starts the roadblock and agrees to work with Tiffany. Chris gets it right on his first try, putting him and Logan in 4th place. This leaves Tanner and Krista in an awkward silence as they know that one of them will be eliminated (or will they?). Tiffany has to slow down on the way to the restaurant because her arm hurts so bad, but Josh waits to let her be evaluated first, since she was at the roadblock first and helped him. TIffany & Krista come in 5th place, and are very happy when Phil says that although Josh & Tanner are last, it's a non-elimination leg. I wonder if Josh & Tanner figured that there would be a non-elimination leg coming up, since there hasn't been one in a while. Regardless, it was definitely a very generous move. Let me know what you thought about this leg of The Amazing Race season 27 in the comments below!