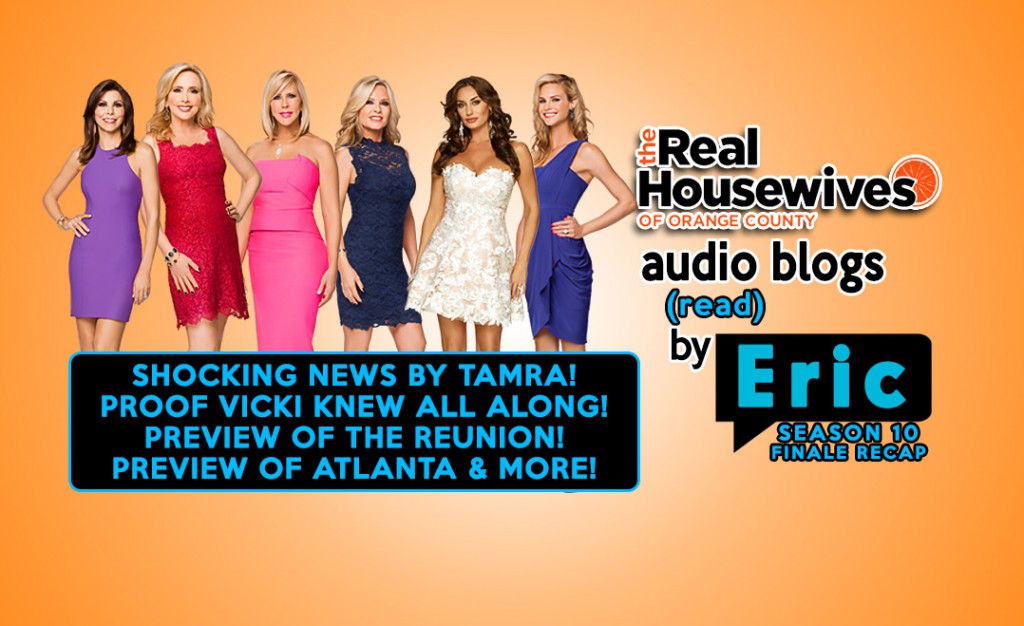 Listen the show right here, or download it from iTunes or Sticher from our PODCAST page.
October 15th, 2015:  Our finale recap is SHOCKING!  It's filled with previews and shocking news!  This is an EPIC SHOW!   But make sure you comment below and let me know if you want me to continue doing these!  Become a patreon if you're not already, cause we need your support to keep making content.  As many of you know we do comedic video recaps of your favorite Bravo shows weekly!  In preparing for those shows I would read the Real Housewives blogs over on the Bravo TV website… the thing is it always took me forever!  The pages took so long to load, were full of ads and well sometimes I just didn't want anybody to see me reading them!  I would get frustrated and recite my mantra, "I don't read… I'm read to"!  That's when it hit me… I should create a podcast where I read the housewives blogs for you all!  Plus I can comment here and there and put my comedic twist on them as I go.  If you want EVEN more content from The Real Housewives, Game Of Crowns and MANY other Bravo shows then check out our BRAVO PAGE for vlogs, blogs, comedic recap shows and the bravo blogs of other shows read to you!
This set of blogs (which I am reading to you) is about The Real Housewives of Orange County season ten for the date listed above.   All the ladies had A LOT to say and I was shocked to find who I am relating the most to this week!   And STILL HATING SHANNON!  If there something you want me to do more or less off please give me your feedback.  After all, I do this for you, and I want you to enjoy it.  Also if you are listening in iTunes or Sticher please do me a favor and leave us a nice review and 5 stars.  That really helps!  Of course you can always make a donation via pay pal or become a patreon to get exclusive content and help support our shows.  You can also start your online shopping by click on the Amazon ad in the side bar.  You pay no more money and they continue to sponsor us.   It's thanks to your support and donations that we can keep providing you with all the content weekly and we are so grateful for your support.
But ok, what are you waiting for?  Go check out this new show and let me know what you think in the comments section below.