So we start off this week with Shannon meeting with Dr. Tim her trainer. Shannon says she has gained about 15 pounds. So to start it all off Tim has Shannon weigh in and take before pictures so that she can see her progress as she goes through her training. She is extremely serious about losing weight and will do whatever she can to get to her goal. Her determination comes from feeling like her weight gain played into David having an affair.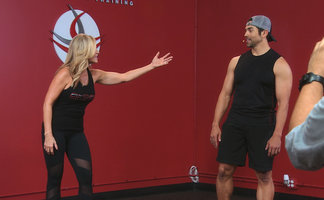 Tamra and Eddie are filming quick workout videos to post online for Cut Fitness. End of last year figures for Cut really scared Tamra to where she felt like closing up but Eddie insured her it will be okay. There has been building tension between the newlyweds since Eddie is at the gym more creating him to feel like it is his more than Tamra. They begin to start filming and the tension is clearly visible since they can't seem to agree on anything. Tamra doesn't like the way the he is speaking to her and acting like a robot. Tamra expresses to us that she is over working with Eddie and feels like he treats her like an employee.
Vicki is worried about her brother Billy since he was so close to their mother and only lived five minutes from her.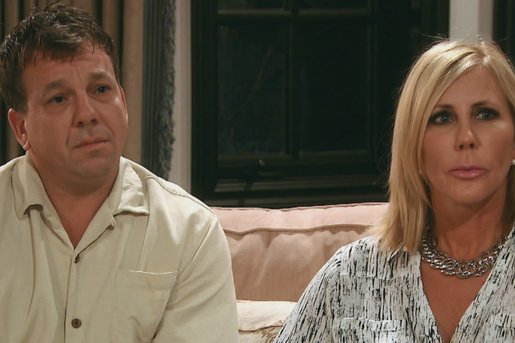 Their mother loved to baby Billy and helped him out a lot which adds to Vicki's worries. Shannon and Tamra come over to support Vicki who is having a Medium come to try to speak with her mother. Vicki main goal is to make sure her mom didn't have any pain in her last minutes in life. Shannon asks Brooks how he is feeling and we find out Brooks has lost 42 lbs from juicing. Shannon's very upset by this cause she feels he needs to be eating more protein. Shannon asks again if they have considered a doctor that she found who specializes with Eastern and Western medicines. Vicki tells her Brooks has a team that is working with him and that's it. Tim Braun the Medium arrives and everyone sits in the living room to begin. Right away Tim says there is a woman here who wants to speak to Billy saying "she felt no pain and that there was nothing they could have done". Another key thing he heard was that her teeth were perfect now which makes them extremely shocked since she just finished her dental work. Tamra throws out a random question when a tattoo of a nephew was brought up to describe it and Tim completes dodges the question. Tamra walked away from it not to sure she really believed him.
Meghan has a sit down chat with stepdaughter Hailey to go over her school work. Hailey is taking independent studies since she has been taking it so hard with her moms cancer. But her distractions prove to be an issue on the school work front since she isn't do her homework on time. Hailey also receives a hundred dollar weekly allowance that she can spend freely. Meghan is learning that parenting isn't the easiest thing and puts a lot of pressure on herself. As episode goes on we see Meghan arrive home after hanging with the ladies to find that Hailey barely touched her homework. She beats herself up as a parent and feels she is failing with Hailey and she is doing something wrong. Jim is gone so much for work is St Louis that it is beginning to upset Meghan who begins to tear up. Feels so alone and tells Jim she feels like she is failing at parenting Hailey.
Shannon and David have a pre-valentines Day dinner. David hasn't always been the best with the holiday in the past but came prepared with a beautiful dragon bracelet. They have a great time and are both very open with each other. Shannon expresses how she wishes she didn't have memories of the affair pop up in her head so much. But brighter side she tells us she only thinks of the affair fifty percent of the time instead of all the time. They both agree they are happy with their progress.
Tamra and Heather meet up to exercise at these stairs that her and Eddie walk ten times! It is a whole lot of steps but at the bottom it drops you right at the beach. They finally sit down on the beach and Tamra expresses how unhappy she is with working with Eddie and his attitude. She feels that they are in a slump since they use to always travel together and asks Heather how she does it. Heather gives her great advise and keeps it simple. She says it's all about the little things like she visits Terry at work for lunch, sex, communication and date nights.
It is bowling night that Heather has set up for the ladies. Heather, Tamra and Meghan arrive and we find out right away Meghan is competitive. Tamra and Heather decide to bowl in their heels since the shoes aren't their style. LOL Shannon and Vicki arrive and Vicki is ready to win! The ladies are having a great time and Tamra asks Vicki if maybe she should talk to Briana for her about Brooks. Vicki says that may be a good idea and really just wants to have fun with her and jokes about going to Vegas. Then we get a sad moment when Vicki says so quickly "Oh its okay my mom can watch the kids" which causes her to completely freeze up. She is still struggling with the loss of her mother which is totally understandable. All in all was a great night and Vicki ends up beating Meghan by one point to be the winner.
Ladies begin to get ready to leave to meet with Lizzie for dinner. While changing shoes Shannon tells Vicki she doesn't feel Brooks is on the right diet plan and feels he needs to eat more protein. Vicki says they are doing everything they can but Shannon just doesn't agree with the juicing. Ladies finally arrive to meet with Lizzie at dinner who couldn't make it cause she has a broken rib. Heather is deciding for Shannon what she should eat since she is on a diet now. Vicki says Heather is a control freak and jokes sometimes you just have to go with it. The girls are all having a great time drinking and hanging out with no drama. Vicki tells the ladies she has a surprise and has arranged a vacation for them all to go to Tahiti!! Everyone is so excited and ready to get away. Wonder how this trip will go!
Tamra wants to start a booty training class at the gym. Eddie hovers and is being very pushy with what he thinks. Clearly they are struggling working together and they both see it. Tamra tells Eddie that maybe she shouldn't be working at the gym full time anymore and will do real estate again. They both agree and don't want to bicker anymore. So now Tamra will focus more on reality while Eddie is at the gym.
Also don't forget to check out our BRAVO page where you will find all the latest recaps on RHOC and Jon's weekly recap of All things Bravo with Princess Glammy. We are also covering Big Brother 17, Amazing Race Canada and King of the Nerds UK. Eric is also reading you the blogs of all cast from RHOC and interjecting his hilarious take on what happened during the shows. You won't miss a thing Bravo related here at  Your Reality Recaps.