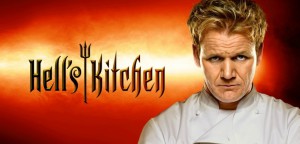 "It's f@#!ing RAW!" It's been too long since the soothing, sultry voice of Gordon Ramsay has been on our televisions. Well, not really. He has like a thousand shows. But if you're a fan of Hell's Kitchen and watching him terrorize wannabe chefs, then the wait is almost over! The fourteenth installment of FOX's Hell's Kitchen returns Tuesday, March 3. Eighteen hopefuls from all around the country will be competing this season to become the next winner of Hell's Kitchen. It's time to meet the cast now and get my opinions on them!
The Blue Team is made up of all the men…at least in the beginning. Here's the nine guys:
RANDY BELL is a 45-year old line cook from Nashville, TN whose signature dish is raspberry bourbon barbeque salmon. My thoughts? I think it's awesome to have someone who is from Tennessee on the show, but I really don't have any other opinion on him.
MICHAEL DUSSAULT is a 38-year old chef at a senior center who comes to us from Hartford, CT. His signature dish is herb-roasted statler chicken breast, buttermilk mashed potatoes, sauteed asparagus, sundried cranberry puree, and pan au jus. He cooks for old people. Translation: he can puree and mash foods like a champ, and probably doesn't season foods too well.
BRET HAUSER is a 30-year old sous chef from Delray Beach, FL whose signature dish is bone-in veal chop Saltimbocca. Don't even ask me what that means. He's young, he's a sous chef. He's gonna have an ego and be a know-it-all and probably clash with others and maybe even Ramsay.
ADAM LIVOW is a 31-year old amusement park chef from Freehold, NJ. His signature dish is New Zealand lamb chops with a balsamic fig reduction. Somehow I doubt he makes that dish very often at the amusement park. I bet he makes a kickass funnel cake though, or maybe deep fried Twinkies! Either way, I just don't think I can take this guy seriously.
MILLY MEDLEY is a 33-year old executive chef from Philly whose signature dish is seafood mac and cheese with citrus panko topping. First of all, that name: WTF? Is that even his real name? It sounds made-up or maybe like a children's book character. Second, and most importantly, get rid of the chin pubes. No one wants to find stray curlies in their dinner. I bet Ramsay graciously and politely calls him out on this at some point.
BRENDAN PELLEY is a 34-year old executive chef from Beford, MA. His signature dish is tempura soft-shell crab, yuzu aioli, quick pickles and ginger garlic sauce. I think he looks a little nerdy and probably one of those quiet types that doesn't stand their ground. I also think he looks like the love child of Ronnie Talbot and Ian Terry from Big Brother. As for his signature dish, I have no idea what the hell yuzu is.
NICK PETERS is a 25-year old private chef from Stoneham, MA. His signature concoction is pan-seared duck breast with grilled peaches, roasted brussels sprouts, bacon, gorgonzola dolce and black pepper sherry gastrique. Jesus Lord, that dish sounds incredibly complex. This guy may be one of those overly ambitious types that doesn't understand that sometimes "less is more."
CAMERON SPAGNOLO is a 33-year old banquet chef from Jersey City, NJ. His signature dish is a coriander-rubbed rack of lamb with carrot puree, roasted eggplant, pine nuts, raisins and yogurt. Gag me, that sounds gross. He's an Italian from Jersey, so he's gonna be loud, abrasive and in everyone's faces. And he'll stick around a while for drama. Maybe.
JOSH TROVATO is a 24-year old chef de cuisine from Brooklyn whose signature dish is seared scallops with mango pineapple salsa and fennel apple pancetta slaw with honey mustard bacon vinaigrette. Being the youngest man, he's going to have a lot to prove. Also, his dish includes scallops. We all know how scallops are always screwed up in the kitchen. This is gonna be the guy to serve rubbery scallops and get booted early.
The Red Team is all of the women. So, let's introduce the nine ladies who will be competing:
SARAH BAUMERT is a 27-year old chef instructor from Dallas, TX. Her signature creation is purple Peruvian potato puree (say that five times fast) with sauteed asparagus, seared filet mignon and portabella mushroom red wine reduction. She's a chef instructor, but should she really be instructing chefs? We'll find out.
MONIQUE BOOKER is a 23-year old line cook from Lynn, MA. Her signature dish is "Moe's pasta," which is obviously some concoction of her own and I'm sure it's gonna gross out Chef Ramsay. She's one of the youngest people on the cast this year, so I'm sure she will be one of the first to go and not have a chance to prove herself. Then again, I'm probably wrong. Maybe she will last a while because she brings drama.
MEGHAN GILL is a 28-year old executive chef from Roanoke, VA. Her signature plate is pan-seared rainbow trout with sauteed morel mushrooms, blistered corn, pencil asparagus and a sweet onion emulsion. I don't know much about Meghan, but I do know that this "blistered corn" sounds like some type of foot problem and it just grosses me out beyond belief.
T GREGOIRE is a 31-year old line cook from Atlanta whose signature creation is coffee-crusted flank steak with parsnip puree and wilted spinach. This one looks interesting. She looks like a hard-ass (and slightly ambiguous if you catch my drift) and she looks like the type to cause some chaos in the kitchen. And I wonder what the T stands for.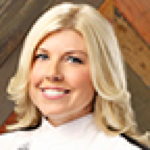 CHRISTINE HAZEL is a 30-year old banquet chef from Philadelphia and her signature dish is seared scallops with braised pork belly, polenta cake, poached quail egg and pesto. Here's another one with the scallops. If that's her signature dish, she better not ruin the scallops.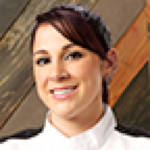 MIEKA HOUSER is a 25-year old sous chef from Olney, MD whose signature dish is a shrimp cake with peach salsa, asparagus and remoulade. Meh, this one sounds and looks kinda boring. So does her dish.
ALISON RIVERA is a 27-year old sous chef from New York whose signature dish is a pan-seared red snapper with shaved fennel citrus salad and blood orange Beurre blanc (whatever that is). This is another interesting looking one. I'm gonna call her Eyebrows (or Eyebrow), since I can almost see a unibrow.
CHRISSA SCHMERLER is a 34-year old food truck owner/chef from Bellmore, NY whose signature plate consists of ginger cookie chicken with 5-spice sweet mashed potatoes. This woman sounds very basic and won't last too long, in my opinion. I could be wrong (and usually am). But that dish sounds disgusting as hell.
MICHELLE TRIBBLE is the youngest on the cast. A 22-year old line cook from Dallas, her signature plate is huevos rancheros. Where is the creativity in that? She won't last long. She's not creative at all as evidenced by that very basic dish. Chef Ramsay ain't got time for no basic bitches.
What do you think of this cast from the first glance? Do you think this will be a drama-filled season as always? Let me know your thoughts in the comments below! Follow me on Twitter @vince1187 for the latest info! Be sure to keep up with all of our great content by following @RealityRecaps on Twitter. We are currently covering The Bachelor, King of the Nerds, and all of the Bravo shows! If you have any shopping to do on Amazon, please use this link. It doesn't cost you any extra, but we get a little of the money back and it helps us bring you the latest reality TV news, gossip and spoilers!