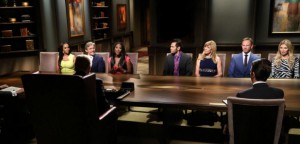 Celebrity Apprentice was back Monday night for another insane episode. With only two weeks until the season finale and the next winner is determined, this week proves to be the craziest, most dramatic two hours yet! It seems as though Team Vortex is stuck in a losing streak that it cannot get out of. Will that change tonight? Read on to find out what happened!
We begin the first hour as the two small teams gather to find out the next mission. This time they will be working with King's Hawaiian, a company which makes baked goods. (Let me just say that they have the best rolls EVER! Ok, I'm not a paid spokesperson, so that's all I will say about that.) The teams have to create a King's Hawaiian photobomb campaign. They have to insert King's Hawaiian images into their own original images of New York City. They also must create original hashtags for the consumers to communicate with King's Hawaiian via social media. They will be judged on creativity, brand messaging and originality. The project managers for this task will be Johnny for Team Infinity and Kenya for Team Vortex.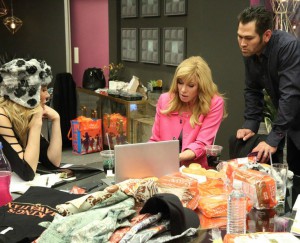 Team Infinity gets to work trying to figure out their theme for the project. Ian immediately throws out his stupid ideas and idiotic, unwieldy slogans and the team never really warms to his ideas. He does decide he wants to get a helicopter for the team to use to gather the needed photos of the NYC landscape.
Team Vortex takes things a different route and Kenya decides she wants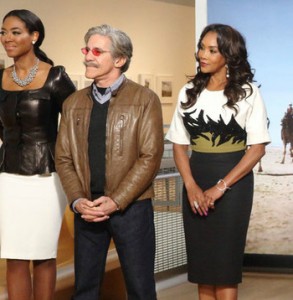 to sexualize it a little bit and incorporate the buns by superimposing them on people's buns and using the phrase "I like big buns." Geraldo puts his foot in his mouth and says that they should use Kenya as the model since she has a bigger ass than Vivica. As they get to work shooting their photos, Kenya turns Vivica into her personal assistant and insults her ego by saying she isn't "fit" enough to be in the pictures. This animosity between the two will come back with a vengeance later.
It's now time for the teams to present their finished products to the King's Hawaiian executives. Infinity really knocked it out of the park with their shots of the Statue of Liberty and a high rise under construction and the Brooklyn Bridge. On the other hand, the executives did not seem too pleased with Kenya and Vortex's presentation with the double entendre use of buns.
It's time to head to the boardroom to find out which team won and which one missed the mark. Tonight, the boardroom is really where it's all at. There is so much drama to be covered! Infinity has nothing but good to say about one another. Over on Vortex, Kenya said Geraldo was great and Vivica was just good. The cattiness begins! Vivica remarks to Trump that she felt as if she were kicked to the curb. We find out that the winning team was, once again, Team Infinity! Team Vortex was just not family friendly enough for King's Hawaiian. Kenya, Geraldo and Vivica remain in the boardroom and one is about to be fired. Kenya and Vivica begin arguing back and forth and it's rather hard to keep up with. Although I hate Geraldo, I felt bad that he was sitting between these two. It had to have
been terribly awkward! Kenya then remarks about Vivica's "hot flashes" and how she saw a tweet from her saying she was going through menopause. This is where the sh*t hits the fan. Vivica says she never tweeted that! However, a quick check from Donald Jr. proves that the tweet does exist. If Vivica didn't tweet it, who did? Oh wait, her phone was stolen! Could it have been the #ToxicTrick Kenya? All evidence certainly points that way! Trump fires Kenya because she was the project manager and she didn't help the failing Vortex team. Kenya tries to sweet talk and kiss Vivica's ass but she "could care less. Bounce! Bye, trick!"
We begin the next hour with Team Vortex down yet another player. Leeza gets moved over to Vortex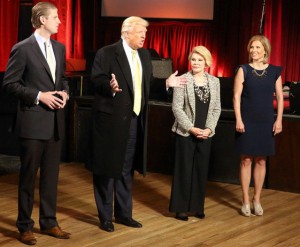 to try and breathe some life into this cursed team. Will this be just what they need? This time, the teams will be working for Anheuser-Busch and their Bud Light Lime-a-Ritas that come in several different flavors. Their task is to create a jingle that will bring the Rita products to life. They will be judged on creativity, entertainment and branding. Leeza is the project manager for Vortex, obviously, and Brandi is the PM for Team Infinity.
The teams get to work on their jingles. Ian wants to use his jingle, which is a ripoff of La Cucaracha, while the rest of Infinity want to go with Johnny's jingle, which isn't really a jingle but more of a full fledged song. Meanwhile, Vortex go with the simple "Nice over ice" jingle for their project.
The teams perform their jingles for Joan Rivers and Anheuser-Busch. They seemed really entertained and happy with Leeza's team and their very catchy "nice over ice" jingle. I must say it did sound pretty catchy. On the other hand, Brandi's team wasn't as catchy or entertaining and it's obvious the judges felt the same.
We are back in the boardroom for the most shocking elimination ever. Which team won this challenge? For the first time in weeks, Vortex wins the challenge! Leeza is just what they needed to save the team from total demise. As the losers, Brandi, Johnny and Ian remain in the boardroom as one (?) of them is about to be fired. Ian gets fired for his lack of loyalty and his
insistence that his jingle would have worked better, even thought it couldn't be legally used. Brandi and Johnny get up to leave. NOPE! Sit back down, Trump ain't do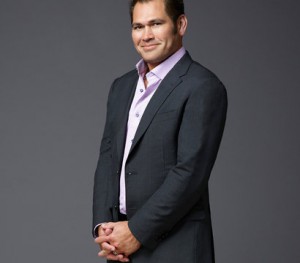 ne yet! He's gonna fire someone else. Brandi and Johnny refuse to throw one another under the bus to Trump. So, guess what? Trump fires Johnny because the jingle he wrote was a failure. But, wait! There's more! Brandi, you're also fired! OMG WHAT? A TRIPLE ELIMINATION? Shocker! It looks like Team Infinity is no more!
What did you think of last night's episode? Do you think Kenya did steal Vivica's phone? Were you shocked at the triple elimination? Let me know in the comments below! Be sure to follow me on Twitter @vince1187 as I live tweet #CelebApprentice on Monday evenings, including the finale on February 16! Also be sure to check out our other reality blogs, including The Bachelor, Melissa's King of the Nerds recaps and all of the Bravo content! Also, be sure to buy your special someone something nice for Valentine's Day at Amazon by using this link. You don't pay any more, but it helps us out a great deal! Thanks so much! See y'all next week!