Julie tells us that this will be unlike any other season of BB, not just because of the celebrities, but because it will be the fastest, most intense season ever played. I did a deep dive on the celebs in my previous blog, HERE, so for brevity, I'll skip the intros of what each celeb is endorsing: spices, music, movies, books, etc. The first group in: Mark, Brandi, Metta, Ari and Ross. The first celebrity through the door has NEVER won. Ari walked in first. In the DR, Mark completely fan girls over Metta for bringing home a championship for the Lakers.
The second group is introduced. Shannon, Chuck, Keisha, Marissa, James and Omorosa. When Omorosa is announced, BB zooms in on Marissa and she says "OMG!" On Marissa's intro, she had a cute video showing that her son is a huge BB fan and that she hadn't told him yet that she's on CBBUS. They announce d it to him with a cake. He bawls his eyes out because he's so excited.
Omorosa walks out in a full-length ball gown, stopping mid-stage to do modeling turns for the audience. WTF? Omorosa didn't participate in media day. She makes a jab at the White House by saying that she learned a lot from politics about watching her back and sometimes her front. Is that a "pussy grabber" reference? Does that mean she's going to start wearing a pink pussy hat?
As the second group of celebs walks in the house, Ross immediately looks like he's going to puke when he sees Omorosa. He says in DR that he doesn't like her toxicity and that when asked who he wouldn't want in the house, he gave her as the example. Omorosa says in the DR that she is going to have to work her social game. No shit. Nobody looks happy she is there, except for James who has no idea who Omorosa is; he's far too into himself and his social media presence to care about politics. Brandi and Omorosa exchange pleasantries and say how long it's been since they've seen each other. Probably not the fireworks that CBS imagined.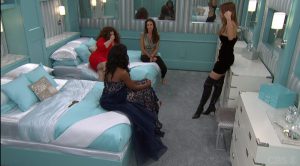 We learn that Shannon and Marissa are super-close, but agree they can't let anyone know they are.  (Both were on the same season of Dancing with the Stars.) Omorosa reaches out to Shannon and Marissa to make a womens' alliance. Shannon then gets Keisha, Ary and Brandi on board. The guys are outnumbered and it's shaping up to be men verses women. No showmances this season!
James annoys Brandi right off the bat, trying to monopolize a conversation she was having with Mark about vocal exercises for singing. James interrupts to demonstrate his vocal exercises, making sure to sing on camera (to promote his new music). When Brandi asks Mark which vocal exercises he does, as Mark is answering her about using "full voice," James steps on his answer to talk about doing that with Big Time Rush. Brandi essentially dismisses him. James is pissed that she shut him down; he wants to win HOH so he nominate her. Brandi says that she's not liking "pretty boy" after he walks away. Way to win friends, Brandi, but she's unlikely to kiss anyone's ass.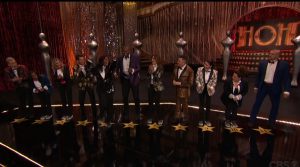 Julie announces that it's time for the first HOH competition. The girls plan to nominate 2 guys. #ButFirst, they each get to stand in front of a star to see if they win the "Sexiest Star Not On The Block Award." As "luck" would have it, Omorosa "wins" safety and won't compete in the HOH competition. CBS production wants to keep her around for marketing purposes. Obviously.
The rest of the houseguests compete in Award Squeezin' where they wrap their arms around large Oscar-esue award statues. James climbs up to the top of his, but later in the competition is down at the bottom where the rest of the houseguests are. BB production probably made him get down so they could spin the awards and not give James a big time head rush. They are sprayed with glittery slime. BB18 and 19 two-time runner-up Paul sings an old-Hollywood style song with dancers and Rachel joins him. We even get a Jody (former houseguest and Jody (Jessica+Cody) appearance, not that we asked for it. Mark is psyched to see a BB legend like Paul. Marissa yells, "Woohoo–Rachel!" then falls first during the performance. Next down is Metta. Mark falls 3rd, then Ross (who's proud of himself for going out 4th because he beat an NBA star even though he can't  #SwooshADribble. LOL–loving Ross on the show!) Chuck falls 5th, Ari goes out 6th and Keisha 7th. It's down to Shannon, Brandi and James. The other houseguests compliment Brandi on her pilates booty and she manages to twerk. In the DR, she says that she'd do anything for money, and she might have to start hooking on the side. When Brandi falls, James makes a douchebag DR comment that she shouldn't have had a bottle and a half of champagne before the comp. I already hate James. I hated James when I saw his pre-season interviews. Casting directors for BB: please note that every James you cast turns into an enormous asshole. Can you please ban any James from future seasons, including my relatives named James? This James' ego is so over-inflated by his pre-teen social media following that he doesn't realize how self-centered he is.
As Shannon is holding on tight for the girls, James is struggling. He tries to make a deal with Shannon, and Omorosa shuts it DOWN, telling James that he is the one that is struggling, not Shannon. She tells Shannon that she is solid. In DR, Omorosa says that James is a threat, so she had to blow up his deal. That is one thing I will give her credit for: shutting that ass-hat down. James falls and Shannon becomes the first HOH.
As the houseguests head inside, Julie tells them to grab a gift bag. Julie congratulates Shannon, "for now." She tells the houseguests that the gift bags could shake up the game. One of the bags contains a special power called Re-Cast the HOH. Should the person decide to use it, they can overthrow Shannon as HOH and elect a new one. Shannon is thrown off and worries that the new power will take away her HOH win and ruin the plans she has in place. On Thursday's show, we'll see how the Re-Cast power works, who gets it, if they use it and the HOH will nominate 2 houseguests for eviction. Friday, we'll see the POV competition and the first houseguest will be evicted.
What are your thoughts on tonight's show? Are you surprised that Brandi and Omorosa weren't immediately at each other's throats? Before you go, please comment below. What did you think of the Season Premiere?
Enjoy Eric's nightly comedic shows on YouNow with Celebrity Big Brother tea served piping hot. Former Big Brother houseguests will join him during the season. Next week, there are 3 guests lined up that you won't want to miss. Make sure to FAN him on YouNow. Follow him on Twitter @RealityRecaps. You can follow me @rebeccakayj.
There is going to be SO MUCH to keep up with this season at a much faster pace!  So make sure you follow us on TWITTER and check our Celebrity Big Brother page daily for updates!  Of course if you wanna watch the action and drama play out live then GET THE FEEDS FROM US.  It's a great way to support us!  Just CLICK HERE to get them now!
AND DON'T FORGET… we are doing YouNow shows all season when the feeds go down so make sure you BECOME A FAN there!  We will of course be doing recap shows and interviews too!  Whenever something goes down on the feeds we will get on social media via YouNow or Twitter to discuss LIVE with you!  We will also have recap blogs after every episode and speaking of episodes we will also be live on YowNow live tweeting during them!   Still want more?  Then become a Patreon for EXCLUSIVE content, giveaways, access to reality stars and become a member of the private Patreon group! 
So in order to help support us in our coverage of Big Brother this season please consider: Getting the live feeds from us here or becoming a Patreon, making a pay pal donation.  Of course we get it, money can be tight… so if you'd like to help us for free then be sure to subscribe to our shows in YouTube, iTunes, YouNow, and thumbs up and give us a nice review (we want to win a podcast award this year). Also following us on your favorite social media site (by clicking the icons in the side bar) and then sharing our content there is also a great way to help as well! We can't thank you enough for enjoying our shows these last 8 years,hopefully with your support we can continue to do them for the rest of the year.  You could also see what specific help we need by checking out our HELP US page HERE!  We can't thank you enough for all your support!  We love you all!  
We also have a BRAND NEW TWITTER ACCOUNT which we will be using solely for our Live Feed updates.  It's a great way for you to find out what is going down as it happens 24/7 on the live feeds!  We wanted to keep it separate from our MAIN TWITTER ACCOUNT which covers all our shows because we love you and don't want to fill up your timelines!  Plus we will be posting news, gossip and spoilers there about CBBUS exclusively too and we don't like to spoil on our main twitter account.  Now while twitter is a great way to get your 140 character live feed updates sometimes you just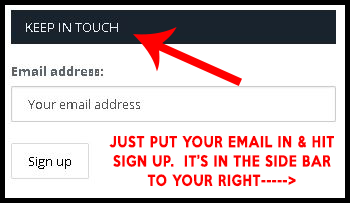 need more details!  Which is why we suggest you also join our news letter!  This way you can get info like the exact cameras and flashback times for the updates we are giving you, plus interact with other fans!  You can also get special prizes and all the latest info by subscribing to our monthly newsletter (WE WON'T SPAM YOU).   Thank you for all the support