For the second time Loveita has managed to anger the house with her nominations. Everyone but the Third Wheel alliance. Cassandra can't believe that Loveita didn't find the funny in her dumb bitch comment and Christine wants to make her life miserable until she's gone. Christine dear, you've barely managed to take your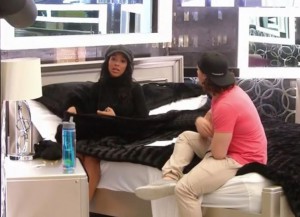 leopard print ass out of bed nevermind make a connection with Loveita. Even though Godfrey was a lone wolf he still managed to make friendships within the game. You aren't going to sleep your way to the final 2! Dallas is stunned at the nomination wondering why she didn't go after Third Wheel. Loveita makes a good point though it is the safest move for her right now. Jared controls that side of the house and she's creating a relationship with him. She tried going after Kelsey week one and no one backed her up. You want them gone get the blood on your hands yourself. Meanwhile the Third Wheel is so happy. Raul and Kelsey are acting like mean girls while Jared tries to bring them back to reality. We owe her one he reminds the two evil step sisters. Can Jared keep those two in check?
Dallas, Ramsey and Jared were picked to play veto along with Loveita and the nominees. Their first clue to what the veto will be is a sketchy video from their family members telling them everything isn't what it seems and to look for clues.  The doors open to reveal what has to be Trevor Boris' most masterful comp
creation ever! Following the theme from the movie Allegiant, the third installment of the Divergent series the players need to repel down a wall and make their way through trenches and look for puzzle pieces in the wreckage of an aircraft. After bringing back the pieces one by one they must assemble their puzzle and climb back up the wall and hti the buzzer.  Ramsey starts off strong and Dallas gets stuck in his repel rope. Loveita is strong in the challenge as well-being the first to start her puzzle. Dallas and Jared end up neck and neck with the puzzle but Jared gets it wrong (very wrong) giving Dallas the edge to finish his puzzle first. Dallas wins POV! Not only does he win Veto but a screening of Allegiant for him and 3 people. He chose Maddy because they are close, Loveita to keep her close and Joel to give him a break from slop. The four enjoy the movie like they've never seen a movie before!
With a little power now Dallas has some plans with Maddy and Ramsey as back up. He want big moves
made. Their big move is to get the brothers out because they aren't committing to any side. If not the brothers Jared. Dallas brings it up to Loveita who isn't really down with it but agrees to talk to Dallas in the HOH room later. Dallas goes to Christine with his plan and she promises to do what he wants if he saves her. Loveita in the end is just to afraid to rock the boat. Why would she. In her mind she and Jared have a working relationship. She is doing what is best for her and to hell with the rest of the house. In the end, despite Dallas' talk of big moves, he respects Loveita's nominations and leaves them as is. A brave move considering Cassandra offered  to rub his feet and comb is his beard. She also said he'd be a dumb bitch if he didn't use it. Nice Cassandra, piss off the HOH even more. You're so smart!
Will Loveita target Cassandra go home this week or will she miss her mark again? At this point its anyones game. Comment below and let me know what you thought of this weeks episode
OTHER IMPORTANT BBCAN4 INFO 
Get The Scoop On The Latest Big Twist HERE
See How To Watch From Anywhere RIGHT HERE!
Our Live Recap Show & Interviews Will Be Fridays At 7PM On YouNow