Canada you spoke and Nick and Phil are our new HOH's this week. What is going to happen is anyone's game.
Kelsey and Jared are extremely nervous. The brothers have been very cards close to their chest with their game and they have no idea what they will do. Although Kelsey has had a relationship with both, Jared has totally ignored them. Kelsey urges him to talk to the brothers but he's being an obstinent child and won't. The brothers go to Tim for some advice which he happily obliges. Cassandra has set her sights on operation save Kelsey and immediately suggests Maddy and Jared go on the block. The boys have a difficult decision on which showmance to split. The bros gut says Jared. Will they go with their gut.
Big Brother hands out another task for our hamsters. It's been 7 weeks and they want to know just how much Canadian information Nikki and Tim have gotten since they've been here. They are split into teams and given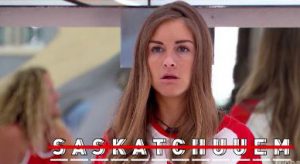 15 minutes to be schooled on our history, geography and culture. After that they will be quizzed, if they can combined get 7 points they'll win a party for the house. The house quickly floods their heads with info like provinces and territories, capital cities and Prime Ministers. Tim gets the answers to 4/5 questions rights only missing the name of one of our 5 Great Lakes. He did know the name of our dollar coin, the capital of British Columbia, who are first Prime Minister was and what PEI stood for. Poor Nikki had to spell Saskatchewan, which she couldn't. Too be fair, most Canadians can't either. She did know our National Sport (Lacrosse, not Hockey), our current Prime Minister and the three territories names. So they get their 7 points and win the house a poutine and beer party.
The Have Not Competition has them divided into two teams. Blue with Maddy, Jared, Ramsey and Nikki and Green with Tim, Joel, Kelsey and Cassandra. Individually they need to balance on their "charged"
hoverboards. Each board has three levels of footing making it harder. Every time a side of their board touched the ground they lose a level of power. Once they are into their pink level they can throw balls into their power bar to increase their power. First team to have everyone is have-nots for the week. The last player on their hoverboard receives a Never Not pass. The task is especially difficult for Nikki. She is out in just moments. Joel being a giant has a hard time finding a groove and he is out quickly. After Joel is out everyone needs to reposition to the second footing level and power bars on the green team are going fast. The desperately try to throw their balls and Kelsey is out followed by Cassandra. Tim is holding the fort for the green team with only 3 power bars left. Cassandra is using some sort of vulcan mind meld on him to keep him
balanced. The blue team is holding strong. Having to shift onto the third footing placement Maddy begins to have trouble as does everyone else. Tim's surfing and Cassandra's mind control works for a while but eventually he comes down and the green team is the have-nots. Ramsey drops and Jared and Maddy are battling it out for the slop pass. Jared tries to make a deal but Maddy doesn't trust him. In the end Jared ends up winning the slop pass, but Maddy have it a valiant effort. The slop pass isn't that big a deal I think there is only a few weeks left of have-nots. The blue team gets to save a green team from slop and the choose Joel. Kelsey, Cassandra and Tim are the Have Nots this week.
Maddy checks in the brothers. They are honest with her, her name has come up but the fact that she kept them safe is always on his mind. Kelsey is still urging the child to go talk to the brothers but he doesn't want to he wants her and Tim to do it first. She tells him to just lie to them, work with them then back door them next week. Because he's a child Kelsey has to go and do his dirty work for him. Nick points out that Jared never talks game to them, choosing to be tied to Kelsey. She is frustrated that she can't get through to them and when the golden couple aren't getting what they want they get all huffy and self-righteous.  Kelsey is pretty sure they are going up. Jared is still refusing to talk to them, telling her they are too stupid for him to talk to. I guess if stupid is taking out the one physical guy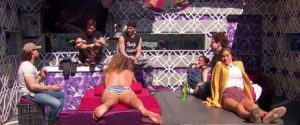 that can beat them and had said he's going after them is stupid then yes they are….but it sounds like a smart move to me. Jared finally agrees to go talk to them with Tim along as back up to keep him calm. On the patio with Team Jelsey in tow, Tim gently shows the Paqs brothers the error in keeping Maddy and Ramsey. You are just giving them more strength. You big move is controlling Jared. Phil confides in Maddy and Ramsey that he's been feeling threatened to keep Kelsey and Jared off the block. Maddy promises to go after them next week. Ramsey tells him he know that he doesn't want to do it, and that he needs to go with their gut.
Which showmance will the brothers decided to work with? Will they cave to the pressure or go with their gut. In the end the brothers go against their better judgement and put up Maddy and Ramsey. Will this move bite them in the ass? I know it will.  Jelsey will never separate, your playing for third place boys. At least with one of them gone there is a level playing field. The boys will regret this decision I guarantee it. What do you think of the brothers HOH reign so far? Did Canada make the right decision. Comment below and let me know.
HELP US GET TO THE BBCAN BACKYARD RIGHT HERE
Get The Scoop On The Latest Big Twist HERE
See How To Watch From Anywhere RIGHT HERE!
Our Live Recap Show & Interviews Will Be Fridays At 7PM On YouNow