Bruno's reign as HOH has come to an end. Johnny (I'm sobbing as I write this) is evicted and Newport feels they are taking control of the house. Their strategy has been to throw competitions but not anymore. Zach is planning to put an end to the Chop Shop this week. Ashleigh was the first out of the Before and After competition and the rest of the house guests are battling it out. Jordan, who is the brains of Newport, answers a question wrong. He's freaking out, he meant to say before and stepped on the wrong step. Really Jordan, if you're the brains then I'm scared for Newport. It's okay to not know the answer! On the last question we are left in a three-way tie between Zach, Godfrey, and, sit down you won't believe this, Pilar! It comes down to a tie breaker which was how man minutes did the Switching Gears competition last. I hope Pilar isn't a math major because she answered 2600. That's 43 hours! They all go over but Zach is the closet and he is the new HOH. Jordan did his second bonehead thing of the night and went INSANE at Zach's win, exposing the Newport alliance to the house.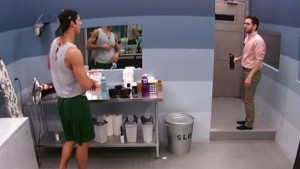 It's time to do damage control now. Jordan tells Zach to put him up. It will throw Bruno's side of the house off the trail. Remember Zach is sitting pretty as a member of both the Chop Shop and The Diaper Alliance. He has both sides of the house trusting every move he makes. Except for Godfrey. He is Godfrey's number one target and wants to strike at him the second he can. The Diaper Alliance have a meeting and Zach reveals his plan. He's putting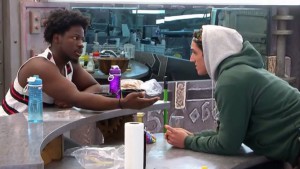 up Godfrey and Jordan. Both pawns and he wants to target Bruno or Bobby. He needs the physical threats out of the house ASAP if he's turning on the Chop Shop. Bruno thinking the Chop Shop is still a thing tells Godfrey to lay low and let Zach do his thing, which he thinks is getting rid of Kevin. Zach's last part of the nomination plan is to tell Godfrey he's going up as a pawn. Godfrey plays it like he's not bothered but he's not happy all. Then Jordan, who needs to take some poker face lessons from Kevin, enters the room grinning like a Cheshire cat. Jordan's reaction to being on the block has Godfrey's spider senses tingling. He knows something is up…….he's just not sure what!
Jordan is called to the vault to make his nominations. We all know what he's going to do but he debates putting up Bruno because everyone loves him and Bobby because he's a strong competitor. He sticks to his original plan and puts up Godfrey and Jordan. He tells Godfrey that he's slept his way to day 29 and nap time is over. He says that Jordan is the best strategic move for him, it's nothing personal, just game. Zach works on keeping Bruno and Bobby calm, making them think Kevin is the back door target so they don't feel threatened and try to win Veto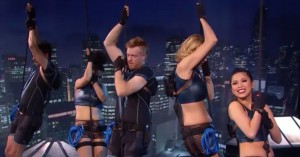 Now for what we really care about. Who is coming back to the Big Brother house! The first five are outside the house looking like something for Lara Croft Tomb Raider. With knotted ropes in front of them Arisa tells them their competition is to stand on these ropes and hold on for dear life. They'll be lifted into the air and at points will be told to move down to their smaller ropes. The intensity on their faces is CRAZY. They all want in to bad! Up on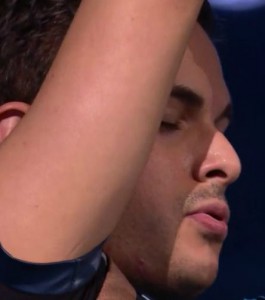 the ropes Risha is immediately in trouble. This competition does not favor her 6'1″
frame. She manages to find a comfortable position by sitting on the knot.While this competition is going on it is being shown inside the house. Everyone is looks really mad at the prospect BUT in the DR is another story. Jordan is happy to see Sindy, Sarah wants Naeha or Johnny and Kevin looks terrified at the prospet of Johnny coming back in. Bruno wants Graig back so he can rule the house again. My heart is broken when Johnny all of a sudden just drops. Arisa tells him he is officially out of the Big Brother Canada house. Graig is down not much long after and its a battle of the girls. The three are holding strong and are told to move down to their
second knot. Risha falls and Sindy and Naeha are now battling it out. They are told to move down to their last knot and Naeha just can't get her footing. She falls and Sindy with an S is going back into the house. But first, Arisa has some instructions. She needs to go in quietly and go right to the vault to await instruction.  After taking a minute to take in her re-entry Sindy goes into the vault. Arisa tells her she has a chance to ensure her safety. She needs to solve a series of puzzles to find the code to unlock the vault, giving her safety during the veto meeting. She has 30 minutes to do it and if she doesn't she'll spend the night in the vault and not be safe this week.
Can Sindy gather her mental wits after being physically exhausted to solve this problem? Don't forget to join Jon and I this week on Friday at 3pmEST for our Recap on our BBCAN page.  We also will be having exit interviews  on Thursdays so tweet us your questions #YRRLive right after the episode so we can ask them what you want to know.  Check out our exit interviews with the evicted house guests and past shows below. 
Don't forget we are also covering Survivor, The Amazing Race, RuPaul's Drag Race, Hell's Kitchen and all the Bravo shows so check out the site, new content is happening every day!