Everyone is buzzing about who the rouge vote was during Jesse's eviction. Jesse asks Kaela if she or Veronica cast the vote for him. Kaela tells him it wasn't her. Afterwards, Veronica is asking Kaela, Maddy and Paras if it was them. She goes upstairs after questioning the ladies to tell Hamza and Will that she doesn't know who voted for Jesse to stay. Paras and Will argue about the vote, and he tells her to be quiet because she's acting like a 2-year-old, speaking loudly in the pantry where other houseguests can hear them. Ryan gets on Kaela's case, saying that he thinks she's the rogue vote. Kaela turns the tables, saying he thinks he did it cause drama. Kaela and Derek can't stand Ryan, and this conversation didn't help. Veronica does a happy dance in the bathroom, making a motion that she stirred up drama. that she voted to evict Liv. She's a terrible liar. On feeds, Veronica's constant string of lies is the topic of many conversations this week.
The conclusion of the Night at the Museum HOH competition is houseguests missing questions and being eliminated until only Erica, Derek and Ali are left. It goes to a tie breaker question of how many pieces of fruit were transferred during the Handle with Care HOH competition. Derek puts 420 on his board (stoner) and Ali goes with over 246. Erica goes with 150, which is the closest number to the correct answer. She becomes the new HOH.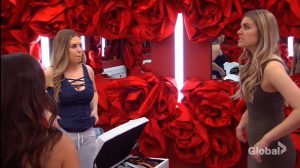 Afterwards, Erica tells the red room that she knows 100% that it was Veronica that voted for Liv. No one knows where Erica's head is at for nominations, even people in the red room. Derek says to Liv and Ali that Erica has good relationships with everyone in the house. Olivia and Ali assure him that he is good this week, and they think she has other targets in mind. He expresses that he'd like to see Ryan voted out. They say that it's an obvious move. In the white room, Merron and Will say that they don't know where Erica's head is at for nominations. Merron says that he has a good personal relationship with her but doesn't talk game with her.
Ryan accuses Kaela of being the second vote for Jesse; she says that she thinks he was because he is pushing too hard against it being him. Meanwhile, Paras is arguing with Will because he thinks the vote came from Veronica, Maddy or Paras. Paras is being loud, telling Will he is questioning her loyalty, which annoys Will. He says talking to her is like talking to a 2-year-old, and he leaves the pantry. Afterwards, Veronica is the person who Paras vents to about Will, which, let's face it makes Veronica happy because Will is hers. In her own mind.
After Erica gets her HOH room and video from Shay, Maddy goes downstairs to cry. Olivia goes to check on her, albeit half-heartedly, studying the wall harder than Maddy's words. She says she almost won the comp. Um…you were in the top 4. 3 people did better than you, Super-Fan.
Will apologizes to Paras for blowing up at her. He tells her that Maddy talks game with too many people and has made a target of herself, so Paras needs to distance herself. They both say that Maddy just butts into people's private conversations and just sits there.
Erica wants to use Merron as a pawn. She tells him he's on her short list. She says that she is 'obsessed' with him as a person, but they don't talk game at all. Merron says in DR that he thinks it's a weak move because he's not gunning for her.
A group of 8 houseguests play the game Catchphrase. Ali is the best at it and says that she can win this competition.
Maddy and Paras are talking about who Erica may nominate, and Maddy admits that she is nervous. In DR, Maddy says that their game relationship is blossoming, but not quite as far along as other relationships. Paras says that Erica told her that she likes her as a person but doesn't know how that translates to game.
Erica and Hamza say that they are best friends. Erica lets Hamza know that Maddy runs her mouth to everyone, so she is thinking of nominating her. Hamza says that Maddy is a waste of an HOH. She asks Hamza what he thinks of Veronica. He says that she is a wild card, and if she takes a shot at Veronica, it must land. Hamza and Erica want to take each other as far as possible in the game. He tells taking Veronica out is a huge game move. Hamza asks her to nominate him to stack the veto. She tells him, 'No, because he's not going home on my HOH.'
Erica lets Veronica know that people think that she is thought of being the rogue vote. Veronica argues that she wasn't. Erica doesn't believe her for a second. She tells Ali afterwards that she wants to see how far Veronica is willing to take a lie, and that if the opportunity presents itself, she would like to take her out this week. She's 70% sure of the move right now. Ali is 100% on board.
Erica say to Maddy that she is putting her on the block. Maddy says that she doesn't want it to be strong woman against strong woman. She essentially threatens that Erica is crossing a line when they should work together, and no one would expect it. Erica tells her that she's given her a lot to think about.
During nominations, Erica considers nominating Merron because they don't have a game relationship. She considers Hamza because he asked her to nominate him and can pull out a veto win. She considers Veronica because she's dishonest, and she can't align with someone she can't trust. She considers Maddy because she doesn't understand or respect her game. In the end, Erica nominates Maddy and Merron, telling them both that they haven't spoken much game with her and she hopes they kick ass in the veto.
Before you go, please comment below. What do you think of the season so far? 
Enjoy Eric's nightly comedic shows on YouNow with BBCAN6 tea served piping hot. Former Big Brother houseguests will join him during the season. Make sure to FAN him on YouNow. Follow him on Twitter @RealityRecaps. You can follow me @rebeccakayj. If you ever have any complaints or issues, contact @YRR_Cust_Svc.
There is going to be SO MUCH to keep up with this season!  So make sure you follow us on TWITTER and check our BBCAN page daily for updates!
AND DON'T FORGET… we are doing YouNow shows all season when the feeds go down so make sure you BECOME A FAN there!  We will of course be doing recap shows and interviews too!  Whenever something goes down on the feeds we will get on social media via YouNow or Twitter to discuss LIVE with you!  We will have recap blogs after every episode and live tweeting during them!   Still want more? Then become a Patreon for EXCLUSIVE content, giveaways, access to reality stars and become a member of the private Patreon group! 
So in order to help support us in our coverage of Big Brother this season please consider: Getting the live feeds from us here or becoming a Patreon, making a pay pal donation.  Of course we get it, money can be tight… so if you'd like to help us for free then be sure to subscribe to our shows in YouTube, iTunes, YouNow, and thumbs up and give us a nice review (we want to win a podcast award this year). Also following us on your favorite social media site (by clicking the icons in the side bar) and then sharing our content there is also a great way to help as well! We can't thank you enough for enjoying our shows these last 8 years,hopefully with your support we can continue to do them for the rest of the year.  You could also see what specific help we need by checking out our HELP US page HERE!  We can't thank you enough for all your support!  We love you all!