Hello everyone.  Im so sorry, I've been sick, was hospitalized, but I'm getting better. Sorry this is late, but I hope you'll enjoy my final thoughts on the season.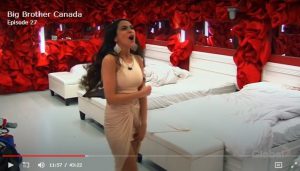 When we last left off, Paras won the final 4 HOH. Kaela and Derek's winning streak was finally blown, and they didn't get their ideal final 3 with Will. Waah. On feeds, it appeared that Kaela made final 2 deals with each of the final 4. That didn't make it onto the show.
Kaela won the final 4 POV, and even though Will told her on feeds just before they were shut off for the season that the jury wouldn't respect her if she didn't cut Derek, she didn't listen. She was seen telling Derek in the final moments before Will's eviction that Will was threatening her with jury votes. Will wasn't threatening her so much as just telling her the facts of the jury not respecting her game. He even promised her the final 2 she already promised him.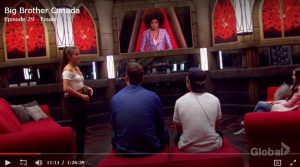 Kaela decided to take Derek to final 3, cutting Will. Will came out to no audience, which sort-of sums up his game—no applause deserved or earned. He was funny, especially when he got pissed off, but when he threw the Final 5 POV, I lost respect for his game. Letting Derek threaten him with not making it to Final 4 was a damn joke. If Will won the veto, Kaela would've been forced to backdoor Derek. In post season interviews here on Reality Recaps, jury members were pissed that he threw it. BTW—jury interviews continue next week, and you can find the ones you missed here and catch the ones coming up at 7 p.m. on YouNow. Fan @RealityRecaps on YouNow and follow Eric on Twitter @RealityRecaps.
That brings us to Final 3, who each had an opportunity to meet past BBCAN winners for advice on their finale speeches. Paras hugged them all. They told her that they loved watching her pull everyone's strings all season with her social game but advised her that she'd have to come up with a way to communicate that to the jury. Derek had no idea who the winners were, said he planned on taking Kaela to Final 2 and thought having better relationships with the jury than her could give the win. Kaela said that she thought she could beat either Paras or Derek (#SmugBitch) and thought it would be so cool to cut her showmance at the end of the game. Kaela asked Jillian if she would've cut Emmett, and she replied with a slightly indignant 'no,' but quickly said it was Kaela's game. They told Kaela not to come off as overconfident which was a nice way of saying #SmugBitch. The winners discussed who could win, and Paras and Kaela were favorites, depending upon the final HOH.
The finale episode was spectacular. In BB US, we've never seen the production quality or extravagant comps that we saw during the finale and throughout the season. Shout out to Trevor, who designs the competitions. FANTASTIC job all season. The opening sequence to the finale is EVERYTHING that BB US will never be, but BB US feeds aren't down as much. The theme of heaven verses hell was summed up with a musical intro with the final 3 saying, "Am I an angel or a devil? You decide." Arisa even appears to introduce the first part of the HOH, from Hell with the Final 3.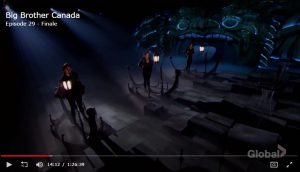 Part 1 of the final HOH is Bribe the Beast, and the final 3 are in boats in hell on the river of the damned. They must transfer 3 coins at a time while pulling themselves with ropes between the coins and where they must stack 20 coins on each of 3 pillars, a total of 60 coins. As the stacks get taller, it's harder to keep them balanced. If a stack falls they must start again, unable to use the coins they've already transported. Derek flies back and forth in the boat, but he doesn't have the patience to properly stack the coins. Kaela and Paras are running neck-in-neck, but Paras pulls out the win. (YAY!)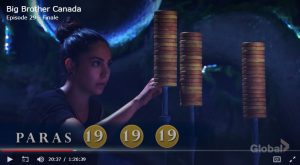 Afterwards, Paras is shown walking up the stairs to stand in front of the wings, saying "This is my season. It's got to be me. You walked into this house knowing you were going to win. This is my season." She drops to her knees and prays.
In part 2 of the HOH, Reach for the Stairs, Derek and Kaela go head to head in the REAL showmance showdown. (Sorry, Johnny!) Each must build a staircase using clues about the houseguests. It's another elaborate comp that looks inspired by the Q*bert arcade game. It becomes more challenging on the top rows. Derek finished with a time of 20:43. Kaela finished with a time of 17:06.
Paras talks to Kaela about her not letting love get in the way. She tells her that with her comp record of 3 HOHs and 3 POVs, her game winning move is to cut her showmance. She goes on to say that there has never having been an all-female final 2. After their conversation, Paras says to herself that she must win part 3 of the HOH.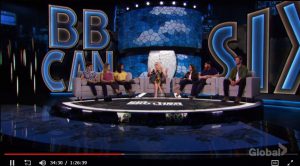 Sarah Hanlon is back to host the jury discussion of the Final 3. They all guess that it will be anyone except Will. Will joins them and tells them that Paras won HOH and Kayla won the POV. They discuss that Paras was welcome in nearly any conversation, which is rare in BB. Ryan says that there is no way that he is voting for Kayla. Others say that she won when she had to but think she should have cut Derek. Johnny points out that if Derek and Kaela are final 2, he's sick of the guy always beating the girl. The women seem to agree.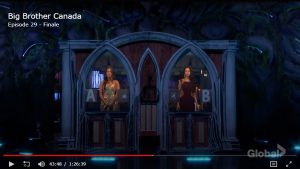 In part 3 of the HOH, Kaela and Paras must answer questions about the jurors. There are 7 questions. They each got the same question wrong and are tied when question 7 is asked. They finally answer differently, and Kaela got the question wrong, making Paras the final HOH of the season. Paras must choose who to evict. She compliments Daela on being the fiercest duo in the house, but she is glad that she gets to be the one to split them up. She says that it's time for an all-female final 2 and chooses to evict Derek. She and Kaela share a toast on being final 2.
Arisa jokingly introduces herself to Derek, congratulates him on making it to final 3 after only watching a few episodes of the show and asks how he made it so far. He says that his strategy was to find someone that knew a lot about the game. He calls Kaela his BB encyclopedia. Arisa says that he will soon become a member of the jury. Derek, what the Pepto Bismal is this suit?
The 6 members of the jury come out, and when asked who will be jury #7, they correctly guess either Derek or Kaela. Derek comes out and joins them. Johnny has broken his foot in jury jumping off a wall. #DayDrinking The jury is told that they will each get to ask either Kaela or Paras anything they want.
Ryan tells Kaela that she is the least likely person to get his vote and that hasn't changed much. He asks what she could say now to change his mind. Now this is where the YELLING starts from Kaela and Paras. Kaela tells him that he's the only one that saw her competitive side hiding behind a sweet, bubbly personality, so he had to go because he recognized that she was the bigger threat, not Derek.
Ali asks Paras about her preaching loyalty and giving her word. She asks if playing off people's emotions or giving her word was more important. Paras says that playing on people's emotions is part of the game, and the only mistake that she made in the game was giving her word to Ali and then going back on it. She says that she's sorry that she had to go back on her word, but the move guaranteed her final 5 and final 4 because Maddy was always going home before her.
Liv asks Kaela what big moves she was making before she won HOH on Day 34. Kaela says that she paired herself up with Derek and molded him into the player that she needed him to be. She says that Andrew, Jesse and Hamza were all numbers for Derek, and she needed them gone.
Johnny pulls out the big guns. He tells Paras to DRAG Kaela's game. (I LOVE Johnny!) She says first and foremost, she got into a showmance which put a target on her back from Day 1. She goes on to say that she knew that Kaela was working with Ali and Liv and all her alliances throughout the season. Paras says that her moves were hidden. She says she won the final 4 HOH, the Final 3 HOH and she brought Kaela to Final 2, not the other way around.
Maddy asks Paras how she ended up in Final 2. Paras says that she put herself in 4 alliances on night 1 so that she was covered all the way around. She says that she made herself the 3rd in every duo. She says she made a game changing decision to keep Kaela which brought her to final 5. She again points out that Maddy was always going home before her, which put her in Final 4. She says that she won the Final 4 HOH, which put her in Final 3 and she won the final HOH. She says, "This is MY GAME."
Will asks how it was more strategic for Kaela to get rid of him instead of Derek at Final 4. She says that all the jury knows that she was going to cut Derek at Final 3. She says that Derek would've taken her to Final 2 and so would Paras, whereas Paras and Will were always going to take each other.
Derek asks Kaela to share a secret that she's been hiding from the houseguests. She says that she has a dual degree in criminology and psychology. She says that she was able to play on every single person's emotions and to know where they were always. She goes on to thank BB for giving her a bunch of babies to play with. #SmugBitch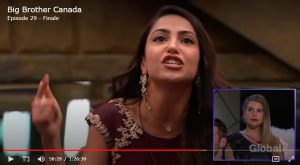 For their final pitches, Kaela gets totally flustered. She says that she won 2 HOHs and 3 POVs. She came into the house a huge superfan, and she deserves the title because she brought herself to final 2. WTF? Paras brought her. Paras says that everyone thought she was dumb and easy to manipulate, but she has a criminology and law studies degree and is in law school. She says that her social game carried her through the season, and she didn't go on the block until Day 56, surviving 10 nominations—longer than anyone else in the season. She says that she won the 2 most important HOHs and she did what all of them failed to do—she broke up the showmance. She asks them to vote for the most well-rounded player in the game. The jury votes, and many of their statements (minus Derek), seem to point to Paras as the winner. #ButFirst… (Sorry, BB20 is coming.)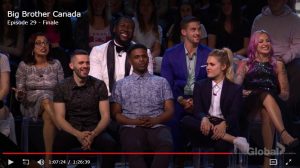 The pre-jurors are shown sitting in the audience and are asked questions, and clips of their impacts on the game are shown. They don't even get a spot on the stage. Geez, BBCAN, make them feel shittier about leaving pre-jury, why don't you? We then see clips of the houseguests talking to Canada, many moments funny and a few filled with tears. Next are clips of the massive fights that happened during the season; I never tire of seeing those clips, especially of Jesse being #Woke. (BTW—His description on Twitter is The Most Woke Person on Twitter. He's hilarious! And so HOT!) Next is a silly "deep thoughts" clips of people saying weird things that ends with one of Will's horrendous farts. Jeez, BBCAN could've asked the pre-jurors who they think should win.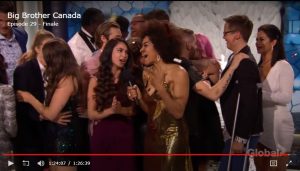 Finally—time to reveal the winner. Only 4 votes are needed for the win. After Ryan, Ali, Liv and Johnny's votes are read, Paras is revealed to be the winner. It turns out it was 6 to 1. The most well-rounded player won, and she didn't need a man to do it. Congratulations, Paras! We're your biggest fans here at Your Reality Recaps!
Before you go, please comment below. What did you think of the season? 
Enjoy Eric's nightly comedic shows on YouNow with BBCAN6 tea served piping hot. Former Big Brother houseguests will join him during the season. Make sure to FAN him on YouNow. Follow him on Twitter @RealityRecaps. You can follow me @rebeccakayj. If you ever have any complaints or issues, contact @YRR_Cust_Svc.
There is going to be SO MUCH to keep up with this season!  So make sure you follow us on TWITTER and check our BBCAN page daily for updates!
AND DON'T FORGET… we are doing YouNow shows all season when the feeds go down so make sure you BECOME A FAN there!  We will of course be doing recap shows and interviews too!  Whenever something goes down on the feeds we will get on social media via YouNow or Twitter to discuss LIVE with you!  We will have recap blogs after every episode and live tweeting during them!   Still want more? Then become a Patreon for EXCLUSIVE content, giveaways, access to reality stars and become a member of the private Patreon group! 
So in order to help support us in our coverage of Big Brother this season please consider: Getting the live feeds from us here or becoming a Patreon, making a pay pal donation.  Of course we get it, money can be tight… so if you'd like to help us for free then be sure to subscribe to our shows in YouTube, iTunes, YouNow, and thumbs up and give us a nice review (we want to win a podcast award this year). Also following us on your favorite social media site (by clicking the icons in the side bar) and then sharing our content there is also a great way to help as well! We can't thank you enough for enjoying our shows these last 8 years,hopefully with your support we can continue to do them for the rest of the year.  You could also see what specific help we need by checking out our HELP US page HERE!  We can't thank you enough for all your support!  We love you all!