Picking up after the nomination ceremony, Kaela says that she doesn't care who she has to lie to, what stories she makes up or how she makes people feel. She loves playing with people's emotions, and she's going to screw with all the emotional players. Kaela is a next level see you next Tuesday. Ryan says in DR that no one has his back in the game and he must win veto to stay in the game or he'll be scrambling to stay in the house. Will says that what Kaela said in her speech about Ryan being manipulative and a liar, he thinks she's the exact same. She stabbed him in the back, and he wants her blood on his hands.
Paras brags to Maddy about saving her from the block. She tells her that she convinced Daela last minute to put up Ryan, blaming him for everything that happened last week with regards to targeting them. She tells Maddy to blame everything on Ryan, act sad and cry. Maddy says in DR, "Me cry?" and then she smiles.
Ryan goes to Kaela to say that her speech was harsh and untrue. He says that he's been on the outside looking in. Kaela says that the info she got was that he went to Johnny, then to Maddy. Ryan says that the info she got was false and that she's going to regret that speech afterwards. She says twice that all 4 people—Maddy, Will, Paras and Johnny—threw him under the bus. Bullshit—only Paras did. Meanwhile, Maddy approaches Will, and they both say, "Fuck Ryan. He's full of shit."
After Ryan talks with Kaela and Maddy talks to Will, Ryan asks Will if he threw him under the bus. Will tells him 100% he didn't. He relays that Kaela told him that Will, Maddy, Paras and Johnny said he was the ring leader against Daela. Will says that he never dropped any names to Kaela, and she is lying to Ryan.
Kaela lies to the rest of the house by saying Ryan threw Maddy, Paras, Will and Johnny under the bus for targeting Daela, and that Maddy was the ringleader. Maddy admits in DR that she was the ringleader, but if Ryan thinks he can throw her under the bus, he's wrong. She says that he lit a fire, and she's going to put it out with crocodile tears. #MaddySucks
Maddy goes to talk to Ryan and has a melodramatic meltdown. He tells her calmly that she told him to shift targets to Daela. She is hysterically crying and yelling at him. She says that he mentioned Daela before. He says that his targets were Ali and Liv. She says that this was a strategy to keep him by saying he was targeting Daela. She goes around in circles. Houseguests are outside the door eavesdropping. She says that he 'sewered' her, Johnny, Will and Paras after they voted to keep him.
At the Air Transat POV, the players are Kaela, Ryan, Will, Johnny, Erica and Derek, and Liv is the host. The houseguests are playing for the POV and a trip to London. First, they visit Paris, where they must transport and stack 21 champagne glasses into a pyramid. If they drop a glass, then they must start all over again. The first 4 houseguests to stack their glasses move onto the next destination. Multiple houseguests drop glasses several times, with Will being the worst and becoming increasingly frustrated. Ryan is the first to stack his glasses. Johnny says that he needs to win this POV to keep from being the replacement nominee. Erica is the second to stack her glasses, Johnny is third and the forth spot comes down to Derek verses Kaela. Derek says he wants her to win, so he knocks down the pyramid he's building. Will is worried that if Ryan wins the POV, he's in trouble.
For the next destination, Ryan, Johnny, Kaela and Erica head to London where they must work a table maze that mimics the underground London tube tunnels. The first 2 houseguests to complete the table maze move onto the next destination. Johnny is first, and Ryan is second, eliminating Kaela and Erica. Kaela is pissed sitting on the sidelines.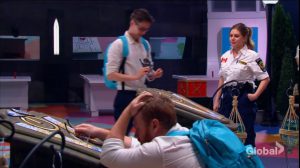 Rome is the destination for round 3, and Johnny and Ryan must smash clay pots to gather 20 puzzle pieces to solve a Veto symbol puzzle. The pots contain sand, and if they contain black sand, a time penalty is imposed. With a time penalty, Johnny and Ryan must wait while sand drains out of a large bottle. Johnny is the first to gather his puzzle pieces and in a nail biting finish, he wins the POV. Ryan collapses onto his puzzle and cries. The houseguests try to lift his spirits by saying how close he was. On feeds, he really picked up the pace and only had 3 pieces left to solve the puzzle.
Afterwards, Kaela tells Derek that if Johnny didn't win, she was going to backdoor him. Ryan is super upset after the loss and realizes he's likely going home this week. Johnny wants to use the veto on Will but thinks that Will won't go home next to Ryan. Yet, his gut is telling him to use it. (Damn it, always listen to your gut, Johnny!)
Ali and Liv escaped the block again this week. They are dancing in the bathroom. Ali says that they get to keep acting like a couple of ding dongs. She says that on the outside, they come from completely different worlds, but Liv is all she needs in the house. These 2 drive me nuts with the way they run to power and how they've thrown their 'allies' under the bus on feeds this week.
Kaela invites Derek, Will and Ryan to play Monopoly. Ryan thinks that Monopoly is a good parallel to BB. He says that Kaela thinks she's a manipulator, Will is too trusting and Derek is just Derek (bland AF!). Ryan can't help talking strategy aloud during the game, which clearly irritates Kaela.
Johnny talks to Kaela about whether to use the veto to pull Will down. He doesn't want anything to happen to send Will home. He thinks that Will goes home no matter what. She tells Johnny that she'd put up Ali and then at least one of her targets will go home. In DR, Kaela says that Johnny better not mess with her noms. She says that Johnny is starting to annoy her, so she is going to drag his name and put a huge target on his back. Fucking bitch.
After their conversation, Kaela lies to Ali that Johnny said to name her as the replacement nominee. She says that Johnny called her sketchy and said people don't like her. In DR, she admits that Johnny didn't say any of this. She tells Liv, Ali and Derek that if Johnny uses the veto, she will put up Erica. CANADA, DON'T USE THE TWIST THIS WEEK! SAVE IT UNTIL NEXT WEEK!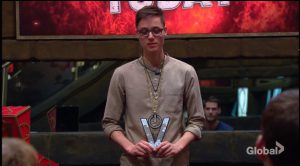 At the POV ceremony, Johnny doesn't stick with his gut feeling and leaves the nominations the same. Ryan sits in his nomination chair, feeling impending doom crashing down around him. Again, I implore you not to use the POV. Kaela's reign of terror can't include an option of a secondary backdoor. She's had enough power this week and used it to show what a shitty person she is. See you next Tuesday level person.
Before you go, please comment below. What do you think of the season so far and the twist? 
Enjoy Eric's nightly comedic shows on YouNow with BBCAN6 tea served piping hot. Former Big Brother houseguests will join him during the season. Make sure to FAN him on YouNow. Follow him on Twitter @RealityRecaps. You can follow me @rebeccakayj. If you ever have any complaints or issues, contact @YRR_Cust_Svc.
There is going to be SO MUCH to keep up with this season!  So make sure you follow us on TWITTER and check our BBCAN page daily for updates!
AND DON'T FORGET… we are doing YouNow shows all season when the feeds go down so make sure you BECOME A FAN there!  We will of course be doing recap shows and interviews too!  Whenever something goes down on the feeds we will get on social media via YouNow or Twitter to discuss LIVE with you!  We will have recap blogs after every episode and live tweeting during them!   Still want more? Then become a Patreon for EXCLUSIVE content, giveaways, access to reality stars and become a member of the private Patreon group! 
So in order to help support us in our coverage of Big Brother this season please consider: Getting the live feeds from us here or becoming a Patreon, making a pay pal donation.  Of course we get it, money can be tight… so if you'd like to help us for free then be sure to subscribe to our shows in YouTube, iTunes, YouNow, and thumbs up and give us a nice review (we want to win a podcast award this year). Also following us on your favorite social media site (by clicking the icons in the side bar) and then sharing our content there is also a great way to help as well! We can't thank you enough for enjoying our shows these last 8 years,hopefully with your support we can continue to do them for the rest of the year.  You could also see what specific help we need by checking out our HELP US page HERE!  We can't thank you enough for all your support!  We love you all!