Even though Level 6 and JC tried hard to get Scottie to flip his targets from the bros to Rockstar because she's throwing his name around as the person that flipped his vote from Swaggy to Winston, even told him that she is the one that flipped her vote to send Steve home, is calling him an evil genius and wants to target him if she wins HOH, he is set on nominating the bros, Winston and Brett.
In the App Store, Haleigh received the Crap App and Bayleigh received the Re-Draw Power. She told Fessie that she got it, and later explained how it works. Until top 8, she can use the power to change the noms if she thinks that she or Fessie is in danger. What will happen is that at the nomination ceremony, she can anonymously change the nominations with an announcement coming over the loud speaker explaining that the Re-Draw Power has been activated and she gets to make the nominations for the week. The HOH will still have the power to name a replacement nom.
After nominations, Brett had a reasonable conversation with Scottie. On the other hand, Winston was fuming. Winston told Scottie he knows Scottie voted for Winston to stay, that he's drawn a line in the sand and if he stays, he is coming after Scottie with everything he's got. Douchebag. We had such high hopes for Winston coming into the season, but he sucks. Brett was someone we thought was cast as a douchebag, and yes, he is a bro, but he has a social game with everyone (except maybe Rockstar, who is bitchy to most houseguests). Winston only hangs out with the 4.
Late Friday night, Sam asked Scottie to please make her the replacement nominee if either of the bros comes off the block. Tyler was also there, and both guys were against it. She is hoping to use her power this week, but there are only certain people she wants to use it on, herself obviously being one of them. She's not sure about leaving it up to chance next week with the evicted houseguest automatically getting a chance to come back. While Scottie has no idea about Sam's power, Tyler tried vehemently to talk her out of going up as a pawn.
For the veto comp, Scottie, Winston, Brett, Rachel, Rockstar and Tyler were drawn. Scottie promised to put up the best friend of any player that uses the POV. The POV involved spinning and stacking cups. It was done in the heat of the day, and with Rockstar being a Have Not, she sucked at the comp and puked after the competition. Brett did well in the competition, came close to winning, but he misunderstood the directions, thinking he had to stack all the cups in 1 trip. Once he understood the instructions, it was too late; Scottie won the comp and a trip to Greece. Apparently, Winston exploded on Scottie after the comp. That's twice.
Since he threatened people with putting up their best friends should they use the POV, it's unlikely that Scottie will use the veto. However, after the comp, Winston told Brett they need to form a final 3 with Scottie separate from Level 6, get him to use the POV to save Brett and then get him to nominate Kaitlyn. Brett seemed trapped in the storage room when Winston pitched his plan to him. When he tried to leave, Winston stopped him. Since Winston exploded on Scottie twice, Brett probably wants some distance between them now that they are likely campaigning against each other.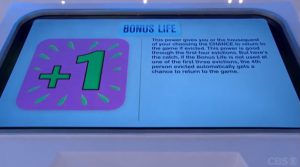 Sam is trying to decide what to do with her power, whether to save one of the bros or Kaitlyn if Winston's pitch works or to let whoever is evicted next week have a chance to come back into the game. Kaitlyn has told Bayleigh about Sam's power, and Tyler told Level 6 to save her using her power as a reason to do so. Sam is in a tough spot now that so many people know about her power. Sam has said she would only use the power on a handful of people: Tyler, Kaitlyn, Kaycee, Rachel or Scottie.
The houseguests are somewhat evenly split on who to vote out this week but are leaning toward Brett. Scottie says he doesn't care which of the bros go home this week, saying they're essentially a showmance. Winston seems to be the poorer competitor of the 2, and Brett has a stronger social game. Most people are saying that this may be their only chance to take Brett out.
Before you go, please comment below. What do you think of the season so far? 
Enjoy Eric's nightly comedic shows on YouNow with BB20 tea served piping hot. Former Big Brother houseguests will join him during the season. Make sure to FAN him on YouNow. Follow him on Twitter @RealityRecaps. You can follow me @rebeccakayj. If you ever have any complaints or issues, contact @YRR_Cust_Svc.
There is going to be SO MUCH to keep up with this season!  So make sure you follow us on TWITTER and check our BB20 page daily for updates!
AND DON'T FORGET… we are doing YouNow shows all season when the feeds go down so make sure you BECOME A FAN there!  We will of course do recap shows and interviews too!  Whenever something goes down on the feeds we will get on social media via YouNow or Twitter to discuss LIVE with you!  We will have recap blogs after every episode, spoilers blogs, feeds updates 24/7 on Twitter  and live tweeting during them!   Still want more? Then become a Patreon for EXCLUSIVE content, giveaways, access to reality stars and become a member of the private Patreon group! 
So in order to help support us in our coverage of Big Brother this season please consider: Getting the live feeds from us here, a Patreon, making a pay pal donation.  Of course we get it, money can be tight… so if you'd like to help us for free, please subscribe to our shows on YouTube, iTunes and YouNow, then thumbs up and give us a nice review. (We want to win a podcast award this year.) Also, follow us on your favorite social media site (by clicking the icons in the side bar) and share our content. It's a great way to help! We can't thank you enough for enjoying our shows these last 8 years. Hopefully, with your support, we can continue to do them for the rest of the year.  You could also see what specific help we need by checking out our HELP US page HERE!  Thank you for all your support!  We love you all!