Apologies for the tardiness of this but my All Access account has been offline so much that I couldn't watch back the episodes to include pictures in the blog.  Luckily, it was just fixed yesterday. Here are the first 2 episodes, and I'm working on Episode 3. Thanks for your patience.
Episode 1: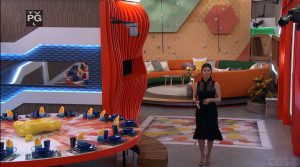 Julie points out that technology has changed dramatically since BB1, especially with the advent of social media, and that's the essential theme of this season. How the houseguests trend will have a direct correlation with game changing twists. She is proud to say that houseguests representing all previous seasons are in the audience, and we get shots of familiar faces. BB20 is 99 days.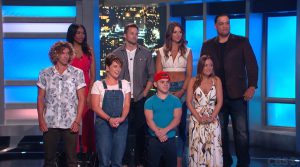 The houseguests are brought onto the stage in 2 groups of 8 and are then sent into the house in groups of 4.  The first 8 houseguests are introduced with Welder Sam, Life Guard Tyler, Flight Attendant and Beauty Queen Bayleigh, Former Undercover Cop and Criminal Justice Professor Steve, Life Coach and Meditation Instructor Kaitlyn, Medical Sales Rep Winston, Fitness Model and Entrepreneur Angela and Pro Dancer and Power Lifter JC in the first group. Bayleigh was the first to walk through the door. (First In=Never Win) They all freak out as they enter and begin introductions. Kaitlyn says in DR that she loves the house's aura and has been manifesting her win for 5 years. Cue New Age graphics. When Tyler says he's a lifeguard in Hilton Head, Angela freaks out in front of the other houseguests because she's from there. Tyler says in DR that people are going to think they know each other and she's putting a target on their backs right away.
The second group is Vegas Performer Rachel, Day Trader Chris "Swaggy C," Pagan Witch Angie "Rockstar," Cyber Security Engineer and Bro (Douchebag) Brett, Women's Pro Football Player Kaycee, Shipping Manager Scottie, College Student (and Farmer's Only poster child) Hayleigh and Substitute Teacher and Football Coach Faysal "Fessie." When they enter the house, Scottie hugs Haylie and the strap on her top rips off. The houseguests are confused as to why there are only 2 rooms of beds. Kaitlyn immediately grabs Rockstar and tells her that she's a meditation instructor, brought essential oils and sage; like I said in my cast assessment blog, these 2 are probably making a Final 2. Kaycee, on the other hand, says that Rockstar has all these colors and crazy glasses; she wonders what planet she's from. JC notices "Feisty" (Fessie) and Swaggy talking, and thinks they are forming an alliance.
All 16 houseguests are in the blue bedroom when Steve and Tyler recognize that the wall opens between the blue and pink bedrooms. Time to break out the champagne and make introductions. Someone suggests they go around the semi-circular couch, but Swaggy, seated in the middle, introduces himself first. The ego on this guy! Sam says that JC is "cuter than a bug's ear, but he already made it known that he's part of the "LGBGT" community, so she's going to have to sit this one out." LOL. Rachel is immediately interested in Winston with his Southern charm and good looks. Sam drawls out her introduction in Virginia "mountain speak," and JC says he can barely understand her and asks BB for subtitles. Fessie is immediately attracted to Hayleigh because of her innocent look. Tyler says Steve freaks him out with his "bullet eyes like he's going to give him a shakedown in the backyard." (Go with your gut, Tyler!) When Kaitlyn introduces herself and talks about aligning chakras, most houseguests look confused, and in DR, Winston says that sounds "sexual and violent and he wants no part of it." Rockstar says that she coordinates music festivals, and Steve says that if he was still a cop, he'd start a narcotics investigation at her festival, but since they're close in age, maybe they can work together. Kaitlyn doesn't like Rachel's red aura because red auras create the most friction.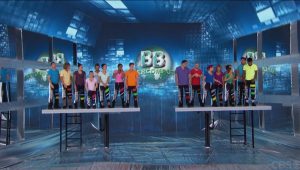 Julie informs the houseguests that technology has taken over the BB house and the season will be filled with hacks, super powers and severe punishments. They're told to gear up and head to the backyard. The BB Super Computer needs to be reprogrammed. Julie says that the winner of this competition will have the ability to save themselves and 7 other houseguests. The houseguests are divided into 2 platforms with 4 guys and 4 girls on each one. From there, the two platforms are sent into 2 different competitions. The winner of each competition will face off to reprogram the first week of BB20.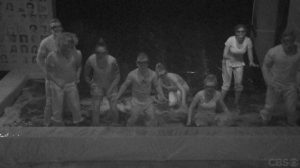 The first group slides into the Trash Folder competition. There are 7 folders. The houseguest that doesn't find a folder will lose this competition and face a game-hindering punishment. The houseguests are in pitch darkness, and once they find a folder, they head to the reveal room where they open they folders. 6 contain "Escape" and one contains "Escape and Play." The person that finds that folder will face off against the winner of the other competition. Brett's douchebag DRs about the comp is that it's more disgusting than his frat house after a rager and "Brohan Sebastian Bach has finished his concerto." Who thought he'd make good TV? @Kassting we expect better from you, especially for BB20. Angela find the Escape and Play folder, and Kaycee ends up with the punishment.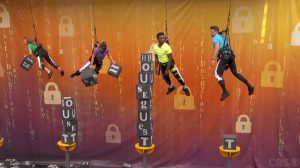 For the second competition, the other eight houseguests are sent to the Cyber Security Zone. They're all under suspicion for being a robot. They must successfully stack letters that spell the word Houseguests. The first one to finish will move on to face Angela in the final competition. The last one to finish will receive a punishment that will hinder their game. The houseguests are suspended in harnesses that move up and down, allowing to stack letters on their platforms. Swaggy wins the competition followed closely by Scottie. Swaggy is a douchebag that talks about himself in the 3rd person constantly. I'm over him, and I hope he goes soon. Sam, Rockstar and Hailey are flailing around in their harnesses, but in the end, it's Sam that loses the competition and will receive a punishment.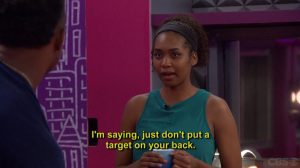 Bayleigh tells Swaggy that he's come off as too intense and might become a target. She tells him that he needs to keep a lower profile. For the final competition, Angela and Swaggy will be facing off. Angela's competition teammates already sold her on keep them safe if she wins the final competition. When Swaggy tries to strike a deal that they both would be safe, Angela doesn't take the bait. She doesn't even listen to his pitch. Poor gameplay! Meanwhile, the houseguests notice that both Kaycee and Sam haven't returned from the first competitions yet.
The final competition is Surfing the BB Web, and Angela and Swaggy must stand on moving surfboards while dodging doors, twists and chopping blocks. After about 30-45 minutes, Angela falls off her surfboard. Great more DR of Swaggy talking about himself in the 3rd person. After they both were off the surfboards, Swaggy hugs Angela and tells her that she pushed him, so he'll keep her safe. Julie then informs everyone of another twist: Swaggy must choose 2 of the 4 original move in groups to keep safe.
Swaggy then gets a barrage of people trying to stay safe, and still Kaycee and Sam haven't returned to the house. The group of 8 that he stood on the stage with pitches that he saves them. Kaitlyn, JC, Angela and Steve speak with him, and Angela has obviously told them he promised to keep her safe. Kaitlyn, JC and Steve do most of the talking, explaining that she is someone that would be a great ally.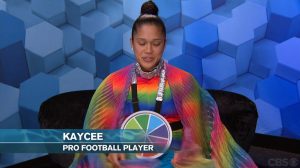 Kaycee comes back to the house in a rainbow unitard with fairy wings. JC calls her the gay fairy godmother. Rockstar is 'jelly' of the whole outfit. Next the robot comes to life and starts talking. It's Sam. Julie calls everyone to the living room to explain their punishments. Kaycee is wearing the Pinwheel of Doom costume and every time her clock starts spinning, she must stay in the room she's in until it stops.
Sam is upset because her only game plan was to be herself, and now she's a 'fucking robot.' Julie explains that every time she hears Robot offline, she goes to the DR and can come back in the house in her human form. When she hears Robot online, she must turn back into a robot. These punishments last until the Thursday eviction, which is basically 2 weeks from the time they moved into the house. How can Sam play the game if she can't go upstairs to talk to the HOH?
Next, Swaggy goes back on his word to Angela and selects his original move in group of 8 as those that are safe for the week. He's a dick, and like many dicks, he's blowing his wad way too quickly.
Episode 2:
In the aftermath of Swaggy choosing to break his word to Angela, she's upset as are her team. The 8 houseguests that weren't chosen for safety are the only ones competing in the HOH competition, and 1 will be the first evicted. Swaggy said he made great connections with his move in group. Sam is having a hard time making connections with people as a robot. This is the most horrible punishment ever; everyone in live feeds chat says that it's cruel to deprive her of making any connections to people the first week.
Kaitlyn, Angela, Rockstar and JC are talking in the storage room with Kaitlyn loudly saying how pissed she is that Swaggy didn't choose Angela's group after promising her safety. Angela says that Swaggy and Fessie are boys. Kaitlyn loudly calls him an idiot, says he just put a target on his back and fucked up his game. Swaggy is outside the door listening as they talk shit about him. Later, Kaitlyn says to Swaggy that she was pissed at him at first, but now that she's had a chance to meditate, she understands that he did what he thought was best for his game. He forgives her for coming clean.
Rachel says that BB life is the good life, hanging by the pool with her friends, working out and looking at cute boys. Meanwhile, Kaitlyn has pulled Swaggy, Rockstar, Hailey, Bayleigh and Fessie into the lounge for guided meditation. BB does some great graphics of her with a 3rd eye and shows them all connected by white light coming through their hearts to each other. Swaggy says that he never thought he'd be part of a hippy commune, but he is. He says that liking people in the BB house turns into aligning with them.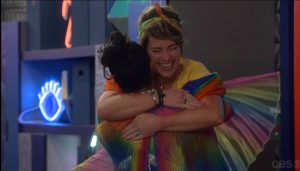 When Sam hears "Robot offline," she gets to enter the house in her human form. When she comes back the houseguests are happy to see her. However, JC says that he really likes that robot because it's the same height as him, masculine and sexy. Easy, tiger. We've seen what you do to things that are your height that you find sexy. #MinionFucker
Hayleigh tells Swaggy that she's forever in his debt for keeping her safe. She says in DR that she is vibing with Swaggy and feels she can trust him. (Plus, he won the first 2 comps!) They discuss who they should work with, and Hayleigh says she really likes Kaitlyn. Rockstar and Kaitlyn come in (by intuition, of course), and they agree they should work together plus Fessie. Kaitlyn realizes she is the only one that's not safe in her new alliance.
Time for the HOH. Swaggy is the host. Only the 8 houseguests that aren't safe will compete in Microchip Mayhem. They must walk across beams, get deletion dots to put in other players tubes and once a player has 10 deletion dots, they are eliminated from the competition. If they fall off their beams, they must start again. Steve falls off his beam repeatedly, never retrieving a single deletion dot. Fairly quickly, Bayleigh/Tyler and Winston/Angela start to work together to eliminate the same houseguests by putting balls in the same target's tube. Sam is the first person deleted. Steve is next, followed by Kaitlyn. JC doesn't want to win the comp, but no one is putting dots in his tube. He starts making noise to get attention, but he drops a ball in Winston's tube and eliminates him, leaving Bayleigh, Angela, Tyler and JC. Tyler drops dots in Bayleigh's tube, and she starts arguing with him, saying that he's being petty. Tyler says in DR that only one of them can win, and it needs to be him. Bayleigh eliminates JC, and she and Tyler face off. Tyler bests her to become the season's first HOH.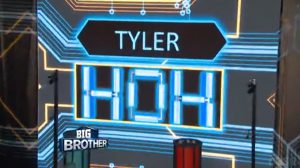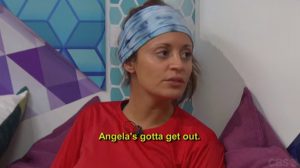 After the comp, in DR, Bayleigh says that she is pissed, but she's not going to let Tyler know because he's the HOH and the only thing that can keep her safe. Sam says that she realizes the easiest thing for Tyler to do is nominate the robot. Swaggy goes to stir the pot with Kaitlyn, saying that Angela and Winston double-teamed her. She immediately says that Angela needs to go. She says that she's already proven that she's a physical threat to her game.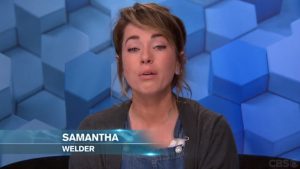 Sam feels like everyone was targeting her, and she cries on Rachel's shoulder. Rachel tells her not to count herself out and to talk to Tyler. In DR, Sam breaks my heart when she says that she feels shunned. She is so damn funny in DR usually, a cross between Britney Haynes with BBOTT Whitney's accent. She's adorable! =(
Tyler asks Bayleigh about snapping on him during the comp, and she backtracks, saying she isn't pissed at him. Tyler says in DR that he sees straight through her and is keeping his eye on her.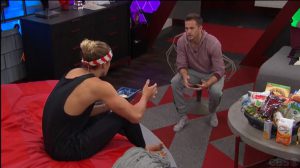 Winston, Rachel and Angela talk about forming something with Brett, Kaycee and Tyler so they can have numbers in the game. Rachel talks to Kaycee, who agrees to join up. Winston approaches Tyler and pitches him the group of 6, and Tyler is excited to form an alliance with a solid group. Tyler tells Winston that the move that gets the least blood on his hands is nominating Sam and Steve, with Bayleigh as replacement option.
Next, Kaitlyn, Fessie and Rockstar come in to say that Tyler needs to make a power play, nominating Angela and Winston. Then, Swaggy walks in, and Tyler realizes the rest of them are Swaggy's minions, who came 'before the king entered.' Tyler sees Swaggy walking around like he runs the house since he won a couple of comps. They all tell him that he needs to make a power move, not put up Sam or Steve.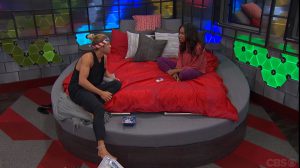 Bayleigh is next. Since she yelled at him during the competition, she needs to make sure she's safe. He asks her about Swaggy, explaining he says she's his best friend in the house. She says they are vibing like family, confirming she is just another one of his minions. In DR, Tyler says that she is clearly on Swaggy's side of the house. He can go the safe route by nominating Sam and Steve, which is Bayleigh's advice, or he can draw a line in the sand and nominate her.
At the nomination ceremony, Tyler nominates Sam and Steve. He says that with it being the first week, there isn't any reason to nominate anyone. The fairest thing for him to do is nominate the two people out of the competition first. Steve says that he'll make his deals and he's not going home first. Sam says that she thought Tyler really liked her, so her feelings are hurt. Swaggy says these are weak nominations, and once one of them comes down, Swaggy's true target will be on the block. Super douche!
Before you go, please comment below. What do you think of the season so far? 
Enjoy Eric's nightly comedic shows on YouNow with BB20 tea served piping hot. Former Big Brother houseguests will join him during the season. Make sure to FAN him on YouNow. Follow him on Twitter @RealityRecaps. You can follow me @rebeccakayj. If you ever have any complaints or issues, contact @YRR_Cust_Svc.
There is going to be SO MUCH to keep up with this season!  So make sure you follow us on TWITTER and check our BB20 page daily for updates!
AND DON'T FORGET… we are doing YouNow shows all season when the feeds go down so make sure you BECOME A FAN there!  We will of course do recap shows and interviews too!  Whenever something goes down on the feeds we will get on social media via YouNow or Twitter to discuss LIVE with you!  We will have recap blogs after every episode, spoilers blogs, feeds updates 24/7 on Twitter  and live tweeting during them!   Still want more? Then become a Patreon for EXCLUSIVE content, giveaways, access to reality stars and become a member of the private Patreon group! 
So in order to help support us in our coverage of Big Brother this season please consider: Getting the live feeds from us here, a Patreon, making a pay pal donation.  Of course we get it, money can be tight… so if you'd like to help us for free, please subscribe to our shows on YouTube, iTunes and YouNow, then thumbs up and give us a nice review. (We want to win a podcast award this year.) Also, follow us on your favorite social media site (by clicking the icons in the side bar) and share our content. It's a great way to help! We can't thank you enough for enjoying our shows these last 8 years. Hopefully, with your support, we can continue to do them for the rest of the year.  You could also see what specific help we need by checking out our HELP US page HERE!  Thank you for all your support!  We love you all!