Julie comes to us to host the Battle Back Showdown, and explains that the 4 evicted houseguests will compete in 3 epic competitions, but this year there is no guarantee that they'll actually return to the house. In the backyard, the 4 evictees are introduced through a cloud of smoke, like we don't already know who they are. The rules are explained to them that they will compete in 3 competitions. The first is a head to head competition between all 4 of them. The first 2 to finish will move on to the second competition with the other 2 being permanently evicted from the Big Brother house. Next, the first 2 to finish will compete head to head against each other with the loser being permanently evicted. The third competition will be between the winner of the Battle Back and a challenger from the house. If the challenger wins, all 4 of them will go home for good.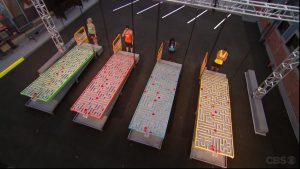 The first competition is Maze Race with the evictees having to use a rope and pulley system to move a ball through a suspended maze table. There is a learning curve to using the pulley system. There are holes in the maze that their balls can drop thru, and if they do, they must start the maze again. Jillian and Cameron both drop balls, but Cameron catches onto how to use the pulley system and can move thru the maze much more quickly once he masters the learning curve. Cody is the first one to finish. Cameron comes in 2nd, so Jillian and Dominique are permanently evicted.
The second competition is Billboard Bashers, and Cameron and Cody must use a large sling shot to launch balls at giant billboards to knock out 10 sections of their respective billboards. Cameron takes an early lead. However, Cody figures out that he needs to stop slinging his balls quite so hard. I'm pretty sure this strategy should apply to Cody's undercover action with Jessica. I digress. Cody catches up and overtakes Cameron's lead and wins. Poor Cameron spent approximately a whopping 16 hours in the BB house and is crushed like his BB dreams. At least he gets to come on live with Your Reality Recaps next week to tell us about his experience. Maybe he'll be back for BBOTT or maybe his experience will be just like Glenn's from BB18.
Cody got to choose between Maze Race and Billboard Bashers for the final competition with the houseguest choice competitor. The Maze Race will be a different maze and the billboards will be spinning. He chooses the Maze Race. Even though the maze will be different from the first, he already has learned to how to work the pulley system. The houseguest challenger hasn't. Is this fair? Hell no. BB wants Cody back in so they get more drama and sex on camera. He and Jessica aren't #Jody, they are #Grody.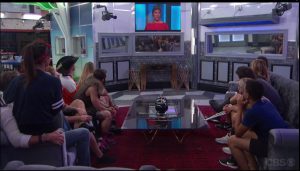 The houseguests are informed by Julie that a Battle Back Showdown has been taking place in the backyard. Jessica is super excited because she has been praying that Cody returns to the house so she can have her boyfriend back. Spoiler alert: she has been asked about the possibility of Cody coming back into the house in DR PRIOR to the Battle Back, so she had an inkling that he is coming back. Couple that with her receiving the Halting Hex, and we're in for some drama. No wonder she felt so emboldened to go off on Josh last week. As we saw, Paul told Alex, Josh, Kevin and Jason at the end of Thursday's eviction episode that Jessica got the temptation. BTW, I don't believe that she won America's Vote; I think that production chose for us to keep drama in the house in the form of a trash bag and sociopath. For the third competition, Paul is voted for unanimously by his other houseguests except for him because he couldn't vote for himself. He voted for Alex.
Cody admits in DR that he has an advantage because he knows how to work the pulley system, and Paul must deal with the learning curve of how to maneuver the balls. Paul is doing as well as can be expected, but this wasn't a fair competition. Cody wins his way back into the house. SHOCKER. I could've predicted that when the Battle Back was announced with Cody's eviction. Plus, with Megan's departure, they may have needed to bring someone back so that BB can have the staple double eviction this year.
SPOILER ALERT: Don't read if you don't want to know who won the HOH comp…
Last warning…spoiler below…STOP HERE if you don't want to know about the HOH comp, nominees and POV.
———————————————————————————————————————————————————–
SPOILRERS:
When the feeds came back on Friday night, Cody and Jessica are cuddled in the HOH bed. Jessica won the HOH comp, but Christmas was a close 2nd. Apparently, this competition was similar to the one from BBOTT when the houseguests held a sword in place for hours on end, but this one involved holding a laser beam. Christmas was up for 3.5 hours, and Jessica promised her she wouldn't be a Have Not (and I'm guessing safety) so Jessica could be the HOH. Jessica puts the HO in HOH, since she has had sex on camera with Cody, could be seen stripping naked on Friday night to get in the shower with Cody and last week, tried aggressively to stick her fingers in several of the male houseguests' buttholes after Cody's eviction. Paul called it sexual assault in his Thursday a.m. Friendship Chat. Hope Cody is into ass play because Jessica sure seems to be! Wonder if he'll make #VictimNoises? Josh was apparently going ham on Cody and Jessica during the HOH competition. It really pissed Mark off.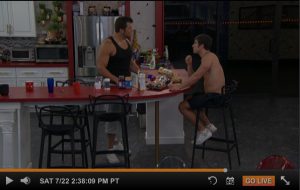 Mark has already ingratiated himself back into being Cody's right-hand man, and the other houseguests think he is being totally shady, as per Josh. Ramses and Josh are nominated, and Josh is the target. The other houseguests are acting like they are going along with Jess and Cody's plan and have told Josh to act defeated and isolate himself. The others (Jason, Kevin, Alex, Paul, Christmas, Matt and Raven) are planning a 6 to 4 vote or 7 to 3 vote to keep Josh and evict Ramses. None of them are telling Elena or Mark because they see that those 2 are back in with Cody and Jessica. LMAO!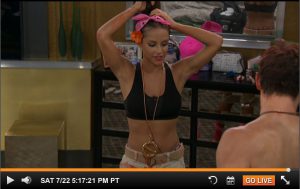 The POV comp was played 7/22/17 and was the exploding concoction memory comp. Jessica, Cody, Josh, Ramses, Christmas and Jason played in the competition. Everyone came in covered in glittery goop. Jessica won the POV. She is telling people that she isn't going to use it, so the nominations should stay the same. I'll write a post later this week should that change after the POV meeting. Plus, every Veto Meeting thus far has been crazy so it will be interesting to see if this is the first one that follows suit.
Thursday night is going to be fun. What do you think the curse is? Could it be a double eviction? Jessica and Cody are trying to be sociable, but clearly he is uncomfortable around the some houseguests. He still has that "I'm constipated" look or Resting Asshole Face (RAF). He prefers isolating himself in the HOH room with Jessica, but she is trying to keep up the social game she tried to rebuild last week. Kevin confided in Cody that he voted for him to stay, but doesn't want the rest of the houseguests to know. Is Kevin trying to jump ship?  Will Kevin vote to evict Josh or Ramses? So many questions! See you on the feeds to see if we get any answers.
GE THE FLASHBACK TIMES HERE
Before you go… please comment below and let us know what you think!  Who do you think will win? Are you excited for this season? Let me know!
AND DON'T FORGET… we are doing YouNow shows all season when the feeds go down so make sure you BECOME A FAN there!  We will of course be doing recap shows and interviews too!  Whenever something goes down on the feeds we will get oepisodes, we will also be live tweeting during them!   Still want more?  Then become a Patreon for EXCLUSIVE content, giveaways, access to reality stars and become a member of the private Patreon group!  But what we're really excited about is our BIG BROTHER SPOILERS PAGE!  It's full of "Cheat Sheets" for you to use to stay on top of all the latest alliances and info!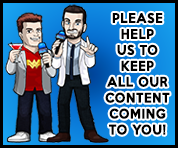 So in order to help support us in our coverage of Big Brother this season please consider: Getting the live feeds from us here or becoming a Patreon, making a PayPal donation.  Of course we get it, money can be tight… so if you'd like to help us for free then be sure to subscribe to our shows in YouTube, iTunes, YouNow, and thumbs up and give us a nice review (we want to win a podcast award this year). Following us on your favorite social media site and sharing our content there is a great way to support us, too! We can't thank you enough for enjoying our shows these last 8 years, hopefully with your support we can continue to do them for the rest of the year.  You could also see what specific help we need by checking out our HELP US page HERE!  We can't thank you enough for all your support!  We love you all!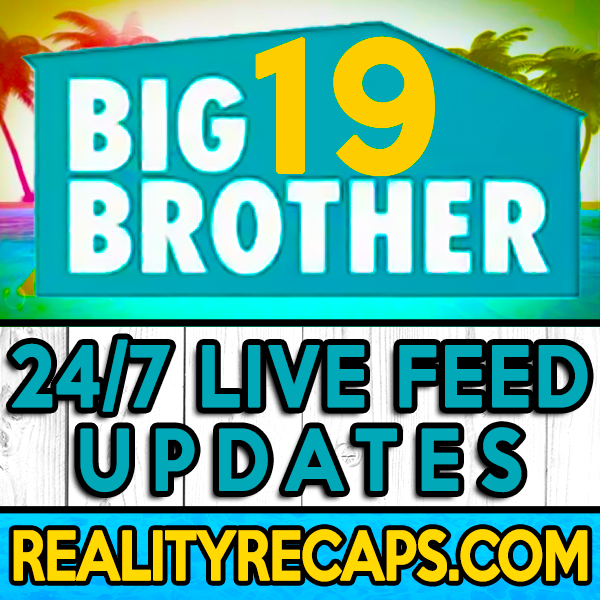 We also have a BRAND NEW TWITTER ACCOUNT which we will be using solely for our Live Feed updates.  It's a great way for you to find out what is going down as it happens 24/7 on the live feeds!  We wanted to keep it separate from our MAIN TWITTER ACCOUNT which covers all our shows because we love you and don't want to fill up your timelines!  Plus we will be posting news, gossip and spoilers there about BB19 exclusively too and we don't like to spoil on our main twitter account.  Now while twitter is a great way to get your 140 character live feed updates sometimes you just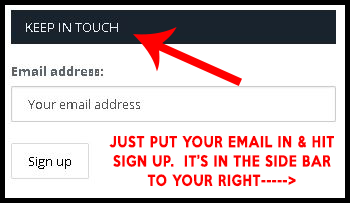 need more details, which is why we suggest you also join our newsletter!  This way you can get info like the exact cameras and flashback times for the updates we are giving you!  Plus, you can also get special prizes and all the latest info by subscribing to our monthly newsletter (WE WON'T SPAM YOU).  Thank you for all the support!