BIG BROTHER 16 "SPOILER FREE" BLOGS & SHOWS
Check your calendars people… it's not April 1st and this is no joke!  Apparently Elissa…
Hey guys and gals! Want to be on Big Brother so Eric, Jon, Missy Z…
Are you ready for a summer of fun right here at Your Reality Recaps?! Well…
I know it has always been a dream of yours to have us comedicly mock…
We have so much for you this season of Big Brother!   EVERY WEDNESDAY NIGHT AT 9:00PM EST (on our live shows page) IMMEDIATELY FOLLOWING THE BIG BROTHER SHOW WE GO LIVE WITH BIG BROTHER HOUSEGUESTS! We will be taking your questions, breaking down the weeks gameplay and making predictions for the following nights elimination!  We will also be doing exit interviews of the BB16 cast all season long until jury, and then will get the jury after the season ends.  Eric is doing his comedic video mashups all season long too!  Then whenever something goes down on the feeds we will instantly got live with our "Live Feeds Breaking News Show"! We will also have recap blogs after every episode and speaking of episodes we will also be chatting live on this page and live tweeting during them!   Still want more, then check our our forums! There we will be transcribing the feeds and what happens daily so you don't have to miss a thing!  But what were really excited about is our BIG BROTHER SPOILERS PAGE!  It's full of "Cheat Sheets" for you to use to stay on top of all the latest alliances and info!  There will also be "live feed blogs" there if you just want a quick update.  And last but not least, we are doing WEEKLY prize giveaways on top of our HUGE iPad giveaway at the end of the summer! Did we mention all this is free, just like all our content on this website about your favorite TV shows…
W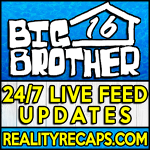 e also have a BRAND NEW TWITTER ACCOUNT which we will be using solely for our Live Feed updates.  Its a great way for you to find out what is going down as it happens 24/7 on the live feeds!  We wanted to keep it separate from our MAIN TWITTER ACCOUNT which covers all our shows because we love you and don't want to fill up your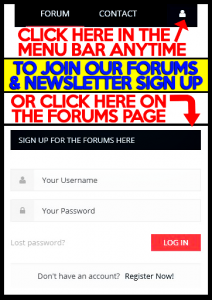 timelines!  Plus we will be posting news, gossip and spoilers there about BB16 exclusively too and we don't like to spoil on our main twitter account.  Now while twitter is a great way to get your 140 character live feed updates sometimes you just need more details!  Which is why we suggest you also join our forums!  This way you can get info like the exact cameras and flashback times for the updates we are giving you, plus interact with other fans!  You can also get special prizes and all the latest info by subscribing to our monthly newsletter (WE WONT SPAM YOU) when you sign up for our forums.  Its easy and free (just two simple steps) by clicking the little man all the way on the right of the menu bar (or in the sidebar on our forums page).  Just make sure you click to subscribe to newsletter when signing up for the forums!  Of course can do all of this for you because of your generous support.
So in order to help support us in our coverage of Big Brother this season please consider buying the Live Feeds from us by clicking the add in the side bar to the right or the picture to your left.
PLUS CHECK OUR EVERYTHING YOU GET HERE IF YOU BUY THE FEEDS FROM US!
 It helps us tremendously and without your support we wont be able to continue bringing all our shows after this Big Brother season.  If you have already purchased your feeds, then consider our Patreon campaign, making a pay pal donation, or starting your online shopping by 
clinking the ads in the side bar to the right
. Those are all great ways to financially help us as well. Of course we get it, money can be tight… so if you'd like to help us for free then be sure to 
subscribe to our shows in YouTube, iTunes, and thumbs up and give us a nice review
 (we want to win a podcast award this year). Also 
following us
 on your favorite social media site (by clicking the icons in the side bar) and then 
sharing our content
 there is also a great way to help as well! We cant thank you enough for enjoying our shows these last 4 years, hopefully with your support we can continue to do them for the rest of the year.  
We cant thank you enough for all your support!  We love you all!