The season has come to a close but we can't go off into the sunset without getting everyone together for one last face off, moderated by none other than Andy Cohen. Will we finally get the truth ab out the many cheating rumors swirling around SUR? Can Katie and Stassi mend their broken friendship? Will Jax every grow up? Just a few of the questions  I had going in. The first thing I
noticed was Stassi was not there. She'll be joining later so we just need to sit tight. Andy turns to Kristin first off and begins the night where we left of last season. Everything had come to light, you were hated by everyone but Jax seems to have it all roll off his back. Kristin is still mad that she became the villain. Sandoval admits that Jax is more easily forgiven because he's not doing it for spite, he's just insecure. Why are we making excuses for a 35-year-old man who can't keep his penis out of his best friends girlfriends vagina again? James chimes in with his nugget of insight. Hot people like F**cking hot people. Oh James, you've brought a knife to a gun fight. Good luck honey! Of course Miami girl is brought up AGAIN. I feel were beating a dead horse here. Either it didn't happen or it did and Sandoval will NEVER admit it. Ariana said she never for a second believed the rumors. The stories didn't add up, everything conflicted so she really put no thought into it. She had seen the "evidence" before Sheana brought it to her. When Tom's cheating past was brought up Ariana said it didn't matter and Schwartz had his own philosophy on it. Just because you cheat doesn't make you a cheater! When Andy brings up James quote, Ariana then says hey it doesn't apply then because that girl was not hot and James had to agree with her there.
Jax still denies sleeping with the girl in the bathroom in San Diego. I think I heard the Tom's admit that they were just trying to mess with his relationship they way he did with theirs. Tom said they just wanted to teach him a lesson. So were they making it up, I'm more confused than ever! Andy calls Jax out on his conversation with Tiffany, how he said he had told her things he clearly hadn't and he admits to leaving out some information. Lisa hits the nail on the head when she says he says what suits him at the moment not realizing the carnage that he leaves behind.
Now it's time to address the Miami trip. Sheana explains the joint party was because they both share the same friends and not because of any trust issues. I believe that. Sheana and Shay have the healthiest relationship on the show. Katie is in the hot seat. Did she wish Stassi was there. Of course on
one hand but she was really just enjoying being there. When Kristin was asked if she left her phone out on purpose to cause drama she said no. I kind of believe her because her of her reasoning. If she wanted to start something, she'd have just said it herself. Nothing about Kristin is ever subtle so why would she start now. Andy bluntly asks Jax if he ever had sex with John the gay man he had lived with when they lived in Miami. Jax says no, he may have kissed him, he still kisses his gay friends. John was the first gay man he had ever come across and aha Lisa pops in you admit it….you came across him….get it. All had a great laugh. What wasn't funny was Kristin chiming in every two seconds on every answer Jax  gives like she lives in his head. He finally loses and tells her to shut up no one is talking to her. Again Lisa is the voice of reason when it comes to Jax and the "gay" rumors. A mouth is a mouth a hole is a hole. He's a dirty bad dog that will stick it anywhere! AMEN to that. Kristin accuses Ariana of fake crying in the limo that night and Sheana comes to her best friends defense. When Ariana says she felt threatened because Kristin has threatened violence, Kristin calls BullS**t. She points out Kristin has punched people before so it's not so far fetched she do it to her. Sandoval is in the hot seat about the conversation he had with Kristin that night. He defends it by saying he was very cold when he broke up with Kristin because he had to be and he needed to have the heart to heart with her for closure. James (and I agree) said that conversation didn't need to happen, he thought it was going to go down different and admitted to how hard it was to watch his girlfriend obsess over her ex all season long.
Before Stassi is brought out Katie is asked why Stassi is mad. She says it's because I didn't do what she wanted. Lisa is backing Katie and her new-found confidence. It's time for Stassi's entrance.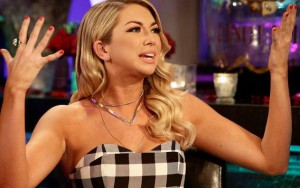 The death glares were brutal. She's alienated everyone single person in that room with her holier than thou attitude. First we address her attitude with Jax. What is the big deal about being the the same room. Her reasoning, he lies and manipulates situations and she didn't want to be part of that. Then there is the BS excuse about not wanting to disrepect Patrick by filming with her ex. Why BS because she has no qualms about going to lunch with her ex Peter so why is Jax any different. Jax said all he wanted was to go to lunch and get a little closure on the situation. Stassi says she never got an email because she blocked him. Sheana is fighting mad at Stassi and calls her a hypocrite. She cut her from her life because she was talking to Kristin, but now who is coming to Stassi's defence, Kristin. Kristin is the only one that will talk to me is Stassi's answer. So now Stassi and Kristin are BFF's again mainly because Stassi needs one tie to the show to have a story line I bet. Schwartz is tired of her superiority complex and she says she's blocked him too. So here is how I see it. Stassi blocks you when she's mad, then gets madder because you aren't contacting her. INSANE! Sheana is totally on point when she says that Stassi is not capable of being nice unless things are centered around her. Stassi admits to not caring about any of these people, but will always love Katie. Katie finishes it of with saying she disposes of people like they are things and is the most selfish person ever!
The blow out between Katie and Stassi will continue the next week. Will the friendship make it? Is Lisa done with Stassi now? It also looks like we might get a proposal! Was the first part of the reunion what you thought it would be?  Comment below and let me know. Don't forget to check out our BRAVO page for Jon's Audio blogs where we get the inside info right from the cast. You won't want to miss it, plus all our written recaps and audio blogs for all the BRAVO shows are there. Don't forget to check out all our coverage on Survivor, The Amazing Race, RuPaul's Drag Race , Hell's Kitchen and The Bachelor. If you really love our content and want it to continue consider donating to our Patron campaign. Even as little as a dollar a month would really help us to continue to bring you all our content for free. Another way you can help us is by using our Amazon link to start your online shopping. It costs you nothing but we get a little big back.