This leg, teams are flying to Trujillo, Peru! Once in Peru, they will travel to the Plaza De Armas and join in the fireworks festivities. Laura reveals that it's her 30th birthday, so hopefully she'll get a great birthday present and come in 1st place! The clue also tells teams to monitor their Fitbit charge, as they may need that information later in the leg. Although there is a pre-booked flight arriving at 9:25 am, teams are free to take a different flight. Laura & Tyler don't realize that they should ask about other flights, so they will be arriving at 8am the next day. Hayley & Blair book a flight arriving at 10:40 pm, almost a full 12 hours ahead of the pre-booked flight. Laura & Tyler go to a bar to celebrate her birthday, while the lawyers book tickets on the earlier flight. I'm sure Laura & Tyler will be very upset when they realize their mistake, but chances are, there will probably be a task that doesn't start until the morning anyways, so I doubt the two leading teams will be more than a few hours ahead of the others. Mike & Rochelle and the hairdressers are on the later flight with Tyler & Laura. At the Plaza De Armas, the lawyers and Hayley & Blair get a clue (which is just a box of matches) from the master of ceremonies that has a starting time of 7:00 am. While the other racers are sleeping in the airport, the two leading teams are enjoying a massive celebration with intricate fireworks.
In the morning, Hayley & Blair and Jelani & Jenny get a clue telling them to look for a "shine in the
morning sun" (whatever that means) at Plazuela De La Merced to receive their next clue. They ask a taxi driver for directions, and he says that it is a dangerous area, so they should take a taxi. Both taxi drivers don't know where the Plazuela De La Merced is, so Jelani & Jenny decide to just go back to the Plaza De Armas and walk to their next clue, even though the area is potentially unsafe. The lawyers find the shoe shiner, who gives them their next clue, which tells them to take a marked taxi to San Fernando to get their next clue. The 3 other teams have landed in Peru, meanwhile Hayley and Blair are on the side of the road arguing about whether they should let their driver keep looking at a map (Blair), or tell him to turn around and go back towards the Plaza De Armas (Hayley). As usual, Hayley is correct, but Blair insists on his way, even though they've been pulled over on the side of the road for 20 minutes. Eventually, Blair concedes, and they go in the right direction. In the taxi, Blair says that they should work together, while Hayley counters that in order to do that he needs to listen to her. Jelani & Jenny reach the roadblock (and get the Date Night Pass), Give Me Some Sugar, which requires teams to work with a professional sugar cane cutter and harvest a section of a field.
Laura & Tyler pass the shoe shine, ask a local for directions, and then pass on the incorrect directions to the hairdressers. While the two teams take taxis away from the clue, Mike & Rochelle find it. In the taxi, Laura tells Tyler that she saw the speed bump sign at the "detour," but Tyler knows that the speed bump is always at the clue box, so they get out of the cab and go back to the clue. Matt & Ashley's taxi eventually takes them back to where they originally were, and they reach their speed bump. In Llama Loan, the hairdressers must use an old-school typewriter to fill out a llama loan application. Both Jenny and Hayley are doing the roadblock, and they're doing a pretty good job. Jenny says that this is more intense than any workout she's ever done, and jokes that they should offer this in LA as a workout. Jenny finishes the roadblock and gets a clue and a bundle of sugarcane. The lawyers are now headed to Parque Ramon Castilla, where they need to deliver their sugarcane at the stadium to get their next clue. The clue also tells the lawyers to write down their steps and calories that the Fitbit recorded, then put that in the enclosed envelope and keep it with them. Hayley finishes the roadblock while the hairdressers complete their speed bump. During the entire roadblock, Blair kept making jokes about how worried he was that Hayley would cut his head off with a machete. The joke was a little funny the first time, but after about the 10th, I was hoping she would just to shut him up.
Mike has barely started the roadblock when Tyler joins him, which puts some pressure on Mike because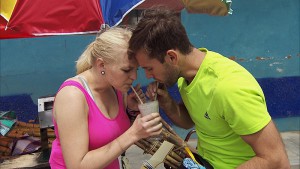 Tyler is going so fast. The lawyers reach Step Up And Take Charge, where they have to do math using their Fitbit data to find out how many steps they would need to take to burn off the calories from the glass of sugarcane juice they have to share. This seems like a waste of time, especially since they get to use a calculator. Tyler is remarkably fast, and finishes cutting down the sugarcane before Mike. Laura & Tyler and Mike & Rochelle leave the roadblock as Matt & Ashley arrive. Jelani & Jenny finish this task (or you could call it what it is, which is advertising), and get the clue for the detour. In Mamas, teams must search the streets for the ingredients Mama uses in her 70 year-old moonshine recipe. Papas requires teams to pick through an enormous pile of potatoes and sort them out by type, then transport them by motor taxi to one of the marked stands in the market, then place each type of potato in a separate bin. Matt refuses to give up hope, and he finishes the roadblock quickly. The lawyers choose Papas, while Hayley & Blair pick Mamas. I think Mamas seems a lot easier, especially since Blair speaks Spanish. Jelani & Jenny bring their potatoes to the market, but when they get a few of the wrong potatoes mixed in with one of the types, the storekeeper makes all of the potatoes fall on the ground, and they have to pick them up and sort them again.
Hayley & Blair finish Mamas and are off to the pit stop, which is at Virgen De La Puerta. Laura & Tyler and Mike & Rochelle choose Mamas, and unless something incredibly drastic happens, the hairdressers will be eliminated this leg. Hayley & Blair come in first place and win a Fitbit fitness kit (try saying that 10 times fast), comprising of either a gym membership for a year or home gym equipment, one of everything Fitbit makes, a laptop, and a cellphone. Laura & Tyler's taxi driver takes them to Papas, so they decide to just do that detour. Jelani & Jenny come in 2nd place. Laura & Tyler are sorting out potatoes at the market when the hairdressers arrive, so Tyler lies and says that the hairdressers' taxi driver took them to Papas instead of Mamas (ironic, considering this is what actually happened to Tyler & Laura). Matt & Ashley get back in the taxi and tell the driver to take them to Mamas, but since he has already done this, he takes them to Papas, which they are upset about – understandably, but at this point in the race, Laura & Tyler know it's either them or the hairdressers, and they're doing whatever it takes to win. I would probably have done the same if I was in a race for a million dollars. Besides, Matt & Ashley need to stop blindly following whatever advice other teams give them. To give him the benefit of the doubt, Tyler might have not known that the market was also the destination of Mamas.
Laura & Tyler were washing the potatoes off with water to tell the difference between the specific types, but when they ran out of water they started spitting on the potatoes instead. The locals watching didn't look too pleased about this. The storekeeper makes all the potatoes fall to the ground because Laura & Tyler didn't have them properly sorted. At this point, I think they should switch to Mamas. Laura & Tyler eventually sort the potatoes right, and they are now headed to the pit stop. Mike & Rochelle come in 3rd, and Laura & Tyler are 4th. Matt & Ashley come in last place and are eliminated from The Amazing Race. What did you think about this leg? Do you think Tyler was trying to be helpful or hurtful when he told the hairdressers they were at Papas? Let me know who you think will be eliminated next in the comments below!