This leg of the Amazing Race began with a challenge called Horse Drawn Carriages. Teams must deliver hay to the storage area of a stable, then take a horse drawn carriage into town where they will feed their horse and find a Ford Fiesta. All teams except Double T, mother/daughter and the scientists take taxis, which is wise because the task is 10 kilometers away from the pit start. Tim & Te Jay eventually realize that it's too far to walk, so they get in a cab. The surfers and the cyclists deliver the hay and are off in horse drawn carriages into town. Meanwhile, Jim takes both giant bags of hay leaving Misti carrying nothing. The scientists and mother/daughter team manage to walk to the end of the challenge, where Bethany & Adam are feeding the horses. The surfers tell the lost teams that they need to take a cab, because apparently they couldn't figure that out on their own.
Bethany & Adam receive their next clue, which instructs them to drive themselves to a local pottery stand and search for their next clue. Amy & Maya can't find the marked hay station, so they just grab two bags of hay from a stall and try to deliver them. Tim & Te Jay say that it has to be from a marked spot, so they go off in search of the correct hay. After being denied a clue, the scientists go to look for the designated hay. Shelley & Nici find the hay, then make a deal with Double T that they'll tell Tim & Te Jay where the hay is if Double T will help them find the stables. Kym & Alli make it to the pottery stand before the surfers, and find the clue which leads them to a detour.
Teams must choose between Camp – which requires teams to set up a traditional berber tent to the exact specifications of the nomadic people – and Cream – which requires teams to milk a goat until they fill a pail, then churn the milk to make a 3 ounce bowl of goat butter. The cyclists, surfers and wrestlers choose Cream, while so far only the dentists have chosen Camp. Since Misti & Jim had so much trouble setting up the parking space, I'm surprised they chose the side of the detour that requires such precise attention to detail. Shelley says they can't afford to be lost again, although it appears that team mother/daughter is indeed lost on the way to the pottery stand. Kym & Alli have milked enough to fill their bucket, and are now churning butter in an animal skin. They ask the demonstrator how long it will take to churn butter, and he says 45 minutes, so they decide to switch detours. Robbie seems to be afraid of the goat, and he stands to the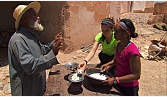 side saying that he's got the bowl while Brooke corrals a goat. The goat tries to drink the milk as Brooke is milking it, which exasperates her a bit. Kym & Alli keep arguing about whether they should have stuck with the Cream detour before finally deciding to go back and churn butter. Adam and Bethany are now churning the butter, and the scientists have chosen to do the Cream detour as well. Shelley & Nici are lost, as they still haven't found the clue leading them to the detour. One of the men churning butter is singing, which leads the teams to sing as well. Kym sings, "My mother she told me how to shake it, it just never turned into butter before. Brooke's chasing goats and we're shaking milk. It's really hot, and I forgot my sunscreen."
Misti & Jim complete the detour and are off to Terres  D'Amanar to search for their next clue. Double T is working on the Camp task, while team mother/daughter is still driving around aimlessly. Looks like karma came back to bite them in the butt after all. They finally stop and ask for directions, and are able to find the pottery stand. The surfers finish the detour, while Misti & Jim arrive at the roadblock. In Crossing Canyons, one team member has to cross a series of daunting swinging bridges and zip-lines over a canyon. Halfway through the course, teams will encounter a puzzle that they need to solve before continuing on. Misti chooses to do the roadblock, and handles the heights surprisingly well, but gets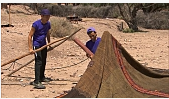 stumped a bit at the puzzle. Tim & Te Jay finish the detour, surpassing all the teams doing Cream to be in 3rd place. After completing the roadblock, Misti is handed a picture of Casbah D'if, a fortress-like structure that is the pit stop for this leg of the race. The surfers arrive at the roadblock while the dentists are leaving, and Bethany decides to do it. The cyclists finally make enough butter to move on to the roadblock in 4th place. The scientists and wrestlers leave the detour as team mother/daughter arrives. Bethany was struggling to complete the puzzle with one hand, so she took off her shoes and used her feet to finish it.
Misti & Jim are team #1, and they win a trip to Brazil for 5 nights. The greeter with Phil has a rooster and a bird on his head, and the bir
d keeps landing on the racers' heads.. Brooke decides to do the roadblock, and she reacts exactly as I would have – by mildly freaking out and saying "Oh my god!" every 2 seconds. The scientists drove past the roadblock, but quickly realized their mistake and turned around. Alli & Tim worked together on the puzzle, which was more advantageous to Tim, because he was struggling a lot but Alli showed him how to correctly do the puzzle. Brooke reached the puzzle and didn't even know how to start, just initially standing there staring at it saying "I don't know what to do." Instead of freaking out, it would've been smart for Brooke to ask Maya for help; Maya gave Brooke encouragement, saying that she just had to
calm down and do it. Brooke somehow completed the puzzle before Maya, then asked the judge if she could smash it afterwards. Adam & Bethany come in 2nd, followed by Kym & Alli in 3rd, Tim & Te Jay in 4th, Brooke & Robbie in 5th, and Amy & Maya in 6th place. Shelly & Nici come in last and are eliminated (is it mean for me to admit that my reaction to this was saying yay?). I have to admit, they did work well together this leg of the race, and they actually held hands when they were eliminated.
What did you think about this leg of the race? I didn't find it particularly scintillating, because it was pretty clear that team mother/daughter was too far behind to come in any place except last. I do think that Alli & Kym cost themselves first place by freaking out and switching detours for no apparent (valid) reason, but maybe this helped lessen the target on their backs. Who do you want to go home next? Let me know in the comments below!