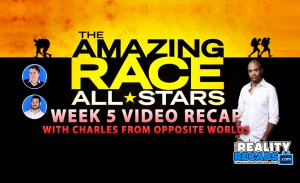 Hello Race Fans!  Charles from Opposite Worlds is dropping in to discuss his post season life and what he thinks about this seasons TAR.  I don't want to ruin the AMAZING things reveled in this recap so you're just gonna have to watch!  But lets just say these Opposite World-ers don't hold back!  Don't forget to thumbs up and subscribe to out YouTube channel also so you don't miss any of our exclusive content and shows!  Finally, time is running out on our KICKSTARTER and we really need your help!  We are halfway to our goal so if you can donate anything to help us keep bringing you exclusive content like this wed really appreciate it!
HELP SUPPORT THE SHOW:  Share our links or like us on social media!  Getting people hooked and liking and subscribing/joining to our Twitter, Facebook, and YouTube accounts really helps!  You can also make a donation if you really want.  All the social media links, info, contests and prizes are HERE.  You can also get our shows to go on iTunes or any mobile device HERE.   You can get just the audio or video versions of our shows there.  Plus now I separated all the shows into individual feeds.  Just subscribe to the one you want or the main feeds with all our shows!  A 5 STAR rating and review would be nice too!  Or check us out on Sticher.
Make sure to comment in the section below and let me know what you think of the show!