Congratulations Kandi and Todd!!!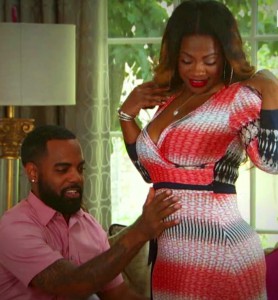 This time Real Housewives of Atlanta's Kandi Burruss and husband Todd Tucker are happy to announce that they are indeed having a baby! The parents to be are of course over the moon elated. Getting to this point hasn't been easy for the couple. Their struggle with infertility was addressed last season when the two went to a see a doctor to see if Todd's swimmers were indeed swimming. Kandi who has dealt with fibroids in the past underwent IVF and is about 4 months along putting her due date in January.
Even Mamma Joyce has put her dislike of Todd aside to be happy for the couple and Kandi told her castmates the news by getting the artists on her label sing a song about it.  With each having one girl of their own Kandi and Todd are hoping to add some testosterone to the family by having a little boy.
Last season the two struggled in their marriage. With the tension between Todd and Mamma Joyce, the fights their mothers had been having before the untimely death of Todd's mother Sharon, and the long distance the couple had sought counselling on the show. Will a baby be just what the doctor ordered to help solve some of these issues?